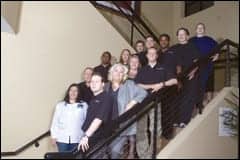 The Sleep Logistics team is committed to patient care.
When Deborrah Morgan and Dan Helmchen teamed up to form a sleep business, they decided to focus on providing consulting services to sleep diagnostic companies. In expanding their company beyond consulting, Morgan and Helmchen bought a business which included two sleep laboratories, strengthening the company's credibility. "Essentially, the seller made an offer on the freestanding sleep labs that we couldn't refuse," says Morgan, co-owner and chief operating officer of Las Vegas-based Sleep Logistics.
The purchase of the sleep labs has given Morgan and Helmchen a lot more to do beyond consulting. While their company began in April 2004 with a singular vision, Sleep Logistics has transformed itself into a multifaceted organization that includes running six sleep centers in Las Vegas and providing inpatient sleep studies for eight area hospitals.
Doing more than just consulting has paid off nicely for the business partners. "From its first to second year in business, Sleep Logistics experienced 500% growth in gross revenue," says Helmchen, co-owner and CEO.
However, simply offering a number of services hardly accounts for the company's success. Rather, it is doing a number of key things very well—like developing a mobile tech team to service hospital patients, honing an expertise in pediatric sleep studies, and reaching out to the community with educational programs—that has allowed Sleep Logistics to grow so rapidly.
A COMMITMENT TO COMPREHENSIVE CARE
"One of the things that sets Sleep Logistics apart is our comprehensive follow-up care," says Robert Troell, MD, FACS, medical director of Sleep Logistics. "With many sleep labs, a technician performs the sleep study and the doctor simply reads it, but may never even see the patient."
Sleep Logistics has designed a four-step program that includes sleep evaluation and consultation, diagnosis, treatment, and follow-up care. Referring physicians can choose to use all services or just some. The point is that all patients have access to continuity of care and educational resources.
"If you have cancer, you know enough to seek follow-up care," Troell says. "But often patients with sleep apnea do not comprehend the link to other problems like cardiac conditions. Through follow-up care, we educate the patients and track their compliance and progress."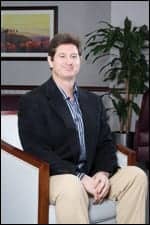 Robert Troell, MD, FACS, medical director of Sleep Logistics.
In addition to three stand-alone facilities, Sleep Logistics manages sleep labs at three area hospitals, including Spring Valley Hospital, Summerlin Medical Center, and North Vista Hospital. The medical team includes six physicians, four of whom are board certified in sleep medicine. While the majority of patients—approximately 70%—are diagnosed and treated for obstructive sleep apnea, Sleep Logistics also provides comprehensive testing and treatment for insomnia, periodic limb movement disorder, and narcolepsy. Moreover, with 350,000 shift workers residing in the Las Vegas area, the team treats a number of patients who suffer from circadian rhythm disruption.
UNIQUE EXPERTISE
In addition to offering comprehensive care and follow-up, Troell's background is another factor that sets Sleep Logistics apart. A "triple threat," Troell is board certified in head and neck surgery, facial/plastic surgery, and sleep medicine. In fact, he is one of only a handful of head and neck surgeons in the nation who is also certified in sleep medicine.
For patients at Sleep Logistics who do not tolerate CPAP treatment, Troell can offer continuity of care through a number of surgical treatments. Troell says that 60% to 80% of the patients he treats do tolerate CPAP, but 10% to 20% become surgical patients. While he does not perform all of the surgeries himself, patients can consult him when deciding whether to undergo a procedure.
"A lot of surgeons are seeing dollars, but Dr Troell does not push for surgery," says Eddie Smith, director of clinical operations at Sleep Logistics. "He is very clear and honest with patients about who is a good candidate for surgery and who is not."
Smith, who joined the Sleep Logistics team in May 2006, takes pride in the company's commitment to patient care. This includes not rushing to add beds to the sleep centers if it will come at the expense of individualized attention for patients.
FILLING A NEED: TECHS ON CALL
Even on many of his days off, Smith remains on call because, right from the start, Sleep Logistics saw a need for inpatient sleep diagnostic services at local area hospitals. Morgan and Helmchen responded by forming a mobile tech team that can be dispatched at any given moment to support hospital personnel.
"We knew there was a need at hospitals that was not being met so we addressed it," Morgan says. "Most labs steer away from it, but we've earned a reputation for fast, quality service."
All of Sleep Logistics' technicians are specially trained to perform inpatient bedside testing. The technicians are equipped with a compact unit—essentially, a sleep acquisition system that fits into a brief case. Working as a team, the technicians volunteer to be placed "on call" on select days off. Smith says the system works well, not just because the technicians benefit from earning overtime pay, but because the team agrees that the service is good for the company's reputation in the community.
WHY A MOBILE UNIT?
The goal of the mobile unit is to help hospitals get patients diagnosed before they are discharged and thereby avoid problems related to sleep-disordered breathing from developing while the patients continue to recover at home. For example, when a nurse notices that a heart surgery patient is getting insufficient oxygen, they may suspect sleep apnea. To confirm that suspicion, the hospital can call Sleep Logistics' mobile unit, and it is required to perform the sleep study within 48 hours—before the patient is released.
By going to where the patients are, the on-call tech team is identifying apnea patients who may otherwise remain undiagnosed. "Very often the patients are obese and won't admit that they have a sleep problem," Smith says. "Sleep is a very personal thing. It's far easier to get the patients to do the study while they are still in the hospital."
Morgan is very pleased with the progress her team has made in the hospital setting. In fact, she refers to them as her "Super Techs." In addition to responding to calls for specific patients, she says Sleep Logistics is presently creating programs with hospitals for apnea screening of the general patient population. Moreover, based on their success with sleep studies, hospital administrators began inquiring about other mobile diagnostic testing. Sleep Logistics now provides neurodiagnostic testing, including EEGs and transcranial Doppler services, to hospital inpatients.
"Sleep is the springboard, but we're doing more than just that," Morgan says. "We're headed toward other diagnostic tests because there is a growing demand for them. We're committed to building the best tech team through training and education."
SERVING THE SMALLEST PATIENTS
By providing on-call mobile testing services, Sleep Logistics has also become heavily involved in pediatric sleep testing, which is sometimes safer to do in a hospital setting than in a stand-alone sleep laboratory facility, particularly for premature or ill babies or children. Approximately 60% of the sleep studies the mobile tech team performs are on infant and pediatric patients.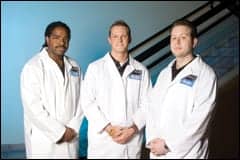 The Sleep Logistics mobile tech team can be dispatched at any given moment. From left: Willis Weaver, technologist; Eddie Smith, director of clinical operations; and Adam Bendlin, technologist.
"To my knowledge, we're the only sleep center in Las Vegas with a portable unit specifically to serve the neonatal and pediatric patient group," Smith says.
Craig Nakamura, MD, a board-certified pediatric pulmonologist who practices at Children's Lung Specialists, oversees the neonatal/pediatric care program at Sleep Logistics and reads the majority of the pediatric polysomnograms it performs. Because doing a sleep study on a child is different from doing one on an adult, Sleep Logistics' technicians also receive specialized training in pediatric sleep studies, work closely with Nakamura, and attend industry conferences to stay on top of the field.
In addition, working in a neonatal intensive care unit poses some unique challenges. "Often our techs are dealing with babies just 2 days old and they're doing a full-fledged study like they'd do on an adult," Morgan says.
On top of that, an infant needing a sleep study is often premature and very small. Performing any procedure on a baby that weighs only a few pounds can be scary for a technologist. "There are different parameters when scoring the study, and, more than anything, there can be fear on the part of the technician," Smith says. "A lot of male techs, in particular, are uncomfortable hooking up a baby that weighs 3 and 1/2 pounds."
Smith estimates that he performs approximately three sleep studies per month on infants. Premature babies are often born with neurological systems that are not yet fully developed. As a result, they can be prone to sleep apneas and may not awaken when blood oxygen levels fall during the apnea event, a situation linked to SIDS. As nurses monitoring premature babies see oxygen saturation levels drop, they alert Sleep Logistics, which then dispatches a technologist to perform the study.
PEDIATRIC SLEEP CENTER TESTING
Sleep Logistics also performs studies on children in its facilities. At the laboratory, it is very important to put young children at ease. "One of the challenges is dealing with patients who do not understand why they are there. Children are particularly wary of unfamiliar territories," Nakamura says. "The laboratory must be child-friendly to make that child feel more comfortable."
Education is another goal of both Nakamura and Sleep Logistics. "We have been working to educate the community that sleep disorders do occur within the pediatric population," Nakamura says. "I have been pleased that pediatricians are becoming quite adept at recognizing the signs and symptoms. The increased recognition accentuates the need for reliable, high-quality polysomnograms."
CONTRIBUTING TO THE COMMUNITY
While Morgan and Helmchen are clearly savvy entrepreneurs with a complex business growth strategy, the partners are also focused on giving back to the community. For example, Sleep Logistics is the exclusive provider of sleep diagnostic testing for Clark County Social Services. The company's contract with the county means patients with little or no insurance have access to sleep disorder testing, treatment, and care.
In addition, Sleep Logistics is reaching out to the community with educational initiatives. Morgan approached Clark County School District—one of the fastest growing in the nation—with an interesting idea. The school district publishes Nevada Family Magazine, and Morgan suggested that Sleep Logistics write a series of articles about pediatric sleep disorders aimed at parents and teachers for inclusion in future issues.
"After reviewing their back-to-school issue, I noticed they had tips on nutrition and behavioral problems, but there wasn't one article on sleep hygiene for children and getting a good night's rest," Morgan says. "I thought it was a good idea to suggest writing articles for them because we have a specialization in pediatrics and can speak to the topic with some authority." In addition, Sleep Logistics is also planning seminars about children and sleep for parents and teachers to attend at schools throughout the district.
But perhaps the biggest community outreach effort is the one Sleep Logistics is currently planning to support the Nevada State Law Enforcement Officers Association. The company is putting together a comprehensive drowsy-driving education program that will be rolled out to 13 agencies that comprise the state association. The initiative will include educational materials, seminars, and workshops aimed at employees such as Highway Patrol staff, sheriffs, correctional officers, and police officers. Most importantly, Sleep Logistics will provide OSA screening for all officers—many of whom are shift workers and/or spend a good deal of their job behind the wheel.
It is a huge undertaking, but Morgan believes it is well worth the effort. "We're doing this primarily because there is a need for it," Morgan says. "Naturally, it is valuable PR at the same time."
SHARING KNOWLEDGE
With their hands full on many fronts, whatever happened to the partners' original business vision? Even with so much to do for patients, hospitals, and the community, Morgan and Helmchen have managed to build a successful consulting business as well. "Growing the diagnostic side of things is our main goal, but the consulting business is a way of keeping our fingers on the pulse of what's happening in the industry," Morgan says.
Sharing knowledge with one's competitors is, of course, something of a conflict, but Helmchen and Morgan have a much broader vision than that. "We're interested in moving this industry forward," Morgan says. "Making competitors stronger means making our industry stronger."
Marianne Matthews is a contributing writer to  Sleep Review. Contact her at [email protected].