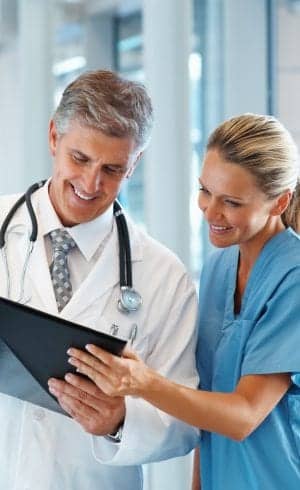 As one of the newest medical disciplines, sleep medicine continues to cross numerous clinical and professional frontiers. And one of the latest is an accreditation program recently implemented by the American Academy of Sleep Medicine (AASM) for out of center sleep testing.
Accreditation of Out of Center Sleep Testing for Adult Patients, which includes 40 standards—14 of which are mandatory—reflects the AASM's recognition that home testing is a firmly fixed part of the sleep diagnostic landscape. "Home testing is here to stay," says Nancy Collop, MD, FAASM, president of the AASM and director of the Emory Sleep Center, Emory University, Atlanta.
Earning accreditation for out of center sleep testing from the AASM will enable sleep medicine providers to offer broader options to patients, and facilities to gain recognition as home sleep testing providers that meet defined standards of high-quality care.
HOW THE ACCREDITATION PROCESS WORKS
The accreditation process is straightforward and begins with an application filled out by the sleep center. Among the elements included in the application is a self-assessment checklist indicating general compliance with the 40 standards. In addition, applicant sleep labs must submit supporting documentation, including staff information, policies and procedures, and a number of reports related to its ability to perform home sleep testing.
Among the mandatory standards is the requirement that the lab be licensed, adhere to the American Medical Association's standards of medical ethics, and have a medical director, interpreting physician(s), nighttime on-call coverage, and appropriate patient management strategies.
Once the application is completed and successfully reviewed by the AASM's national office, a site visit will be scheduled. The site visitors will include qualified sleep professionals specially trained in out of center sleep testing accreditation. The visit will start around 8 am and will last at least 4 hours and possibly longer depending on the complexity of the application. While many site visits will be scheduled after a review of the initial application, there may be instances when additional information will be needed prior to the visit.
After the site visit is completed, the visitor submits a report of compliance or noncompliance. The AASM board of directors will then grant the accreditation based on the written recommendation and will inform the applicant center directly.
While pursuing the accreditation is completely voluntary, according to one of its architects, Amy Aronsky, DO, FAASM, it offers several advantages to participating sleep centers. "Accreditation is a big deal. It indicates that you are adhering to the highest medical standards for patients," notes Aronsky, who is the medical director of the Saint John Medical Center's Center for Sleep Disorders, Longview, Wash.
The one thing that the accreditation does not do is open the floodgates to home diagnosis for every type of sleep disorder. The sleep lab will remain the critical arena for diagnosis of other sleep disorders outside the realm of obstructive sleep apnea. "[Accreditation of Out of Center Sleep Testing] is approved for obstructive sleep apnea only," says Collop. "And it's only appropriate for those with moderate to high risk for obstructive sleep apnea but without comorbid problems—such as COPD, obesity, neuromuscular issues, or congestive heart failure; those patients are more appropriate for the lab."
Aronsky adds that the standards are a way to make sure that even though testing is in the home, the quality of the testing is up to the same level of care as that experienced in a sleep center. "We don't want just anybody doing the testing," she says.
Accreditation for out of center sleep testing may be a reaction to a trend, but it is clearly not a knee-jerk one. The long-term impact and implications of the accreditation program could affect the way sleep medicine is viewed and the way it is accessed.
THE BEGINNING OF A GOOD THING
Sam Fleishman, MD, FAASM, medical director of Cape Fear Valley Sleep Center and Behavioral Health, Fayetteville, NC, notes that the most important impact of the accreditation is reaching a whole new client base. "It opens up new venues and options for patient care, particularly for obstructive sleep apnea," he says.
One of the biggest patient care options will come from connecting with primary care physicians, says Aronsky. "This is a way to bring together primary care physicians and sleep medicine clinicians," she says. "We can now give patients access and options."
But she again cautions that while she expects more primary care physicians to seek testing for their patients—thanks to the ease and inexpensiveness of doing it at home—it's not a panacea. "This is not for routine screening," Aronsky says. "The accreditation is another tool [in our toolbox]. When it's the right patient…it's a great way to reach out. We want patients to be evaluated and treated for sleep apnea."
Fleishman notes that the narrowing of who is appropriate for out of center sleep testing will require more clinical oversight, so only the right patients are screened and not those who may have more serious medical issues. "It has to be controlled, or you'll have a big mess," he says.
But accreditation for out of center sleep testing—which has very strict guidelines regarding clinical oversight—should help to steer the right patients into a home sleep test. Helping patients to get access to the screening they need to improve their overall health can be a win-win proposition for sleep centers. Clinicians will be able to reach more patients, and administrators will be able to add to the bottom line.
Obviously, reimbursement is an important part of the big picture, but there are many patients in need of evaluation who can't afford insurance or whose insurance provider does not help fund sleep studies, so they'll have to pay for it out of pocket. Collop observes that by being able to provide a home sleep test for these patients, they may be motivated to be screened for obstructive sleep apnea for a simple reason: They can now afford it. "It's clear that not every patient can afford a $2,000 test, but they may be able to afford a $400 test and be adequately tested as well," she says.
Aronsky says that the accreditation will also allow sleep centers to reach underserved populations, such as the elderly and those in rural areas who can't readily travel to a sleep center or stay overnight.
There is little controversy that the AASM's Out of Center Sleep Testing Accreditation fulfills a need and will continue to elevate the standards for the discipline. But as with anything new, the accreditation has stirred controversy among some health care providers, particularly sleep technicians.
WHERE'S THE RSPGT?
Originally, under the B-9 section of the accreditation, RSPGTs were left out of the mix as to how the tests should be scored. This raised a hue and cry among some sleep technicians, who saw it as undermining their role in sleep testing.
However, this proved to be a small hiccup that the AASM has since rectified. The updated section now specifically includes RSPGTs and others in its language: "Appropriate scoring technical personnel include sleep technicians, sleep technicians with the CPSGT certification or other board approved certifications, sleep technologists with the ABSM or RPSGT credential, respiratory therapists with the sleep disorders specialist (SDS) certification, or electroneurodiagnostic technicians with additional sleep certification."
A SIMPLE MOTIVATION
According to Collop, the early adopters of Out of Center Sleep Testing Accreditation are simply anticipating what will happen in the not-too-distant future. "Everybody will have to do [home testing]," she says. This is simply a reflection of market demand. She says that the penetration of home sleep testing is quite high already in some markets.
Aronsky says that she has heard from a number of her colleagues about the accreditation and the feedback has been positive with many questions, and the desire to become specialized as insurers require more accreditation.
For those who still have their doubts about whether they should pursue Out of Center Sleep Testing Accreditation, Aronsky has a straightforward answer: "The accreditation process is not very onerous and it's easily achieved. I would encourage everyone to apply."
She adds that one way the AASM has made the accreditation easier to handle is that it will be synchronized with other forms of AASM accreditation so the renewal process can be handled in one fell swoop. The Out of Center Sleep Testing Accreditation must be renewed every 5 years.
But like any form of accreditation, AASM's Out of Sleep Center Testing is a living document that Collop and her colleagues are already looking to revise and improve.
NEXT STEPS
Collop is currently working on a paper that will evaluate which devices are most appropriate for home testing. Once this paper is finished, she will then tackle the clinical guidelines for Out of Center Sleep Testing Accreditation.
She says among the objectives will be "drilling down to define how to pick the appropriate patients for testing. And once a diagnosis is made, then what should be done, and how you should handle borderline cases."
No matter what the future holds for home testing, there is one thing that is clear—it is now a part of the menu of services that patients, primary care physicians, and payors will come to expect.
---
C.A. Wolski is a contributing writer for Sleep Review. He can be reached at sleepreviewmag@allied360.com.