Awakening the slumbering giant of sleep medicine talent at Harvard University has meant better rest for New England residents, and a high honor for Boston-based Brigham and Women's Hospital (BWH). Specifically, the American Academy of Sleep Medicine named the Harvard-affiliated hospital's Division of Sleep Medicine as a Comprehensive Academic Sleep Program of Distinction. BWH now shares the acknowledgement with just one other sleep medicine center in the country—the University of Louisville.
To receive this distinction, BWH met rigorous standards in the areas of research, education, and clinical service. With Harvard medical school professors driving the operation, Atul Malhotra, MD, acknowledges that finding qualified faculty members was not a problem. "There are lots of doctors doing good work throughout the country, but the focus we have on patient care and the critical mass of expertise we have are particularly helpful," says Malhotra, medical director for the BWH Sleep Disorders Research Program, and an assistant professor of medicine at Harvard Medical School. "We have first-rate expertise in basically every facet of sleep medicine that you can imagine. If I have a tricky case, I walk down the corridor and talk to a world-class expert. All of this ultimately benefits patients."
Like so many supposedly overnight successes, BWH's road to recognition started many years ago as a research program in the early 1990s under the direction of Charles Andrew Czeisler, MD, PhD, a physician in BWH's endocrinology division—and current codirector (with Malhotra) of BWH's new Program of Distinction. In 1995, David Pollard White, MD, began the clinical side of the sleep disorders program. Due to space and resource constraints within the hospital, BWH eventually contracted with Sleep HealthCenters (SHC) in 1998 to provide the 10,000-square-foot clinical site (now in Brighton, Mass).
The freestanding building is about a mile from BWH, and physicians from the Brigham go there to perform all of their clinical sleep work. "This is where they see their patients, have them studied, and interact with them," says Lawrence Epstein, MD, medical director for SHC, and program director for the Sleep Medicine Fellowship Program at BWH. "All of the physicians associated with this site are involved in research and teaching through the Brigham, and the research laboratories are within the Brigham. For example, Dr Czeisler is in charge of a world-class circadian physiology laboratory, and there are two sleep and breathing research groups. One is focused on upper airway muscle physiology and how that affects sleep-disordered breathing. Another is looking at the interaction between respiratory physiology and sleep and circadian rhythm."
Epstein says the program has grown dramatically from an academic perspective, with many researchers funded through the National Institutes of Health (NIH). "We were one of the first sleep medicine fellowship programs accredited by the Accreditation Council for Graduate Medical Education, and we are running a large and busy clinical center," says Epstein, who is also on the faculty at Harvard Medical School. "And those are really the things you need to demonstrate for the academic center of distinction."
Access to a wide range of eminent sleep researchers means more knowledge can be brought to patients in the form of clinical trials, new diagnostic tools, innovative treatments, and better understanding of illnesses. Epstein says that BWH benefits from SHC's clinical model where everything with regard to sleep is done in one place. "It is sort of one-stop shopping for sleep," says Epstein. "At the same site, you can get consultation, evaluation, diagnostic testing, and all aspects of treatment."
Patients usually end up at SHC after referrals from primary care physicians. Patients see a sleep specialist for a comprehensive evaluation, and treatment is determined based on that evaluation. If it is a sleep fragmentation disorder such as sleep apnea, an overnight study is conducted at SHC. If patients need CPAP, they typically do not go elsewhere. "SHC has durable medical equipment (DME) that they provide," says Malhotra. "It is somewhat controversial, but we believe that getting everything under one roof has appeal. We have respiratory therapists, and all they do for a living is provide CPAP equipment, so they are unbelievably good in that area."
These RTs are sometimes referred to as CPAP counselors, and Epstein says they function much like case managers who set patients up and make sure they come back for regular follow-up. Addressing mask problems early is one way to boost compliance in the crucial first weeks. "Our philosophy is that the best mask is the one the patient will use," emphasizes Epstein. "We have the whole range of available masks, and no contract limits us. We have CPAP support groups and awareness meetings for people and their families. We have a behavioral sleep medicine group, and they help with desensitization and relaxation, and boost the overall willingness and readiness to use CPAP."
Close interaction between RTs and physicians is yet another way to ensure personalized care. In other facilities, patients may never see the doctor who interprets their study. That is not the case in BWH's program. "The RT would be someone I have worked with for years, so we have considerable interaction," says Malhotra. "If patients are doing poorly, RTs come talk to me and I talk with them."
As for self-dispensing the CPAP and mask, Malhotra defends the practice as yet another way to control and improve overall patient care. "If I'm dealing with a DME provider off-site, I don't know who I'm getting," laments Malhotra. "Some companies are better than others. Some will leave the equipment on the front doorstep like a phone book. Others will go in and do a comprehensive education with the patient."
RTs and nurse practitioners work together at BWH to provide long-term care. Epstein reports that patients come back at a week, a month, 3 months, 6 months, and a year for regular checkups in the first year—and more if needed.
Ultimately, Epstein says the care model is based on an approach that recognizes sleep disorders as chronic illnesses that must be managed. "Traditionally, sleep medicine has been focused on diagnosis and initiation of treatment, getting the test done, identifying the disorder, and getting treatment," says Epstein. "Sleep apnea does not go away on its own. CPAP does not treat it, it manages it. You need to manage the disorder and provide long-term care for patients. That has been our approach, but not necessarily everybody's.
"Recent Medicare rulings and criteria basically say we don't care how you diagnose this, but you have to make sure that if you are going to treat it, patients use [the equipment]," continues Epstein. "The type of compliance that we have been doing for a long time is going to become a necessity."
NO REST FOR THE DEDICATED
Malhotra says that achieving the recognition of distinction was a complete team effort that ultimately came courtesy of a large number of faculty members who are also academic physicians and scientists. "Other centers may not have quite the critical mass that we do, so the center of distinction honor I think was a way of recognizing the presence of that critical mass," muses Malhotra. "Sometimes these things are a bit contagious. Trainees tend to come to a group when they are recognized for their productivity, and for their grant funding. People are attracted to Harvard because of the name, and then there is enough expertise within sleep medicine that people tend to stay."
To meet the educational component of AASM's recognition, BWH has sought to boost sleep education among undergraduates, medical students, graduate students, postdoctoral fellows, residents in training, fellows in training, and the general public. Surveys show that sleep education is severely lacking in most medical schools, and if future demand is to be met, Malhotra believes that must change.
In addition to estimates that show 80% to 90% of sleep apnea is still undiagnosed in America, Steven A. Shea, PhD, points out that new research suggests apnea may even be more widespread than originally thought. "We did a research protocol where we tried to recruit healthy people, and they underwent a lot of screening—blood tests, urine tests, liver tests, and ECGs," says Shea, acting chief in BWH's Division of Sleep Medicine. "We had about 165 who then underwent a sleep study, and many of those who were asymptomatic turned out to have sleep apnea."
Echoing other studies, Shea says the likelihood of sleep apnea increased dramatically with age. In fact, of those who are more than 65 years old, 50% had sleep apnea and an RDI over 15 per hour. For subjects under 50, only 5% had an RDI over 15 per hour. "So there is a massive age effect, and with an aging population, that means a lot of newly diagnosed people," says Shea, who is also an associate professor of medicine at Harvard Medical School. "There are a lot of people who are asymptomatic, but have sleep apnea—whether to treat them if they have mild disorders is an ongoing discussion."
When it comes to educating patients, a little knowledge can be the difference between success and failure. When Malhotra sees a patient who can't or won't tolerate CPAP, he is a firm believer that a bit more knowledge can usually tip the scales. "With education, support, and different masks and equipment—I don't easily give up that battle on CPAP," says Malhotra. "There are many CPAP failures who ultimately do well with CPAP if you educate and treat the patient well. There are people who ultimately fail CPAP, and for those people, the oral appliance is a perfectly reasonable second-line option. We have a working relationship with dentists for just that purpose."
To further the efforts of BWH's sleep team, AASM's distinction honorees are eligible for a 1-year grant from the American Sleep Medicine Foundation that supports a fellow for training in sleep medicine research. BWH's recognition began late last year and will stand for a period of 5 years.
---
Greg Thompson is a contributing writer for Sleep Review. He can be reached at .
The Role of Sleep HealthCenters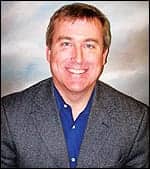 Paul S. Valentine, MBA
Clinical aspects of the Brigham and Women's Hospital (BWH) Division of Sleep Medicine are handled by Sleep HealthCenters (SHC) at their Brighton, Mass, location. SHC is a network of sleep medicine specialty centers, and the largest provider of such services in Massachusetts. After a decade-long partnership with Harvard-affiliated BWH, SHC helped the Brigham's sleep division attain the American Academy of Sleep Medicine's Comprehensive Academic Sleep Program of Distinction award.
As president and CEO of Sleep HealthCenters LLC for the past 6 years, Paul S. Valentine, MBA, says the "one location" for all services model has served patients well. BWH works with the center in Brighton, a freestanding building with 10,000 square feet and six beds. The facility also has seven examination rooms, and four respiratory therapy rooms for CPAP treatment visits. The SHC organization as a whole employs about 65 technologists across 15 centers, with a total of 60 beds.
Sleep Review: The University of Louisville had a top-notch sleep division that would eventually attain AASM's first distinction award. Did you examine the University of Louisville model in your efforts to help the Brigham achieve this award?
Paul S. Valentine, MBA, president and CEO of Sleep HealthCenters: We did not look at Louisville. We had actually started this process when the award opportunity was announced. At that time, there was no other organization that we could base our approach on. And when I say we, this was very much an effort from all leaders in all aspects of the program.
Sleep Review: How did you develop your clinical care model?
Valentine: One of our founders had learned that in Israel they were using a service delivery model somewhat different from [those of] most US providers, which simply diagnosed sleep apnea and then referred patients to other providers for treatment. This often resulted in lack of follow-up, uncoordinated care, and poor outcomes. After some additional research, the founders created a model to collaborate with health care providers in the community to develop a comprehensive sleep medicine center designed to treat all sleep disorders and provide a full range of treatment options and follow-up care in one location.
Through initial discussions to create an improved service delivery system with David Pollard White, MD, former director of the Sleep Disorders Program at BWH, SHC collaborated with the BWH, and the Brigham Medical Group, to develop SHC's first comprehensive program. In addition to clinical activities, the BWH-affiliated center conducts a variety of research-related activities, including NIH-funded projects and pharmacological and medical device studies.
We work collaboratively, providing and supporting a clinic and diagnostic facility to care for sleep disorders patients. We work with BWH to operate a sleep medicine fellowship program at this facility, with fellows conferences and exposure to a diverse number of experienced sleep specialists. We also work with BWH sleep researchers to source interested research subjects and conduct relevant research trials. Hopefully, we are adding to the general knowledge base in sleep medicine, finding connections between sleep and other diseases, and identifying valid devices and/or therapies for sleep disorders.
I would like to believe that BWH has been quite satisfied with the relationship and our ability to maintain a high-quality program that both of us can be proud of. I believe that our sole focus on clinical sleep medicine has enabled the BWH sleep group to offer consistently strong research and academic activities.
Sleep Review: What was the most difficult aspect of helping BWH to achieve the distinction award?
Valentine: Requirements to receive the award are broken into five categories: faculty, clinical, educational, research, and administrative. Administratively, the AASM is looking for situations where the sleep program is a distinct unit within the hospital. My guess is this is one of the most difficult requirements to achieve, although I believe BWH has been structured this way for quite some time. Other than that, I think the BWH program satisfied these requirements upon the initiation of this award.
Sleep Review: What does this distinction mean to you personally?
Valentine: I'm very proud of our organization's role in contributing to the success and breadth of Brigham and Women's Hospital's sleep program. The relationship with BWH helps to keep us grounded in academic-level, high-quality medical care, while the business perspective of our organization keeps us focused on innovation and health care cost control.
Sleep Review: How will home sleep testing affect sleep labs in the future?
Valentine: It is my personal opinion that the use of home sleep testing devices will be gradually adopted by the sleep medicine community. I believe this will be a positive development for sleep medicine and hope that it will encourage patients to get studied, if recommended by their doctor.
Two key challenges in treating patients who are suspected of [having] obstructive sleep apnea are the concern over an in-lab study and disinterest in committing to a treatment like CPAP. Home sleep testing addresses the first issue, and we need to continue educating the public and primary care providers about the benefits of CPAP, and the health impacts of untreated OSA. We support the use of home sleep testing, as referenced by a press release we issued last June. To me, the key issue right now is reimbursement. For providers to embrace the use of home sleep testing technology, they must feel like they are being appropriately compensated for the value they are providing.
For the most part, it does not appear that providers can offer home testing profitably. As we embrace the use of home testing, the technology will continue to improve, and we will likely see a growing percentage of patients studied through that method. As we uncover more and more connections between sleep and other disorders, we are also likely to determine other benefits of in-lab testing, such that more complicated patients will be more successfully studied in a clinical facility.