I'm fortunate to have been born after the dangers of cigarette smoking were already a part of the public's consciousness. The stark warning label on cigarette packaging is still hard to miss, and for good reason.
Beginning late summer, the public will start to see a new label on a different consumer product, and, for too many, the notice may be a complete surprise. Lighting Science Group will begin putting labels on its bulbs alerting consumers to the potential link between health and lighting products—specifically highlighting how exposure to electric lights prior to bedtime may cause sleep disruption and other effects.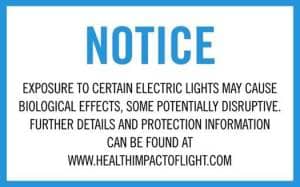 This notice is not mandated by a government decree. It's one company being proactive with a hope that similar labels begin appearing on all bulbs and other blue light-emitting devices such as smartphones and electronic tablets. Some will write the blue-boxed notice off as a marketing gimmick, but I think it is an early flicker of true insight on the disruptive impact blue lights have on sleep and overall health.
In Japan, where blue light-emitting technology surged even before it did in the United States, a group of doctors and academics came together in 2013 and founded the International Blue Light Society to better understand the effect of artificial light from a medical perspective and to raise public awareness. Its founder and president, Kazuo Tsubota, MD, a professor and ophthalmologist at Keio University, School of Medicine, told me he thinks the warning label on light bulbs is a good idea (with the caveat that the message is phrased well).
"Smoking was not considered unhealthy when cigarettes first appeared. It took decades until enough evidence had been gathered to prove smoking's detrimental effects to health," Tsubota told me via e-mail. "Although current research indicates the possible effects of blue light on the human body, it will probably take some time before we have gathered sufficient evidence. I believe waiting for definitive results will be too late—we should make preventive efforts before the issue becomes systemic and widespread."
This proactive stance should spark some soul-searching among sleep researchers and practitioners. "Personally, I place importance in gathering evidence through scientific research," Tsubota said. The International Blue Light Society is coordinating with physicians and researchers around the world in order to accumulate evidence on blue light's effects on health.
Practitioners should spread the message directly to patients as well. "As an ophthalmologist, I advise my patients mainly about circadian rhythms," Tsubota said, explaining that he focuses on the significance of blue light exposure at different times of day. Fred Maxik, chief technology officer of Lighting Science Group, told me via e-mail: "We believe that medical professionals should strongly evaluate the effects of artificial lighting on a patient and consider suggesting lifestyle changes before resorting to prescribing sleep medicines."
Both Tsubota and Maxik say the media must play a role in bringing public awareness to this issue. Sleep Review will do our part. It would be nice if the next generation could say they were born after the dangers of artificial light were well understood and publicized.
Sree Roy is editor of Sleep Review. CONTACT sroy@allied360.com