How do you select an appropriate interface for a patient during the pandemic? Several innovative software options are available.
By Lisa Spear
Under normal circumstances, fitting a patient for a CPAP mask calls for an in-person visit. Measurements of the craniofacial anatomy are taken. A sleep tech or respiratory therapist (RT) asks a few questions. The process involves an investment in staffing, time, and a brick-and-mortar building. During these visits, staying at least 6 feet apart to minimize the risk of coronavirus spread is not always possible.
As SARS-CoV-2 took root across the country this spring and cases in the United States eclipsed other nations, more Americans opted to cancel or postpone non-emergency medical care, including visits to select CPAP masks. Home medical equipment (HME) storefronts shuttered, and suppliers scrambled to figure out a solution to continue to reach patients.
In the midst of all the chaos, some sleep medicine software developers innovated their way out of the problem—by developing technology to remotely recommend CPAP masks, without the need for sleep tech or RT in-person assistance. Philips Respironics launched its Mask Selector 2D. ResMed also launched its MaskSelector tool for remote selection and sizing. The companies market their services as a way to protect staff and patients, while delivering care faster at a lower price point.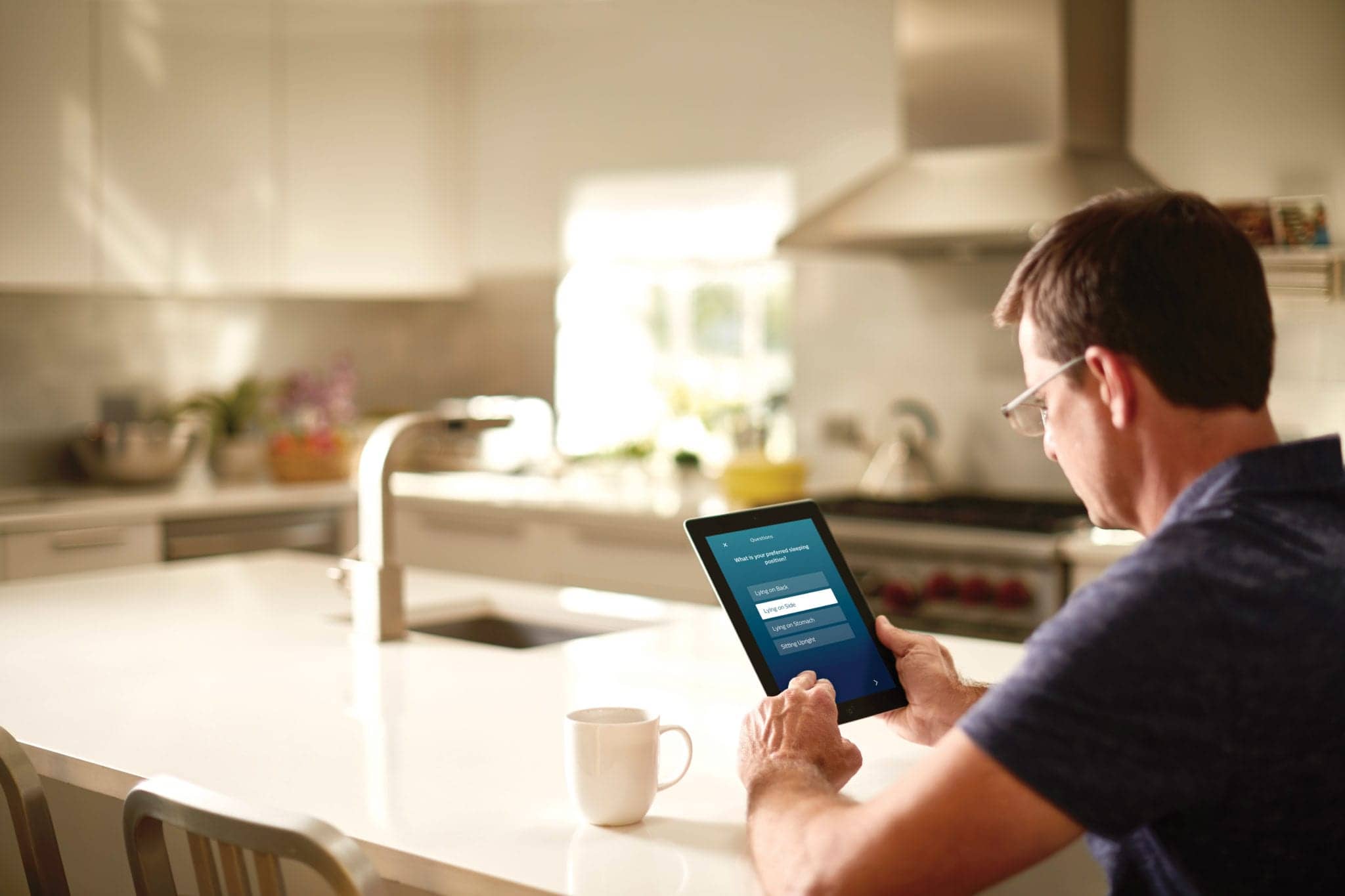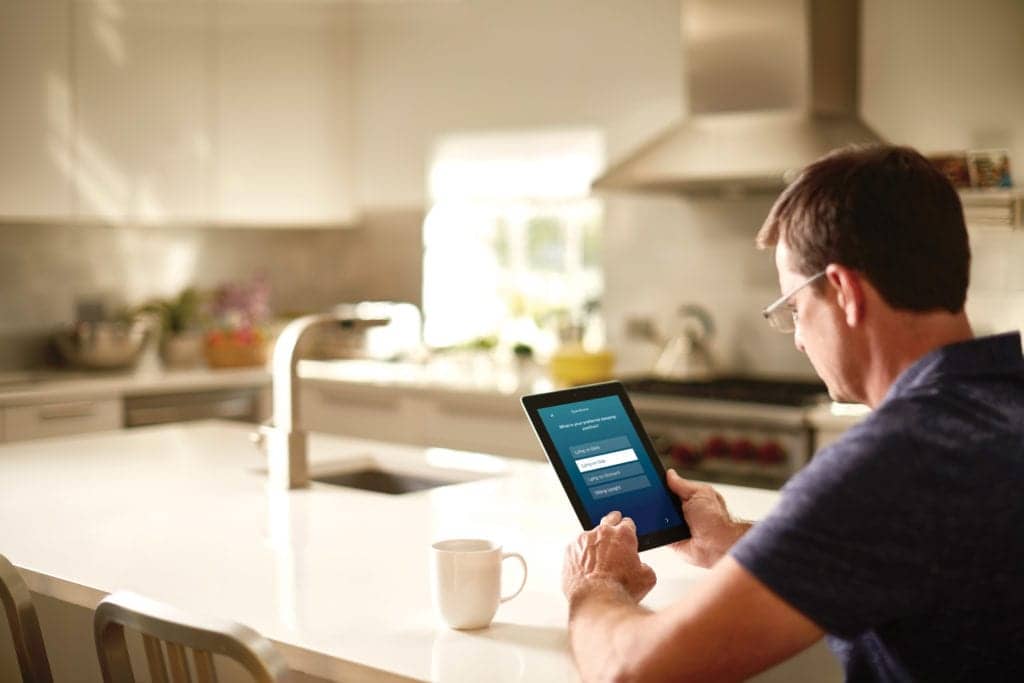 Alison Vaznonis, a general manager at several medical retailers, including Fort Myers Oxygen and Sarasota Oxygen and CPAP, says that not long after lockdown began in Florida, several of her medical equipment locations turned to a cloud-based CPAP mask fitting software called SleepGlad, a newcomer in sleep tech that launched this spring.
"We wanted to protect, as much as possible, the safety of our patients and our employees, but what we found, actually, also is that it is very accurate versus having an individual person do a fitting," says Vaznonis. "Our experience has been really positive so far; our patients really like it."
Through an online portal, the HME sends a link to the patient, who is then instructed to take a photo of their face with their phone. The SleepGlad program then uses artificial intelligence to evaluate more than 130 data points to generate a 3D extrapolation of the patient's anatomy before recommending a mask. All that's required of the patient is a smartphone, an Internet connection, and 3 seconds of time.
It's as easy as "taking a selfie," says SleepGlad co-founder and board certified sleep medicine physician Akhil Raghuram, MD.
[RELATED: How to Get Sleep Apnea Patients into Well-Fitting Interfaces…Remotely]
In May, Judson Sturdivant, owner of Hays Medical Supply, says his company was at a crossroads. "How do we keep our staff healthy and how do we keep our patients healthy?" he remembers thinking. Since then, he turned to the ResMed MaskSelector. The program works in a similar way to SleepGlad, only the patient holds up a measuring tool to their face when snapping photos and the program recommends ResMed interfaces exclusively.
A longtime client of ResMed, Sturdivant says this system is working well for his team. "This was by far an upgrade from the traditional way," he says.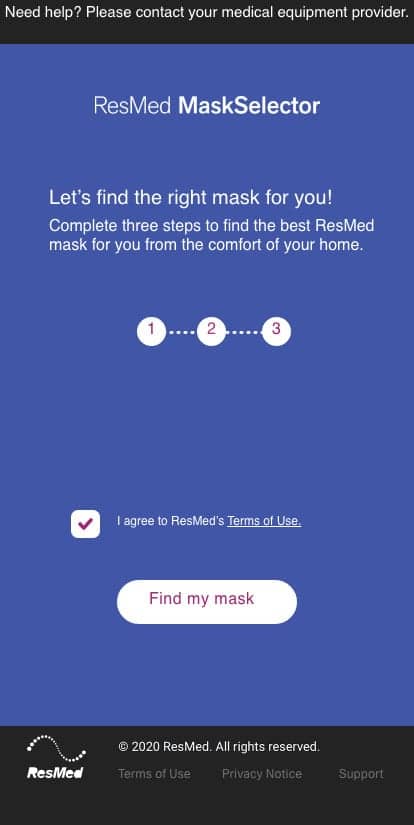 On the other hand, some medical suppliers, including Fort Myers Oxygen and Sarasota Oxygen and CPAP, prefer a system like SleepGlad that support masks from multiple brands.
SleepGlad can recommend CPAP interfaces made by Philips, ResMed, and Fisher & Paykel. It also lets home medical equipment companies build their own mask formularies.
Machine learning is used to continually improve the algorithm to pick the right mask for each patient's individual facial features. "We are constantly fine-tuning the mask selection and sizing," says Raghuram, the medical director of the Vancouver Sleep Center.
Since the system has proven accurate, Vaznonis anticipates that more patients will get an appropriate mask on their first try. "I think what we are hoping is that it is actually going to cut down on mask adjustments or mask switch ups that we would have to do otherwise," she says.
The recommendation populates on the patient's phone and on the medical device provider's screen almost instantly with the name, description, size, and photo of the recommended mask.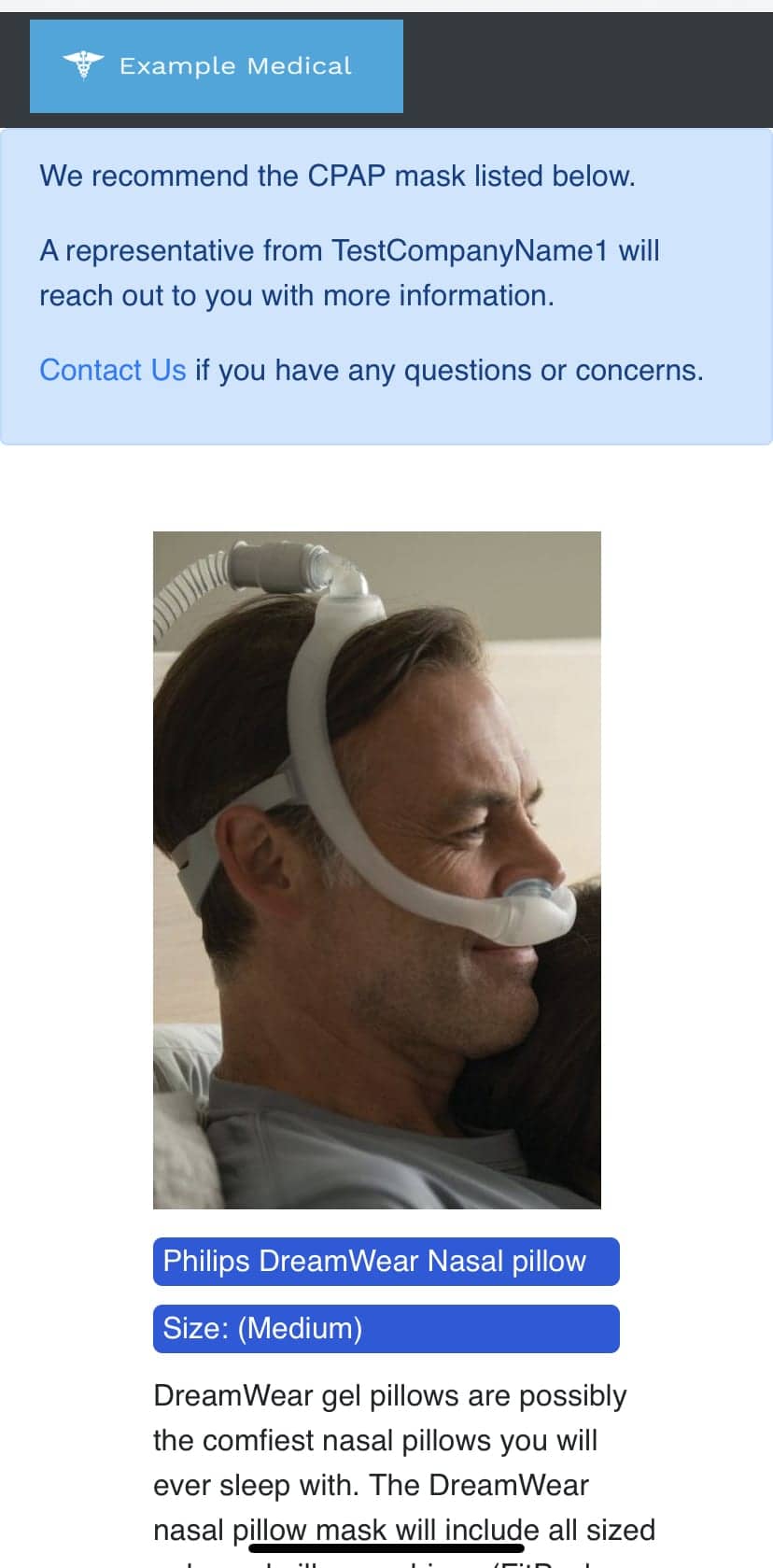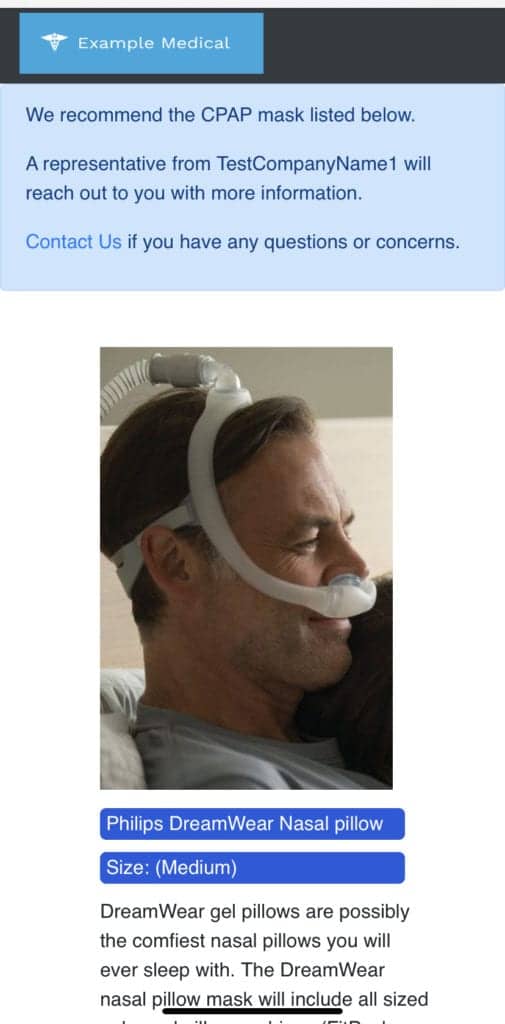 After, the patient views an instructional video that explains how the CPAP machine works and describes its different features. Suppliers are also free to upload their own video to share with their patients.
"They find this very helpful because they are not wasting 40 minutes giving the same talk to all their patients," says Raghuram.
The final step is when the patient receives the CPAP mask and machine in the mail and can begin therapy, all without having to leave their home.
According to SleepGlad, early adopters of this system have not had any pauses in their service. "They haven't been held back because of lack of access to [personal protective equipment] or getting a patient in the office. They are functioning without any breaks," says Raghuram.
"It's business as usual."
Another option is Philips Respironics Mask Selector's 2D tool. Also released during the pandemic, it is a remote version of the company's in-office 3D Mask Selector.
According to information provided by Philips, Mask Selector identifies several data points most critical to provide accurate and precise mask recommendations. This data is then evaluated in combination with a patient questionnaire to recommend a mask type, cushion, and frame size.
"This data-driven solution can not only help [durable medical equipment providers] and sleep labs operate more efficiently by reducing the burden and expense of a potentially lengthy mask fitting process, but also help to improve patient compliance by delivering a personalized mask specific to the individual needs of the patient," says Mark D'Angelo, sleep OSA business leader at Philips, in a statement.
For patients who are not particularly tech savvy or do not own a smartphone, they may enlist help from a family member or a member of the medical supply team may stay on the phone to walk them through each step, says Vaznonis.  In-person fittings are also an option, says Vaznonis; the company still has a retail showroom open to assist patients.
Overall, though, Vaznonis says, "We have not had a lot of people who have had issues with it. There are a lot of people at this point who are used to FaceTiming with their grandkids or using video meetings or cell phone apps and all these type of things. So it is few and far between that we run into someone who can't or just doesn't want to do it."
Will these technologies replace human techs completely?
The jury is still out, but Raghuram says no machine can completely replace a highly trained tech. Nevertheless, experienced techs bring a human bias. Often techs may have personal mask preferences that can interfere with their ability to recommend interfaces with which they are less familiar but that might work better for the patient. Artificial intelligence and machine learning can help bypass that human bias.
"It's also super simple and super quick," says Vaznonis.
Lisa Spear is associate editor of Sleep Review.
Top photo credit: ID 79270631 © Vadimgozhda | Dreamstime.com