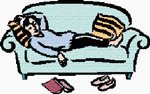 National Sleep Foundation Launches "Sleep For Kids" Web Site
School-aged children may not listen to their parents about getting adequate sleep, but the National Sleep Foundation (NSF) is hoping they will pay attention to P.J. Bear, NSF's sleep ambassador. P.J. Bear is an animated character that guides children through SleepforKids.org, a resource designed to allow children aged 7 and up to learn about the value of sleep. The Web site includes educational games and activities, as well as a downloadable copy of NSF's new Sleep Diary.
"Our 2004 Sleep in America poll shows that too many children aren't getting the recommended amount of sleep they need, and more than two thirds of them experience sleep problems at least a few nights a week," says Richard Gelula, NSF's chief executive officer.
The site explains how sleep works and provides information on productive sleep habits, sleep disorders, and dreams. It also features a page for parents and teachers to access more detailed information on children's sleep habits, problems, and the possible connections between sleep problems and other health issues, such as obesity and attention deficit/hyperactivity disorder.
"We hope that parents will take the time to look at SleepforKids.org, so they can talk to their children about what they learn on our site and can act as good sleep role models," Gelula adds. "We're also encouraging teachers to make use of SleepforKids.org in their classrooms to help ensure that all students get sufficient, high-quality sleep to be attentive throughout the school day."
Daniel Lewin, PhD, associate director, Pediatric Sleep Disorders Program, Children's National Medical Center, Washington, DC, and Judith Owens, MD, MPH, director, Pediatric Sleep Disorders Clinic, Hasbro Children's Hospital, Providence, RI, worked with NSF and reviewed SleepforKids.org's site content.
---
Book Review:
A Woman's Guide to Sleep Disorders
by Kelly Stephens
When it comes to sleep, women face unique challenges related to hormonal and bodily changes caused by menstruation, pregnancy, and menopause. Women may also lose sleep due to increased family or work demands and stress. Yet, many women are not properly diagnosed with or treated for sleep disorders; in fact, until 1993, few doctors even considered sleep apnea as a possible diagnosis for women, according to Meir H. Kryger, MD, author of A Woman's Guide to Sleep Disorders. "Sleep apnea used to be a disorder of middle-aged obese men," says Kryger. "But I have seen thousands of women with sleep apnea, and thousands of kids."
To break the trend of undiagnosed and misdiagnosed sleep disorders in women, Kryger, a past president of the American Academy of Sleep Medicine, presents educational information and resources in a book that aims to arm women with the knowledge to assess their own sleeping habits and determine whether to seek clinical evaluation and treatment for a possible disorder. The four-part guide addresses normal versus abnormal sleep, self-evaluation techniques, different types of sleep disorders, and sleep studies and treatment options. Each section includes anecdotes from some of the 2,000 female patients Kryger has treated in the past 25 years. In addition to covering the effects of the menstrual cycle, pregnancy, and menopause on sleep, the book includes sections on other associated medical problems, psychiatric disorders, and over-the-counter and prescription drugs that may interfere with normal sleep cycles. It also offers advice on how to choose a sleep center for diagnostic testing, how to prepare, and what to expect.
Written by the man who reported one of the first documented North American cases of sleep apnea, the book features a foreword by Barbara Philips, MD, director of the University of Kentucky School of Medicine sleep clinic, and an introduction by Richard Gelula, MSW, CEO of the National Sleep Foundation (NSF). It also includes extras, such as the NSF Sleep Diary for assessing daily sleep patterns, an appendix revealing the caffeine content of common food and drink products, and a list of resources for locating more information about sleep and sleep disorders.
Kelly Stephens is a contributing writer for Sleep Review.
A Woman's Guide to Sleep Disorders
Paperback: 316 pages
Publisher: McGraw-Hill
ISBN: 0071425276
---
California Sleep Conference
The Annenberg Center will sponsor the 23rd Annual Conference on Sleep Disorders in Infancy and Childhood in Rancho Mirage, Calif, on January 13-15, 2005. This is a multidisciplinary meeting for physicians, nurses, respiratory care practitioners, sleep scientists, polysomnographers, social workers, psychologists, and other health care professionals who have an interest in cardiorespiratory control, SIDS, pediatric sleep disorders, OSA, and home ventilatory support. The 2005 conference topics include polysomnographic monitoring in children, metabolic consequences of sleep disruption, neurocognitive consequences of childhood sleep apnea, SIDS and neonatology, and circadian rhythms. For more information, contact the company at [email protected] or call Alice Clark between 8:00 am and 5:00 pm Pacific standard time at (800) 321-3690 or (760) 773-4500. Exhibitor information and online participant registration can be found at [removed]www.5StarMedEd.org/sleepdisorders[/removed].