When William Leeds, DO, medical director of the Sleep Center at Pulmonary & Sleep Associates (P&SA), Topeka, Kan, helped start the center in 1998, it was a basic two-bed operation. A decade later, P&SA is fully accredited with six beds, offering soup-to-nuts patient service and performing vital research in the field of sleep medicine.
"We've grown into a full-service sleep center, and it all sort of happened at once," Leeds said. But how?
KEEPING WITH COMPLIANCE
It began with a simple question: how could P&SA enforce better CPAP compliance? The rate of compliance in the center's early days hovered at around 45%, a typical figure. But Leeds and staff knew they could do better. "We started working with the Kansas University Medical Center, where we worked in conjunction with their folks to research CPAP compliance in the elderly in rural Kansas," Leeds says. "But at the same time, we started expanding, looking at how we could provide better CPAP service."
The first step was overhauling the center's CPAP equipment to ensure that all of it had the capacity to download compliance information—despite the fact that this type of equipment is much more expensive. "Dr Leeds has always mandated that no matter where the CPAP comes from, it must have downloadable capabilities," says Gary Carder, RPSGT, assistant director of the sleep center. Carder has worked at P&SA for 7 years. "And when we set up CPAP, we do 1-month, 6-month, and yearly follow-ups. If patients come in for the 1-month follow-up and they're having problems, we'll try a different mask and ask them to come in again in a couple of weeks."
This rigorous approach to compliance requires the involvement of everyone on the sleep center team, says Henry Johns, RPSGT, CRT, CPFT, director of the sleep center. "Getting a patient to be compliant is an art," he says. "It takes a lot of work. I think a lot of places don't bother with it because it's too hard, too time-consuming. We connected patients with either a sleep tech or a respiratory therapist who could help them with their CPAP use."
Multidisciplinary collaboration was clearly necessary, so P&SA brought on a psychologist to help deal with behavioral issues and shore up the center's goal of fully integrated service. "We're committed to patient success," Johns says. "If you can't tolerate CPAP because you're claustrophobic, we'll have an RT sit in with you, or we'll start you on behavioral therapy."
To assess whether their methods were working, P&SA worked with a researcher from Washburn University, Topeka, who looked over their compliance data and found that they had improved their compliance rate by about 40 percentage points, nearly doubling it. "We take you from the point when you think you're doing something wrong to diagnosing and fixing the problem," Johns says. "If the patient hasn't succeeded, we haven't succeeded."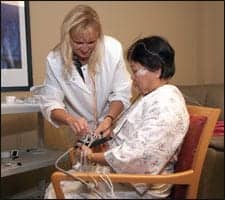 Misty Short, CRT, prepares Belen Ayala for a sleep study.
REAPING THE REWARDS OF RESEARCH
Conducting research on-site provides important benefits; it raises the sleep center's profile, and "it makes our technologists sharper, because they have to stay on top of things," Johns says. So in 2004, Leeds formed a relationship with Veritas Clinical Research, which partners with P&SA on industry studies and drug and device trials. "I look for sleep research that will include P&SA," says Glen Fair, director of Veritas. "Our niche now is really device trials, and it's our goal to be one of the top centers for device trials in the Midwest."
For Fair, the relationship with P&SA allows the research side of his business to grow by enabling Veritas to explore new areas of study. "We find the research, and they provide the investigators and the staff," he says. Meanwhile, Veritas provides the team at P&SA with the freedom to do research without having to bother with the attending clerical and administrative duties. "We realized there was a need for sleep research," Leeds says. "The academy was promoting it; the government was putting out RFPs. But a sleep center isn't really geared toward doing clinical trials. This is a natural marriage."
Research isn't the only practice P&SA advocates, however. The center has always emphasized the importance of accreditation and certification, and employees are encouraged to constantly advance in their studies. "We're pushing hard to get all of our employees registered as polysomnographic technicians," says Marianne Baumchen, office manager at P&SA. "It's not required by any of our insurers, but we want to make sure that we have that high-quality standard in place."
COMMUNITY OUTREACH
P&SA is one of the only sleep centers in the region to treat teenagers and children, and is continually advocating for increased coverage of children's sleep medicine. "We've seen some very interesting results with Down syndrome kids and ADHD kids that we're really proud of," Carder says. "I think that side of the business is growing. There are even a couple of new masks that are FDA-approved for children. And pediatricians are better able to see the correlation between poor sleep habits and ADHD symptoms."
P&SA's substantial list of roles in its community doesn't end there. The center was also instrumental in the creation of the Kansas Association of Sleep Professionals (KASP), established in 2003. KASP now has more than 100 members. "Using it as a vehicle to advocate with the state has been very handy, because we can get information out to everybody in the state about what's going on," Johns says. "It was an idea born out of our program, and we're very proud of it." The goal, according to Leeds, is an environment free of proprietary information, where intercenter collaboration always trumps competition. "KASP is a fantastic environment where everyone can teach each other," he says. "It takes commitment to do these things, and we're committed. We feel that the rising tide floats all boats. We want to make sleep medicine better in Kansas and the region, not just in our own lab." On top of the KASP meetings, P&SA also sponsors on-site monthly meetings with an academic component, bringing in speakers from around the country to deliver guest lectures.
OUTLOOK FOR GROWTH
In the future, Leeds hopes to expand P&SA's collaborative outreach to the mental health profession. "We've had tremendous success with the cognitive behavioral therapy that's being applied to our insomnia patients, so we'd like to connect with those folks, and get on board with them," he says. "That would be really important to us."
Baumchen looks forward to P&SA's future development. "We'd like to grow as the industry grows," she says. "We'd like to expand into different sleep centers that we either work for or actually own and operate." Part of that expansion consists of special programs on sleep health cooked up by Johns. Last year P&SA partnered with the Kansas Highway Patrol to sponsor a series of public service announcements on local radio stations about drowsy driving; the program was aimed at both adults and teenagers.
"We've done a little bit of public outreach, and we're hoping to do more," Johns says. "We'd like to get people sleeping better." That's why Johns, in addition to the many other hats he wears at P&SA, is committed to working with the Kansas Health Policy Authority on providing health care for the uninsured. "How do we get health care to everybody?" he says. "How do we encourage people to be healthy? Anytime you're dealing with a government agency, it's an uphill struggle."
It takes a lot of hard work to provide P&SA's level of patient care while conducting clinical research, training the next generation of sleep techs, and leading the state's other sleep centers. "It takes a big team," Carder says. "It's all about collaboration. That's the only way we can do everything we do."
---
Cat Vasko is a contributing writer for Sleep Review. She can be reached at sleepreviewmag@allied360.com.