Ronald S. Prehn, ThM, DDS, created this worksheet to monitor oral appliance therapy (OAT) via pulse oximetry.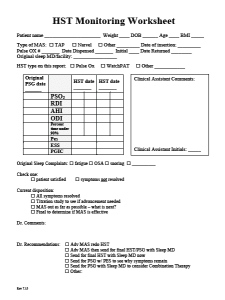 Prehn finds that the pulse oximeter is an effective tool to evaluate the response to OAT prior to sending patients back for follow-up PSG testing at a sleep lab. A pulse oximeter monitors a patient's heart rate and blood oxygen saturation in arterial blood. Prehn shares more information on using overnight pulse oximetry to manage oral appliance therapy in a full-length article.
Prehn, ThM, DDS, is the owner of Restore TMJ & Sleep Therapy, a patient-centered dental practice that focuses on the diagnosis and treatment of headaches/facial pain, temporomandibular disorders and sleep-breathing disorders in The Woodlands, Texas.