Can you solve this sleep medicine-themed crossword puzzle, designed specifically for Sleep Review readers? A hard copy published in the March/April 2018 issue.
Click on the thumbnail or 0318Crossword to open a printable PDF.
Across
1 Naturally occurring hormone that plays a key role in circadian rhythms
6 ___aplexy
8 Brain electrical activity study, abbr.
9 Normal, as in heartbeats or breathing
10 Simple resting place
12 Essential amino acid that is a precursor to serotonin and melatonin
16 No-no in some diets
18 Not very happy
20 Tart fruit juice linked to better sleep
23 Once _____ while
25 Connection
26 Continuous positive ___way pressure
27 Half asleep, drivers in this state are more likely to cause crashes
28 ___ Arbor, MI
29 Inert gas, symbol
30 Lack of sleep
35 One or more, without specification
36 Old time you
37 _____ clock
Down
1 Intersect
2 Treatment commonly prescribed for
circadian sleep disorders, 2 words
3 Cigarette ingredient
4 When it is best to sleep
5 Zero
6 Researchers in ______ rhythms recently won The Nobel Prize in Medicine
7 Blood ____s (medical diagnostic procedures)
11 Above
13 The "p" in BPM
14 In-lab sleep study, for short
15 Laughter sound
17 Tyramine, an amino ____
19 ____ lobe
21 Some say the physician needs this
unprocessed data when interpreting a home sleep test
22 "Whoopee!"
24 Nickel, abbr.
28 Gerontologist's field
30 Shift workers may sleep during this time
31 Compass point, two words, abbr.
32 Sundial number
33 100%
34 News channel
To suggest clues for an upcoming sleep crossword, email sroy[at]medqor.com. To sponsor a future puzzle, email rfelts[at]medqor.com.
Answer Key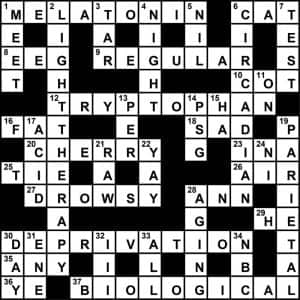 Myles Mellor is a full-time professional crossword puzzle writer who is internationally published.