They look futuristic, like something out of The Jetsons. But nap pods, shiny spheres encapsulating chairs with long, horizontal legrests attached, are cropping up at more and more businesses and universities across the United States and the globe.
Made by a variety of companies, the pods enclose the user in a bubble of silence or tranquil music at a position that promotes relaxation while isolating them from seeing what's happening outside.
Growing in popularity as a response to more studies that show the harms of not being well-rested, companies use the pods to provide mid-day naps to workers to boost productivity. Schools hope to increase student and staff brain power. For many clients, the overall goal is health.
Christopher Lindholst is CEO of MetroNaps, one company that produces the pods. Its signature product is the EnergyPod, and while Lindholst doesn't discuss sales figures, he does say client inquiries about the product have increased 186% in just the past 2 years.
He links the spike in interest to technology.
"I think people are staying up late more…. And frankly, humans, we're really good at shortchanging sleep. That's often the thing that comes last," he says. "We watch that movie we shouldn't and we do some work late at night, but sleep gets sacrificed quite a lot…. And general awareness of sleep is growing at the same time."
A 2011 poll conducted by the National Sleep Foundation found that people who use technology like cell phones and computers before bed don't sleep as well, and feel sleepier than those who don't.
To counter that problem, napping can improve alertness and performance while also reducing mistakes, and it has psychological benefits, according to the National Sleep Foundation.
And people using nap pods vary greatly. MetroNaps clients range from Google and NASA to the Arizona Diamondbacks and Cleveland Indians to hospitals, offices, fitness centers, and universities throughout two dozen countries on four continents.
Lindholst says human resources departments in companies around the world have often focused on nutrition and wellness programs for employees but are only now starting to pay attention to sleep, which he calls the "third pillar" of health.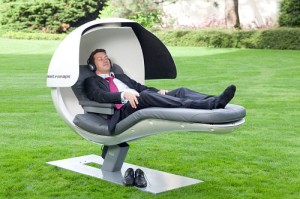 As for the design of the MetroNaps pod, everything has a reason. The slightly reclined seat back combined with elevated legs helps create a gravity-neutral pose, relaxing the lower back. Slightly bent knees make it easier for the body to circulate blood. A visor keeps the napper in a relaxed, dark, isolated place if he so chooses, complete with a timer inside that goes off to prevent oversleeping.
Hammacher Schlemmer makes a chair that looks similar to MetroNaps' and London-based Podtime sells pods that look more like tubes that completely enclose the napper.
At Saint Leo University in St Leo, Fla, both students and staff have made use of four MetroNaps EnergyPods on campus since the fall of 2012. Over the last year, these pods averaged 5 hours of use per day at 20 minutes per nap session. People are using the pods much more than the school's staff anticipated, according to associate vice president for student services Kenneth J. Posner.
"In an era when students are multitasking and working [and] studying more, the lack of sleep is one of the biggest challenges a student faces," Posner says. "We wanted to find a creative and unique way to assist them with their personal wellness."
And even some schools that don't have nap pods, which at MetroNaps range from $8,000 to $13,000 in cost, are dedicating space and time to nap rooms where students and staff can recharge.
"Pressure points are midterms and finals, so a space for napping is always available on campus for students who need downtime," says Teri Bond, media relations director at the Art Center College of Design in Pasadena, Calif, which uses a nap room to help students at the commuter school energize themselves.
Lindholst says people who take a 20-minute nap experience a 30% boost in alertness, which is tied to better work habits.
"Productivity is tougher to measure," he said. "You have to be willing to use alertness as a proxy for productivity."
A.J. Zak is associate editor of Sleep Review. Contact her at [email protected].