Margarita L. Dubocovich, PhD, makes pioneering discoveries into the surprising powers of the hormone melatonin on the mammalian body.
By Chaunie Brusie, RN, BSN
Margarita L. Dubocovich, PhD, FACNP, FASPET, stood in front of her laboratory refrigerator trying to decide whether to choose serotonin or melatonin for the first experiment in her new lab as an assistant professor. She wanted to tease out the effect of melatonin and its precursors (serotonin and N-acetylserotonin) on the release of dopamine from rabbit retinas. "Luckily," says Dubocovich, she chose melatonin—a decision that launched her career as one of the leading experts on the physiological functions of melatonin, roles that go far beyond the hormone's influence on sleep.
That experiment, whose results were published in the journal Nature in 1983, found that melatonin was 1,000 times more potent than N-acetylserotonin in inhibiting the release of dopamine in rabbit retinas. And the putative neurotransmitter serotonin? It was inactive.1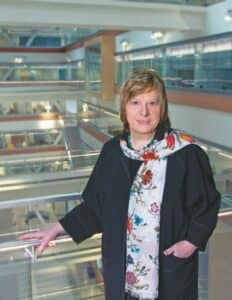 Dubocovich remembers being shocked that nanomolar concentrations of melatonin completely blocked the release of dopamine. "It was to the point that I thought something was wrong," she says.
Repeating the experiment the next day yielded the same results, as did lowering the concentration of the melatonin used. By the time she had reduced the concentration to only one picomolar, inhibition of the dopamine release was still present. This, Dubocovich says, was a "very significant" discovery. It suggested that circadian production of melatonin could play a physiological role in modulating the activity of dopamine-containing neurons in the retina.
In fact, Dubocovich, now State University of New York (SUNY) Distinguished Professor in the department of pharmacology and toxicology in the Jacobs School of Medicine and Biomedical Sciences at the University at Buffalo, says the discovery was so significant that it set up her career to this day, in which she researches melatonin, melatonin receptors, and the role of melatonin in modulating pharmacological functions.
More Landmark Discoveries
Because pharmacologists did not have tools to study receptors at the time of the original retina dopamine-release study, Dubocovich set about using her discovery as a model to demonstrate the presence of a mammalian receptor.2
From there, she partnered with a biotech company to discover the first competitive melatonin receptor antagonist: "Luzindole" is still used today to investigate the effect of melatonin and melatonin-related drugs in in vitro studies and in animals. Dubocovich calls melatonin the "signal of darkness," so she felt it was only fitting that the molecule that blocks the action of melatonin to mimic light signals should have a name that refers to light or "luz" in Spanish.
These discoveries set the stage worldwide to understand the effects of melatonin in the body.
For instance, a recent paper by Dubocovich's team and researchers at RIKEN in Japan and other institutions details for the first time multiple roles that naturally-occurring melatonin plays in processes ranging from circadian rhythms to reproduction to torpor. Because the research was done on two mice that were genetically identical except one produced melatonin and the other did not, the findings demonstrate unequivocally what endogenous melatonin does on its own. Specifically, melatonin facilitates and accelerates re-entrainment, decreases body weight, decreases reproductive performance, and can spark torpor in animals.3
Melatonin, Misunderstood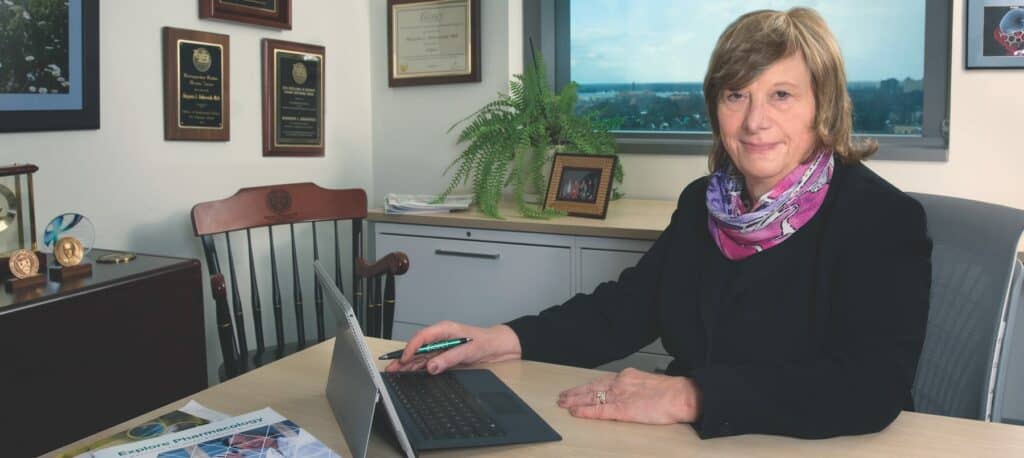 While melatonin has gained some attention in recent years—primarily as an over-the-counter supplement that is increasingly used to treat sleep issues in adults4 and, more controversially, in children5—Dubocovich, who is also senior associate dean for diversity and inclusion in the Office of Inclusion and Cultural Enhancement at the Jacobs School of Medicine and Biomedical Sciences at the University of Buffalo, says the hormone is largely misunderstood.
"It's a very powerful hormone," Dubocovich says. "It's just one of the things that people don't understand—melatonin is a molecule that modulates function in vivo at very, very, very low concentrations."
Many studies that describe the effects of melatonin have looked at much higher concentrations of the hormone than those naturally produced in the body, which is why Dubocovich has focused her own studies on receptors that are activated by tiny picomolar concentrations. Dubocovich thinks the higher concentrations of melatonin can alter melatonin receptor sensitivity, producing unexpected non-physiological effects.
For instance, one commonly-held myth is that melatonin generates circadian rhythms. In actuality, Dubocovich says, melatonin has a well-defined modulatory effect on circadian rhythms but cannot generate them. "That's one of the things that is misunderstood," she says.
Also, while melatonin acts on individual G-protein-coupled receptors to produce specific effects on the body, at high concentrations it is also a free radical scavenger, antioxidant, and anti-inflammatory agent. Indeed, Dubocovich is currently running a clinical trial to study the effects of melatonin as a potential anti-inflammatory agent on mild COVID-19 infections.
Pharmacology of Melatonin Receptors
According to Dubocovich, her most important contribution is being one of the few people in the world to characterize and work on the pharmacology of melatonin receptors.
"I have always been the one driving the pharmacology research of the receptors and always coming up with these molecules that will either block or activate the receptors," she says. "And then I would characterize them and I would put it out there."
Her work zeroes in on the workings of melatonin at a molecular level, characterizing the receptors she researches, trying to come up with drugs that will activate or block the receptors, and discovering some of the molecules that block melatonin.
For instance, a research collaboration with scientists at the UNC School of Medicine and UC San Francisco, created molecules to selectively bind to MT1 melatonin receptors on the surface of cells and modulate circadian rhythms in animal models of jet lag. In the experiments where the onset of darkness was advanced, the molecules slowed re-entrainment (an effect opposite to melatonin's effect). But when mice were exposed to constant dark, the two molecules demonstrated an effect identical to that of melatonin. "This discovery allows us to now focus on the development of unique new molecules to generate a response that will help bring sleep patterns and other biological rhythms in line with environmental light and dark cycles, providing the sense of well-being that is only experienced when such rhythms are in sync," Dubocovich said in a release about the paper, which was published in Nature in 2020.6
Dubocovich has deepened her research by building upon each discovery to further explore how far her work into unraveling the mysteries of melatonin can take her. Currently, she's focused on studying how specific and novel molecules exert therapeutic effects targeting melatonin receptors. "That is what the field is moving right now," she says. "Whether we can have molecules that are selected for one receptor or the other, and what those molecules are going to do to neurochemical function, sleep, circadian rhythms regulation, and indirectly, how circadian rhythm regulation by melatonin and melatonin drugs can influence circadian rhythms and therefore be beneficial for conditions such as depression, jet lag, and things like sleep disorders."
Trailblazer In and Out of the Lab
Just as she has been a trailblazer in her scientific research, Dubocovich has also been a pioneer outside of the lab, including establishing a mentorship program for other researchers.
Collaborative Learning and Integrated Mentoring in the Bioscience Program (CLIMB, for short) provides learning opportunities and career growth for bioscience undergraduate students, postdoc students, and junior faculty members.
Dubocovich is passionate about the program, which she first launched when she was at Northwestern University as a way to support PhD students. Part of her motivation was to help students coming to a new place adapt more easily. "They get into a culture shock—they come to a new city, new weather, new people—so there was a program that is not only mentoring, but also peer mentoring and a support group," she says.
Over the past 11 years, the CLIMB program has grown to host more than 500 students, and each class is 50% underrepresented students. "It's a very successful, very diverse group of people," she says. "We believe that the people who are going to be more successful are those that are more adept to understand and communicate with others across different disciplines, academic, and cultural domains."
She has received recognition for her mentorship work over the years. In 2011, Dubocovich received the University at Buffalo Distinguished Postdoctoral Mentor Award and Distinguished Postdoctoral Mentor Award (2011); in 2015, the Excellence in Graduate Student Mentoring Award; and in 2017, the UB CSTEP Outstanding Research Mentor Award and the Inaugural American College of Neuropsychopharmacology (ACNP) Delores C Shockley Minority Mentoring Award.
Legacy of Melatonin Research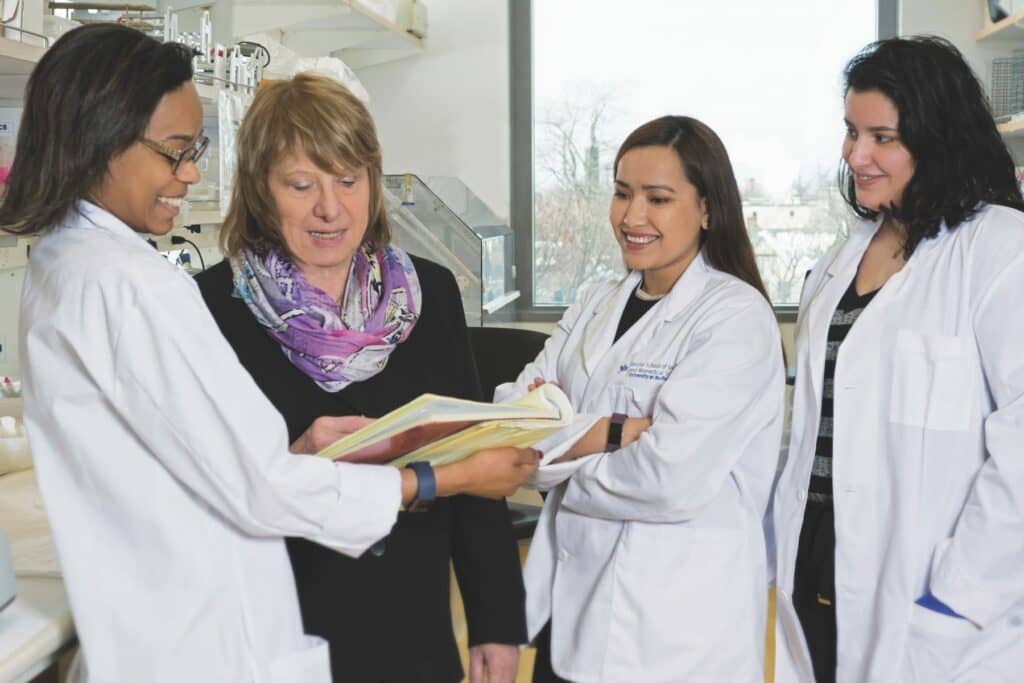 Dubocovich has received numerous accolades for her research too. These include winning the 2012 PhRMA Foundation Award for Excellence in Pharmacology and Toxicology, being the first female faculty member in the Jacobs School to be named a SUNY Distinguished Professor (in 2014), and most recently winning the ASPET Julius Axelrod Award in Pharmacology (in 2022).
Diana N. Krause, PhD, a professor with the department of pharmaceutical sciences at the University of California-Irvine, has known Dubocovich for almost 40 years. She describes how Dubocovich brings passion and precision to mentoring and research.
"Margarita is a brilliant, creative scientist and an insightful experimentalist," says Krause, who shares Dubocovich's love of neuropharmacology. "She has tremendous drive and passion for her chosen projects, whether it is a melatonin study or a program to develop the careers of young biomedical students. She holds herself, her students, and colleagues to a high level of excellence. As a Hispanic woman who grew up in rural Argentina, she brings a unique perspective to her scientific and academic endeavors."
Just as Dubocovich's research has helped to shine a light—literally and figuratively—on melatonin and its receptors, her future work will delve deeper into the specific mechanics and applications of the hormone. Her goal now is the development of compounds with selective receptor-acting molecules that can be useful in treating specific diseases and conditions, from depression to jet lag to seasonal affective disorders. "That's my passion, and I'm working with different entities and different companies trying to advance the field in this area," she says.
Alfred J. Lewy, MD, PhD, professor emeritus of psychiatry at Oregon Health & Science University, says, "I anticipate that melatonin research will be increasingly active in the years to come and that Margarita will continue to play an active role." He characterizes her work as "pioneering," noting that she's one of the few in the field of melatonin who has been involved for several decades, well before the field gained popularity.
"Because some people can get sleepy immediately after taking even a very low dose [of melatonin], the lower the dose, the better," he adds. "Margarita's continued research on melatonin receptors may lead to another way to use melatonin and melatonin analogs taken during the day to regulate the body clock without causing daytime sleepiness."
Dubocovich herself feels fortunate to have seen the progression of melatonin research throughout the years. "We started at one point, and I've been able to see the field evolve, not only through my work but through fantastic work that other people have done over the years in the area," she says.
Dubocovich's work continues to be a building block for the study of melatonin—and all of the discoveries that still remain ahead.
As Krause says, "Margarita's pioneering work on melatonin receptors has laid the groundwork for understanding how and where melatonin acts in the body. Her elegant pharmacological studies provide the framework for designing drugs to treat disorders related to circadian rhythms. One cannot imagine the melatonin receptor field without Margarita's many contributions."
Chaunie Brusie, RN, BSN, is a content creator specializing in health, medical, parenting, finance, and travel.
References
1. Dubocovich ML. Melatonin is a potent modulator of dopamine release in the retina. Nature. 1983 Dec 22-1984 Jan 4;306(5945):782-4.
2. Dubocovich ML. Characterization of a retinal melatonin receptor. J Pharmacol Exp Ther. 1985 Aug;234(2):395-401.
3. Zhang C, Clough SJ, Adamah-Biassi EB, et al. Impact of endogenous melatonin on rhythmic behaviors, reproduction, and survival revealed in melatonin-proficient C57BL/6J congenic mice. J Pineal Res. 2021 Sep;71(2):e12748.
4. Reynolds S. Use of melatonin supplements rising among adults. NIH Research Matters. 1 Mar 2022. Available at https://www.nih.gov/news-events/nih-research-matters/use-melatonin-supplements-rising-among-adults.
5. Gold J. Can melatonin gummies solve family bedtime struggles? Experts advise caution. Kaiser Health News. 24 Mar 2022. Available https://sleepreviewmag.com/sleep-treatments/pharmaceuticals/otc/can-melatonin-gummies-solve-family-bedtime-struggles.
6. Stein RM, Kang HJ, McCorvy JD, et al. Virtual discovery of melatonin receptor ligands to modulate circadian rhythms. Nature. 2020 Mar;579(7800):609-14.
Photography by Sandra Kicman, Jacobs School of Medicine and Biomedical Sciences at the University at Buffalo