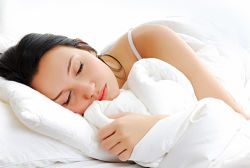 Zansors has launched a crowd funding campaign on Indiegogo to raise funds for the production of ZeeMee, Zansors' wireless, wearable sensor that allows users to measure their "sleep personality."
The ZeeMee sleep patch measures users' breathing patterns and motion during the night and assigns a sleep score using a color and number scale. Users of the product will better understand how sleep affects their daily moods and temperaments.
ZeeMee's 99 parts, including a micro-controller, sensors, and a battery, are housed in a 1.5 inch x 2.0 inch patch. The device is comfortable to wear and does not affect the user's sleep.
"Sensors have been in use for many years, but the key for us was making sense of the data," said Abhijit Dasgupta, PhD, Chief Data Science Officer for Zansors. "We studied both breathing and motion data for months and created a proprietary algorithm that can interpret the data collected and give our users easy to understand yet meaningful results every morning."