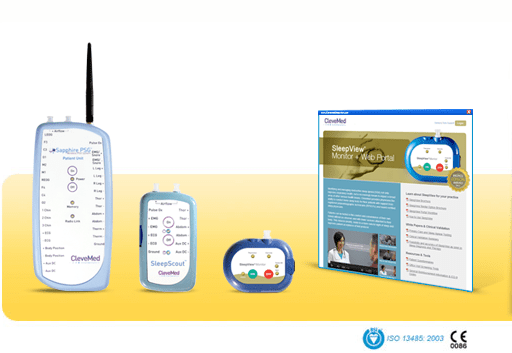 CleveMed recently announced that it was issued a patent (U.S. Patent No. 8,545,416) from the United States Patent Office for an application covering the design of its integrated sleep diagnostic and therapy technology. The patent covers the adjustment of the company's CPAP technology, based on input from one or more physiological sensors placed on the patient.
CleveMed notes that similar to other chronic treatments, its CPAP therapy needs to incorporate long-term efficacy information, beyond the currently-required 90 days, which often necessitates physiological information that cannot be measured by sensors inside the CPAP machine. This method of therapy management is particularly useful for sleep apnea patients with comorbidities, whose conditions can significantly change after CPAP initiation but have no means of conveniently monitoring or adjusting their treatments especially from the home.
"This is our third significant patent in this particular field covering the areas of titration, follow-up, and compliance of patients on auto-titrating PAP, Bi-Level and CPAP therapies," said Brian Kolkowski, CleveMed Executive VP and General Counsel. "We believe these patents form the basis of a very strong intellectual property portfolio for CleveMed for the foreseeable future."
As the company notes, patients without comorbidities can also benefit from the technologies covered by CleveMed's patents. Currently patients respond differently to the various CPAP machines on the market, especially auto-titrating PAP. Data from external patient sensors may provide the additional physiological information needed to prevent patient response variability.