In the past three years, several therapies have emerged for treating patients who have difficulty initiating sleep. We profile prescription and over-the-counter treatments, including explaining their mechanism of action, efficacy studies, and reimbursement status.
PRESCRIPTION REQUIRED
Ebb Insomnia Therapy by Ebb Therapeutics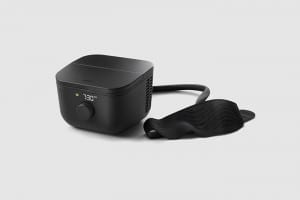 Information source: Eric Nofzinger, MD, founder and chief medical officer, Ebb Therapeutics
How it works: Ebb Insomnia Therapy gently cools the forehead within a precise therapeutic temperature range. This has been shown to reduce abnormal elevations in frontal cortex metabolism in insomnia patients and reduce the latencies to stage 1 and stage 2 sleep.
How it's different from other therapies: While hypnotics have been known to be effective in the treatment of insomnia, their side effect profiles have been problematic for both patients and clinicians in the management of insomnia. Ebb Insomnia Therapy is safe and free of significant side effects.
Patient considerations: Ebb Insomnia Therapy is FDA-cleared for use by patients with primary insomnia. Patients with insomnia often describe "racing minds" that prevent them from sleeping soundly. Ebb Insomnia Therapy will address an important clinical need by decreasing frontal cortex metabolic activity in the insomnia patient, helping them fall asleep fast and get the rest they need to take on tomorrow.
Efficacy study: A pivotal clinical study of Ebb Insomnia Therapy, conducted at seven clinical sites across the United States, showcases the product's effectiveness. The study included a randomized, placebo-controlled trial collecting polysomnographic sleep measurements in 106 adults with primary insomnia. Results of the study showed a statistically significant reduction in latency to Stage 1 sleep, the time it takes to get into the first stage of sleep, as well as latency to Stage 2 sleep, a deeper stage of sleep that typically represents over half the night.
A Novel Forehead Temperature Regulating Device for Insomnia: A Randomized Clinical Trial. Authors of the study included Thomas Roth, PhD; David Mayleben, PhD; Neil Feldman, MD; Alan Lankford, PhD; Timothy Grant, MD; and Eric Nofzinger, MD. ?Poster presentation at APSS 2017.
United States Food and Drug Administration (FDA) status: Ebb Insomnia Therapy (formally Cereve Sleep System) was FDA cleared in May 2016.
Payor reimbursement status: Currently, there is no reimbursement from health insurance companies, nor do we expect any in the near future. However, Ebb should be an eligible expense for a Health Savings Account or Flexible Spending Account.
Availability: Ebb Insomnia Therapy will be available later this year through select sleep centers as manufacturing is scaled, with national availability planned for 2018. A licensed physician or nurse practitioner must write a prescription for the Ebb Insomnia Therapy.
Belsomra by Merck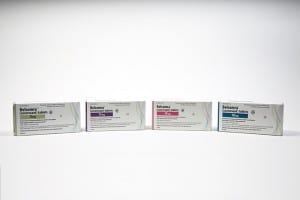 Information source: Joe Herring, MD, PhD, clinical research, Merck
How it works: Several neurotransmitters in the brain, including orexins, are involved in promoting wakefulness. The orexin signaling system is a central promoter of wakefulness and Belsomra selectively blocks orexin receptors. By doing so, Belsomra is thought to suppress wake drive in the brain.
How it's different from other therapies: Belsomra is the first and only orexin receptor antagonist approved in the United States for adults with insomnia who have difficulty falling asleep and/or staying asleep. Other available therapies include GABA-receptor agonists, melatonin receptor agonists, antihistamine medications, and antidepressants.
Patient considerations: Belsomra is an important alternative treatment option for adults with insomnia who have difficulty falling asleep and/or staying asleep. As the first in a new class of medicines, in clinical studies Belsomra helped patients fall asleep faster and stay asleep longer compared to patients taking placebo.
Today, despite available treatments, many patients continue to struggle with insomnia. Over the years, available sleep medicines have not helped all patients, so there has been a need for additional treatment options.
Efficacy study: During Phase III clinical trials (Herring W, et al. Clinical Profile of the Orexin Receptor Antagonist Suvorexant for the Treatment of Insomnia in Phase-3 Clinical Trials), Belsomra was found to help patients fall asleep 34 minutes faster (versus 23 minutes with placebo) and stay asleep 45 minutes longer (versus 19 minutes with placebo) compared to their baseline measure. In addition, patients in clinical studies gained an average of 90 minutes more sleep with Belsomra versus 60 minutes more sleep with placebo at month 1.
FDA status: The FDA approved Belsomra for adults with insomnia characterized by difficulty falling asleep and/or staying asleep on August 13, 2014.
Payor reimbursement status: Belsomra is covered by most major insurance plans. However, the plan may require that you first try another medication, such as a generic medication.
Availability: Belsomra is available to patients in the United States through a prescription from their healthcare provider. Patients struggling with insomnia should consult with their healthcare professional to learn whether Belsomra is an appropriate treatment for them.
OVER THE COUNTER
REMfresh by Physician's Seal LLC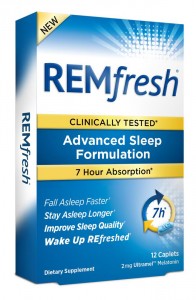 Information source: Syed M. Shah, PhD, Physician's Sleep LLC
How it works: REMfresh is a continuous release and absorption melatonin (CRA-melatonin) that is 99% ultra pure melatonin. The patented Ion Powered Pump (IPP) technology provides a burst release for rapid absorption for sleep onset, then stays above the targeted sleep maintenance blood levels for up to seven hours.
How it's different from other therapies: Melatonin has been extensively used as a chronobiotic. Its use as a hypnotic has been hampered by variability in delivery and in purity. REMfresh's IPP technology is designed to help achieve sleep onset levels quickly, while also assisting sleep maintenance for seven hours.
Patient considerations: A large body of evidence indicates natural nocturnal melatonin concentrations markedly decrease with age. This can be further exacerbated by the presence of comorbidities like cardiovascular disease, obesity, and diabetes. The type of patients who could benefit from REMfresh are patients who have more trouble sleeping as they age beyond their thirties. In Europe, Prolonged Release Melatonin (PR-M) is an approved therapy for primary insomnia in patients over 55 years of age.
Efficacy study: The European Medical Agency has accepted several clinical trials with over 2,000 patients showing the safety and efficacy of PR-Melatonin. The most recent trial with REMfresh was the REM Absorption Kinetics Trial (REMAKT), a double-blind crossover trial unveiled at SLEEP 2017. REMAKT compared REMfresh to the market leading 5 mg immediate release (IR) melatonin. The REMfresh pharmacokinetics profile showed an enhancement over IR-melatonin.
Brodner DC, Shah SM. Clinical Evaluation of the Ion Powered Pump (IPP) Melatonin Delivery System. Poster presentation at APSS 2017.
FDA status: In Europe PR-Melatonin is a drug and is available by prescription only. Due to the status of melatonin being a dietary supplement in the United States, REMfresh is available without a prescription.
Payor reimbursement status: Since REMfresh is not a prescription drug, it is generally not reimbursed. The out of pocket cost depends on the size of the box and is about $0.50 per night.
Availability: Patients can order REMfresh online on www.remfresh.com or via Amazon Prime. REMfresh is also available at select drug stores. Physicians can request samples for their practice on www.remfreshsamples.com.
Nightingale by Cambridge Sound Management/Nightingale Smart Solutions Inc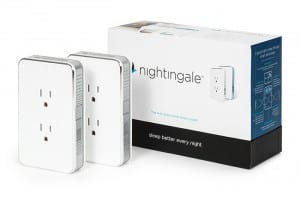 Information source: Christopher Calisi, CEO, Nightingale Smart Solutions Inc
How it works: Nightingale's dual units work in tandem to immerse the room in ambient sound from Nightingale's proprietary sound curve ("sound blankets"), which masks disruptive noises that interrupt sleep. Nightingale helps users fall asleep faster and stay asleep longer.
How it's different from other therapies: Nightingale helps users fall asleep 38% faster than they would without using the system. Since each of the two devices consists of two speakers, the brain can't pinpoint where the sound originates. Nightingale's sound blankets make it more effective than traditional white noise machines.
Patient considerations: Patients with difficulty sleeping, especially those who experience sleep onset latency, should consider using Nightingale to help them fall asleep faster and stay asleep longer.
Efficacy study: In an experimental model of transient insomnia, exposure to the Nightingale smart home sleep system significantly reduced sleep onset latency by 38% compared to normal environmental noise in a group of healthy subjects. This study was conducted between June 2016 and completed in February 2017. The full research data was unveiled at SLEEP 2017. The results of the study are anticipated to be published in their entirety in the summer of 2017.
Taranto-Montemurro L, Messineo, L, Sands S, Azarbarzin A, Marques M, Wellman A. Effect of Background Noise on Sleep Quality. Authors from Brigham and Women's Hospital/Harvard Medical School. www.meetnightingale.com/research
FDA status: Nightingale is not regulated by the FDA.
Payor reimbursement status: This therapy is not reimbursable.
Availability: Nightingale can be purchased online at meetnightingale.com, brookstone.com (also in store at Brookstone), ebags.com, and bestbuy.com.
Kortex by Fisher Wallace Laboratories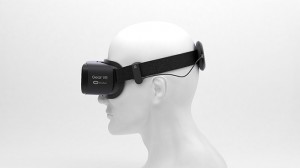 Information source: Kelly Roman, co-founder, Fisher Wallace Laboratories
How it works: Kortex combines virtual reality (VR) content with clinically validated neurostimulation that stimulates the brain to produce serotonin and melatonin while lowering cortisol and dampening the default mode network.
How it's different from other therapies: Kortex is the only VR/neurostimulation platform on the market, and it harnesses the clinical validation of the Fisher Wallace Stimulator neurostimulation, which it clones technologically.
Patient considerations: Whereas the Fisher Wallace Stimulator is a medical device positioned to treat patients who have been diagnosed with insomnia, anxiety, or depression, Kortex is a general wellness device that is geared toward the everyday consumer looking for a sleep aid. Many patients are prescribed the Fisher Wallace Stimulator after failing on drug therapy or cognitive behavioral therapy, but many also experience benefit when the device is added to a treatment regimen that includes these options. The technology poses extremely little risk: less than 1% of patients experience side effects, all minor, such as temporary headache and dizziness, and there are no contraindications with medication. So overall, the device is seen as a low risk adjunct with potential benefit that far outweighs potential risk.
Efficacy study: A pilot study conducted by Walter Reed researchers in 2013 is the most recent published data. It has a small subject size (n = 57) with promising results but not definitive. Our device is currently being used in a 100-subject, double-blind, placebo-controlled study at the University of Texas with results expected by the end of this year—so that will be the first substantial insomnia study. We have relied on smaller studies such as the following, combined with our 25,000 active patients and 6,000 prescribers who provide clinical feedback:
Lande RG, Gragnani C. Complement Ther Med. 2013 Feb;21(1):8-13. doi: 10.1016/j.ctim.2012.11.007. Epub 2012 Dec 21. Efficacy of cranial electric stimulation for the treatment of insomnia: a randomized pilot study.
FDA status: The Fisher Wallace Stimulator was 510(k) cleared in 1990 to treat insomnia, anxiety, and depression by prescription. By contrast, Kortex is defined as a general wellness device because it is intended to help relatively healthy people manage stress and sleep. As a result, Kortex may be obtained without a prescription, despite the fact that it utilizes exactly the same technology as the Fisher Wallace Stimulator.
Payor reimbursement status: Medicaid in Maine recently approved full coverage of the Fisher Wallace Stimulator (the first Medicaid state to do so). We are focusing on Maine for the rest of this year and anticipate receiving additional state approvals in 2018. Tricare for Life reimburses the purchases of the Fisher Wallace Stimulator, and private payors often reimburse partially if the patient has a durable medical equipment benefit. Kortex currently has no reimbursement but may in the future.
Availability: Doctors may fax or email a prescription for the Fisher Wallace Stimulator to Fisher Wallace Labs, and then the patient purchases the device online and it ships the same or next business day. Kortex does not require a prescription; for the time being, it may only be preordered on Indiegogo and will ship by end of the summer.
2breathe by 2breathe Technologies Ltd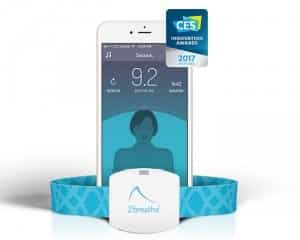 Information source: Benjamin Gavish, PhD, chief scientific officer, Resperate Inc & 2breathe Technologies Ltd
How it works: The 2breathe smart device and app induces sleep via guided breathing using a wireless respiration sensor and patented real-time coaching technology. Guiding tones composed from the user's own breathing prolong exhalation to reduce neural sympathetic activity and induce sleep.
How it's different from other therapies: 2breathe technology leverages the known sleep-inducing benefits of slow breathing and soothing music. Composing personalized, adaptive guiding tones from the user's breathing pattern was demonstrated to significantly reduce neural sympathetic activity within minutes without any prior training.
Patient considerations: Patients whose sleep-onset issue is related to pre-sleep arousal (eg, due to stress, wandering and intrusive thoughts, and/or the inability to disconnect from internal/external stimuli) will especially benefit from 2breathe.
Efficacy study: The device-guided breathing technology has dozens of published clinical studies in the area of cardiovascular therapy (stress neural sympathetic activity reduction). Direct evidence for significant reduction in insomnia severity was demonstrated as a secondary endpoint of a controlled study that used device-guided breathing technology:
See Table 4 in Huang AJ, Phillips S, Schembri M, Vittinghoff E, Grady D. Device-guided slow-paced respiration for menopausal hot flushes: a randomized controlled trial. Obstet Gynecol. 2015;125:1130-8.
FDA status: 2breathe is not regulated under FDA. It utilizes the same device-guided breathing technology of a medical device, RESPeRATE, which is FDA-cleared for the treatment of hypertension and stress.
Payor reimbursement status: Cash pay therapy with 30-day money-back guarantee and unlimited customer support.
Availability: Available for $179.95 at www.2breathe.com and amazon.com.
Dreampad by Integrated Listening Systems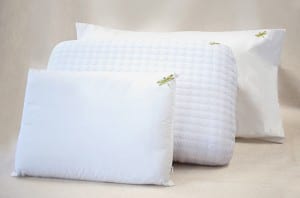 Information source: Randall Redfield, founder and CEO, Integrated Listening Systems
How it works: The Dreampad uses a patented transducer technology to play music through vibration. The vibration travels internally—through the pillow to the listener's inner ear. In the process, it triggers the body's relaxation response in the parasympathetic nervous system (PNS).
How it's different from other therapies: It is different from cognitive behavioral therapy for insomnia (CBT-I) in that it acts both psychologically and physiologically. The vibrations physically activate the PNS; the music, which is specifically designed for sleep, has a distracting effect and is helpful in releasing the listener from anxiety-based circular thoughts.
Patient considerations: The Dreampad is supported by research with adults and children. It can be used by those with light, stress-related sleep issues as well as those with insomnia for whom CBT-I has not been successful. It is also used by trauma patients, as well as those with attention deficit hyperactivity disorder and autism who have a hard time relaxing at bedtime.
Efficacy study: The Dreampad is supported by research with a number of groups: working adults with stress-related sleep issues, war vets with PTSD, children with sensory processing disorder, and autism. Perhaps the most important study was done by Columbia University Medical. It compared the Dreampad with a breathing program and with sleep hygiene. The Dreampad's statistically significant results were in the area of depth of sleep as measured by nighttime awakenings.
Gutman SA, Gregory KA, Sadlier-Brown MM, et al. Comparative Effectiveness of Three Occupational Therapy Sleep Interventions: A Randomized Controlled Study. OTJR. 2016 Oct 18. pii: 1539449216673045. More studies at: www.dreampadsleep.com/research
FDA status: The Dreampad is a relaxation tool. It is not a medical device and is not FDA approved. The technology utilized in the Dreampad has been used with children for a number of years to reduce stress and improve sleep. After seeing results with an earlier, pediatric version of the technology (a slim pad), the company released the current Dreampad in October 2016. It is currently used in hospitals and clinics in over 30 countries.
Payor reimbursement status: The Dreampad is not typically covered by insurance; however, in some cases we've seen reimbursement occur. We expect it to be covered by insurance by 2018; in the meantime, purchase includes a risk-free 30-day trial period.
Availability: It is available on www.dreampadsleep.com, as well as with sleep doctors and other clinicians who resell the product.
Sree Roy is editor of Sleep Review.
Information provided by manufacturers. Sleep Review strives for accuracy in all data but cannot be held responsible for claims made by manufacturers. All sleep-onset insomnia therapies launched in the past three years may not be included. E-mail sroy[at]medqor.com to be considered for the next update.