Annual APSS Meeting Draws Record Crowds
As the doors closed on the Hyatt Regency Chicago grand ballroom on the morning of June 5, scarcely a seat remained vacant, leaving dozens of the assembled thousands to huddle expectantly against the walls. However, no one seemed to mind the standing-room-only atmosphere as two pioneers of sleep medicine—William C. Dement, MD, PhD, and Michel Jouvet, MD—took the stage for the keynote address at the Associated Professional Sleep Societies (APSS) annual show.

The demeanor and appearance of the first speaker, Dement—a slight man with a guileless smile and a full head of white hair—communicated little of his widely accomplished background in sleep medicine, including the joint discovery of the rapid eye movement sleep stage.

"Two score and 10 years ago, [Eugene] Aserinsky and [Nathaniel] Kleitman brought forth on this continent a new discipline…dedicated to the proposition that sleep is equal to wake," Dement began. "Today this discipline has more than endured. It is perfectly healthy."

And given the number of attendees and exhibitors at this year's meeting, it looks like Dement was right. The event drew 4,500 attendees—hundreds more than the 2002 conference—and 115 exhibitors, according to Kathleen McCann, public relations coordinator for the American Academy of Sleep Medicine; 1,100 abstracts—more than twice as many as last year—adorned the poster hall. McCann says the sheer volume of attendees and exhibitors is a testament to the expansion of the field.

The program, which lasted from June 3 to 8, also included 15 postgraduate courses, 47 meet-the-professor sessions, 30 symposia, seven discussion groups, and eight invited lecturers.

The 18th annual meeting will be held in Philadelphia on June 5-10, 2004, at the Philadelphia Convention Center. The APSS is conservatively projecting attendance to be 4,500.
---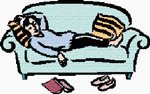 Artists Explore Insomnia
Instead of counting sheep, Louise Bourgeois makes art. The 91-year-old insomniac's artwork—along with that of 29 other artists—is on display at the National Museum of Women in the Arts (NMWA) in Washington, DC. The exhibit, called "Insomnia: Landscapes of the Night," includes paintings, drawings, assemblages, and artists' books.
"While Louise Bourgeois is the classic example of an obsessive insomniac, having published two volumes of drawings on the subject, most other artists in the show see their art simply as a therapeutic remedy for sleeplessness," says Krystyna Wasserman, NMWA curator of book arts and curator of the exhibition. "After a night spent working on their creations, these women find that they can finally rest."
The collective 51 works look at the manifestations and causes of the artists' insomnia, including love, death, loneliness, and motherhood.
One of Bourgeois' pieces displays a visual and verbal diary of her sleepless nights using blue, black, and red ballpoint pens on more than 220 scraps of paper. M. Jordan Tierney's mixed-media assemblage "Emprise at 4 am" (2001) portrays a predawn voyage. Its female figure facing the wind is, for the artist, "a symbol of bravery forging alone onward in the hours of the night."
Bonnie Lee Holland's life-size installation "Bedroom, Version III" (1997–2000) features an empty bed made of cardboard boxes, garbage bags, and discarded newspapers and covered by a quilt stitched with personal ads and articles on aging and relationships. The nightstand is created from a pile of romance novels.
The exhibit runs through November 30, 2003. For more information, visit the museum's Web site, www.nmwa.org.
---

"Maggie's Law" To Make Drowsy Driving a Crime
Twenty-year-old Maggie McDonnell was killed in 1997 in New Jersey by a driver who had not slept in 30 hours. The man who hit her was convicted only of careless driving and given a $200 fine. A state bill that is nearly law—spearheaded by McDonnell's mother Carole—aims to guarantee that no one in New Jersey ever gets off so easy again.
Expected to be signed by the governor this summer, the bill would provide criminal penalties for drivers who go without sleep for 24 hours and cause a fatal crash. Dubbed "Maggie's Law," the legislation passed the New Jersey Assembly in June. National Sleep Foundation senior director of government and transportation affairs, Darrel Drobnich, says Maggie's Law puts New Jersey on the leading edge of criminalizing drowsy driving.
---
Researchers Link Snoring to Headaches
Habitual snoring may be a risk factor for chronic daily headache, according to the authors of a recent study.

Published in the April 22 issue of Neurology, the scientific journal of the American Academy of Neurology, the study found that people who suffer from chronic daily headache—usually defined by 15 headaches or more per month—are more than twice as likely to be regular snorers. The difference remained after adjusting for factors related to sleep-disordered breathing (gender, age, body-mass index, and alcohol consumption).

The study, supported by GlaxoSmithKline, the Migraine Trust, and the American Headache Society, involved phone interviews with 713 people who were 18 to 65 years old. Of the group, 206 people had chronic daily headache for 5 years or less and 507 people had episodic headache (two to 104 headaches per year).

The authors noted that the results may be skewed if the study participants misreported the frequency of their snoring. Study author Ann I. Scher, PhD, says further research is needed to reach a more definitive conclusion.
---
Infant Supine Sleeping Diminishes Health Risks
A new study from the Archives of Pediatrics & Adolescent Medicine reveals additional benefits and no apparent drawbacks with infant supine sleeping.
The study, conducted with information on more than 3,700 infants of the Infant Care Practices Study in eastern Massachusetts and Toledo, Ohio, shows that when infants sleep on their back, it not only reduces the risk of sudden infant death syndrome (SIDS) but also lessens the frequency of fevers, stuffy noses, and ear infections. At 1 month, the symptoms of fever were less common in infants sleeping in the supine position; at 6 months, stuffy noses, trouble sleeping, and ear infections were less apparent.
Because the death rate from SIDS has decreased while the rate of infants sleeping on their back has increased—according to lead author Carl Hunt, MD, director of the National Center on Sleep Disorders Research at the National Heart, Lung, and Blood Institute, Bethesda, Md—researchers throughout the world have been searching for answers to why the sleep technique helps. It is not known why prone sleeping increases the risk of health problems or why supine sleeping diminishes the danger. However, according to co-author Marian Willinger, PhD, special assistant for SIDS, National Institute of Child Health and Human Development, Bethesda, Md, this study supplements other findings that show the way in which children sleep affects their health and that sleeping on their back is the best way to go.