CPAP and Bilevel Mask System
Somnotech LLC, Monroeville, Pa, introduces the SomnoPlus CPAP and bilevel mask to the US market. The SomnoPlus has been one of the best-selling interfaces in Europe and is now available in the United States. The SomnoPlus is available in small, medium, and large sizes and features two 360° swivels, universal fit headgear, superior sealing cushion, and an exceptionally quiet noise level. (800) 795-4450; www.somnotech.com.
---

Chin Strips
Dale Miller Inc, Dacula, Ga, introduces its Chin-Up Strip, which supports the chin during sleep, thereby promoting and enhancing nasal breathing by reducing mouth breathing and oral venting. The strips also help Breathe Right nasal strips to reduce or eliminate snoring. Chin-Up Strips come in three shapes and colors, are easy to apply and remove, and are hypoallergenic, hygienic, and gluten free. (888) 835-4563; www.chinupstrip.com.
---

Sleep Sensors
SLP Inc, St Charles, Ill, recently introduced the SleepSense® family of sensors for the recording of sleep studies. Included in the product line are sensors for respiratory effort (disposable and reusable), airflow, motion detection, body position, and snoring. In addition to the SleepSense products, SLP is marketing a disposable screening test for sleep apnea. The SleepStrip® is a cost-effective disposable screening tool that is being marketed in the United States by Medline Industries, Mundelein, Ill. The company has also introduced the BiteStrip®, a disposable screening tool for the detection of bruxism. This product is being marketed by Great Lakes Orthodontics, Tonawanda, NY. (888) 757-7367; www.slp.co.il.
---

Auto CPAP
Respironics Inc, Murrysville, Pa, announces the release of its REMstar Auto with C-Flex, the latest in the family of REMstar devices that offer a more comfortable treatment for sleep apnea versus traditional CPAP. C-Flex tracks the patient's breathing to lower the amount of pressure delivered at the beginning of exhalation. With three settings, patients have the ability to select the level of pressure relief that is right for them without altering the benefits of prescribed therapy. As a result, C-Flex takes the work out of exhalation, providing a more comfortable treatment and ultimately increasing the likelihood of compliance. (800) 345-6443; www.respironics.com.
---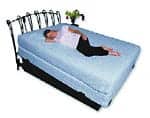 Adjustable Bed
The Sleepcliner bed elevating system is a new product designed, manufactured, and marketed by Claflin Enterprise, LLC dba Sleepcliner, Bloomington, Ind. The Sleepcliner is designed for people who snore or have acid reflux disease, congestive heart failure, emphysema, or sleep apnea, and need to sleep with their head and chest elevated. The Sleepcliner installs using existing mattress and furniture and is effective for side and stomach sleepers as it does not bend at the waist like other adjustable beds. (800) 225-3167; www.sleepcliner.com.
---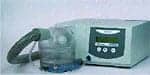 CPAP Plus Humidifier
Somnotech LLC, Monroeville, Pa, introduces the Trend 110 CPAP with integrated humidifier to the United States. The Trend 110 has become one of the leading CPAP systems in Europe because of its quietness and ease of use, and now it is available to sleep professionals in the United States. The Somnotech Trend 110 is rated below 26 db, making it an extraordinarily quiet CPAP unit. Features on the Trend 110 include Soft Start, ramp, three-stage filter, hour meter, altitude compensation, and a pressure range from 4 cm to 18 cm. (800) 795-4450; www.somnotech.com.