Recently, a letter was sent to the American Association for Respiratory Care (AARC) affiliate state chapter presidents calling for action in each state to battle what is said to be an attack on the respiratory therapy profession. In an inflammatory letter, the AARC president and house speaker claim that movements are under way against respiratory therapists to "legally have part of its scope of practice rescinded and taken away." These movements would also, it seems, require therapists who enter into a new medical field to receive specialized training and take a certifying exam as proof of competency in that area.
As a long-time respiratory therapist, I am pleased that such movements exist. The AARC is attempting to make a tempest in a teapot by causing fear and uncertainty within the ranks of practicing therapists. As Shakespeare's Queen Gertrude said, 'The lady doth protest too much." As respiratory therapists, we need to sort out the political propaganda from the reality of clinical practice.
The AARC document claims: "That the diagnosis and treatment of sleep disorders, sleep diagnostics, sleep testing, sleep therapeutics or other terms now being defined as 'polysomnography' are—and have been—an integral part of the respiratory therapist Scope of Practice."
The field of polysomnography had humble beginnings in research as early as 1960. The first professional society for polysomnographic techs was established in 1978 as the Association of Polysomnographic Technologists (which changed its name in 2007 to the American Association of Sleep Technologists) and was incorporated in the State of Minnesota in 1986. During this time, education in and/or the practice of polysomnography was not part of respiratory therapy. It was not until 1987 that sleep officially became part of the scope of practice of respiratory care, almost 40 years after the founding of AARC.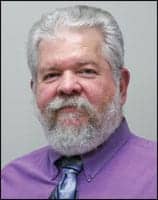 Henry L. Johns, BS, RPSGT, CRT, CPFT
How did sleep become part of respiratory care? I began working in respiratory care in 1976, when only a 2-week course was needed to be eligible for the NBRC exam. I attended a 1-year program through Creighton University; polysomnography or sleep technology was not part of my training. In 1979, the Board of Registered Polysomnographic Technologists (BRPT) administered the first registry examination for polysomnography. It was not until 1986 that the AARC began to attempt to standardize RT education and establish state credentialing of therapists.
Of the more than 70 classified sleep disorders, only 14 are directly related to any form of respiratory disturbance. With this in mind, it is clear that a special body of knowledge is needed to work in polysomnography. The AARC does not think so, despite the fact that "sleep" or "polysomnography" is not part of the RT core educational effort. The AARC letter states, "It is our firm conviction that any requirement for further testing, credentialing or licensing of the respiratory therapist in the services deemed polysomnography is not warranted." Clearly, it is the belief of the AARC that all respiratory therapists know how to recognize and help develop treatment plans for psychosomatic insomnia, narcolepsy, and restless leg syndrome.
The AARC has vocally objected to any requirement for therapists to obtain training or education in a field they are not trained to handle. The AARC has always prided itself on its educational programs, which are very good. And yet in this case, it rejects education and credentialing for its practitioners. In recent years, some respiratory care education programs have added a semester of specialized sleep training to their programs. This is the exception and not the rule. These add-on programs are not available at the vast majority of schools, and are attended only by a small number of students wishing to go into polysomnography rather than respiratory therapy.

Join the discussion on this subject at Sleep Review's Facebook page.
Herein lies the point: of the number of respiratory therapists working in the world of sleep, it is safe to say that the majority wanted to leave the practice of respiratory care and do something different. In many hospitals, the sleep lab has been placed administratively under respiratory care departments, which opens the door for therapists to move into something different. In other institutions, sleep is under neurology or a stand-alone. Just because RTs have started doing it does not make it part of respiratory therapy. For years, nurses performed the functions RTs now perform. It was argued that because of the complexity of technology and specialized knowledge of respiratory diseases required, respiratory therapists should take on those duties.
The AARC letter goes on to state that "Currently, there are legislative and regulatory efforts underway to reduce the existing legal scope of practice of the respiratory therapist as it pertains to the practice of polysomnography. These efforts are not supported by any objective, empirical evidence, or by any documented complaint toward a respiratory therapist."
Whether therapists have a "legal" scope of practice in polysomnography is open to debate. The point should be made that no state has restricted the practice of respiratory care. Respiratory therapists are still free to practice respiratory care under their license. Respiratory care, however, is not polysomnography.
Requirements are being proposed and passed to restrict the practice of polysomnography to those who have provided proof of specialized training and competence to perform that function. The AARC states that "In some cases respiratory therapists will be forced by law to take (and pay the associated costs) an additional credentialing exam…" The National Board for Respiratory Care (NBRC) recently created a "sleep disorders specialist" exam for respiratory therapists that can be taken for a fee.
If there was no need for specialized training or exams in sleep, why did the AARC push for creation of this set of tack-on initials for therapists? And why does the NBRC charge for it? The NBRC has stated that the SDS exam was not developed to compete with the BRPT exam, which is the current "gold standard" in polysomnographic technology. So why does it exist?
Like me, many respiratory therapists have changed careers and become polysomnographic technologists; some have become nurses or entered other areas of allied health care, and some are physicians. We are all still respiratory therapists even if we are not actively providing respiratory care. We have simply moved into a new profession. That does not mean what we do is part of the RT scope of practice. It is my hope that the leadership of the AARC will spend some time worrying about patient safety and quality of care in polysomnography and recognize the efforts of those who are doing what the AARC did just 30 short years ago for respiratory therapy. Support the requirement of standardized, quality education and credentialing in a highly technical, highly specialized stand-alone patient care area, polysomnography.
---
Henry L. Johns, BS, RPSGT, CRT, CPFT, is supervisory programs specialist for the VA Eastern Kansas Health System. In this role, Johns manages two hospital-based sleep labs, two respiratory departments with DMEs, as well as EEG and cardio-diagnostics. He can be reached at [email protected].