CPAP/Bilevel/NPPV Oro-Nasal Mask
Hans Rudolph Inc, Kansas City, Mo, introduces the 7600 Series VMask, a full face (oro-nasal) mask for use with CPAP/NPPV-type blowers and ventilators; it is available in five sizes. The face piece and sealing flange are integrally molded of soft, clear, silicone rubber in a new anatomically contoured design with ribbed support for a leak-free and comfortable fit.
The mask has a antiasphyxia valve and CO2 flush holes in it for safety. A new Quick-Release Headgear was designed for patient comfort and safety and is available in two sizes. The VMask is a high-quality, easy-to-use mask and headgear for OSA patients. It provides a low-cost, durable, and reusable solution for CPAP therapy. (800) 456-6695.
---

Interactive Training System
The Sleepmate® Professional Training Series by Sleepmate, Midlothian, Va, is a new Web-based, interactive training system that covers a wide range of sleep topics, including interactive sleep scoring, preparing and setting up different types of patients for polysomnography, and understanding seizures and sleep. Using video demonstrations and audio hints, the series provides both new and experienced sleep professionals with easy, affordable access to up-to-date training. The modular series also offers competency tests that allow sleep professionals to earn required CME and CE credits. (800) 639-5432.
---

Improved Mask System
The Mirage Vista™ mask system by ResMed Corp, Poway, Calif, is the next product in ResMed's generation of Mirage® products. Building on Mirage's cushion technology, the Mirage Vista is the result of years of ResMed experience in mask technology and listening to customers. Smaller, lighter, less obstructive, and easier to use, the Mirage Vista provides levels of comfort and usability equivalent to the Mirage and Ultra Mirage™ systems. (800) 424-0737.
---

Quiet CPAP and Humidifier
For comfort and reliability, Vital Signs Inc, Totowa, NJ, offers the quiet Breas PV 10 CPAP and Breas HA 50 humidifier. The 3.7-pound Breas PV 10 CPAP features a digital display, automatic altitude compensation, and an integral alarm clock. It also offers patient compliance memory, has a pressure range of 4 to 20 cm H2O, and comes with a carrying case. The 2-pound Breas HA 50 humidifier, designed for home care use, provides nine heat settings, high output, and low power consumption, and is easy to clean. (800) 932-0760.
---

Home Screening Device
The ApLab™ by Sector Medical Corp, Acworth, Ga, is a low-cost, easy-to-use, at-home screening device that records patients' breathing during sleep. The data is downloaded and displayed in a Windows® program, which includes an advanced analysis package. The manual or autoscoring feature provides a total and hourly apnea-hypopnea index.
The ApLab records detailed breathing information by using a high sample rate over a broad bandwidth. The device stores an 8-hour record of respiratory data and displays pressure waveforms on a breath-by-breath basis. FDA clearance is pending. (770) 975-1384.
---

Software Upgrade
DeVilbiss, Longmont, Colo, a division of Sunrise Medical, introduces an upgrade to its Internet Processing Software (IPS)—IPS 3.0, an integral part of the company's eCompliance System. eCompliance is a lightweight client software that allows users to manipulate and view patient CPAP usage data on the server. With IPS 3.0, an events screen replaces the previous email notifications. Email notifications now alert users of new messages on the IPS system along with a summary of events, and users can retrieve the details of the events with the new "messages" screen.
IPS 3.0 also features additional user-defined fields. An on/off graph reports usage data, and when the report opens, it defaults to show all of the patient's data in contrast to viewing only 1 month at a time. The upgraded software works with existing SMART Track modems (SMLINK-200 and SMLINK 300) and is available free to current users. It will upgrade itself the next time the user logs onto the software. (800) 333-4000.
---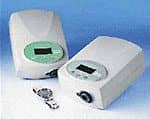 Lightweight CPAP Device
Puritan Bennett, a division of Tyco Healthcare, Pleasanton, Calif, offers GoodKnight® 420 nasal CPAP systems for home use or sleep studies. Indicated for patients weighing 30 kg and over, the durable CPAP units feature ultraquiet operation, built-in calibration, and a pressure range of 4 to 20 cm H2O for varying prescriptions.
Each 1.5-pound unit is equipped with an automatic voltage regulator and altitude compensation feature, enabling it to be used nearly anywhere in the world at any elevation. An optional D/C power supply is also available. A breathing compliance meter encourages adherence to CPAP treatment. The GoodKnight 420S model records up to 600 sessions of date/time usage data. According to the company, it is the only CPAP device on the market that detects persistent residual apnea, hypopnea, or snoring events that occur at a set pressure. (800) 635-5267.
---

Emollient Gets Drug Status
RoEzIt® Dermal Care by LouSal Enterprises Inc, Fort Worth, Tex, now meets US Food and Drug Administration criteria as a drug and may be prescribed by a physician for insurance purposes to treat skin breakdown caused by oxygen cannula and CPAP mask rub. A non-petroleum-based emollient with aloe vera, emu oil, and vitamins A and E, it can also be sold over the counter. It comes in 2-cc and 1-oz sizes. (866) 323-4567.
---


Heated Humidifier
Sunrise Medical, Longmont, Colo, introduces the DeVilbiss® 9200D-I humidifier heater, which provides an add-on heated humidification option de-signed to work with the DeVilbiss 9100 Cool Passover Humidifier. The 9100 humidifier features a baffle system with a large surface area to offer greater humidification than traditional humidifiers. It stacks easily and securely with the 9200D-I Humidifier Heater.
The 9200D-I features a touch keypad and LCD display. A DeVilbiss 9000 series CPAP can be plugged into the back and powered by the 9200D-I, which means only one power cord to the electrical wall socket. With a double insulated two-pronged electrical plug, the 9200D-I accommodates more end users. The unit's modular design enables therapists and dealers to add heated humidification to a patient's CPAP therapy as needed. (800) 333-4000.