At-Home Sleep Diagnosis
Sleep Solutions Inc, Palo Alto, Calif, introduces NovaSom QSG™ for at-home diagnosis of sleep-disordered breathing, including obstructive sleep apnea. The device was developed for unassisted, unattended patients' use at home. Designed to provide information equivalent to overnight, in-laboratory polysomnography, NovaSom QSG uses audio digital-signal processing technology and algorithms to monitor respiratory events, snoring intensity, blood oxygen saturation, pulse rate, and respiratory effort. (877) 753-3776; www.sleep-solutions.com.
---

Pressure Bilevel Ventilator System
Puritan Bennett, part of Tyco Healthcare, Pleasanton, Calif, introduces the Knightstar 330® ventilator, which provides blower-based, bilevel ventilation to treat patients suffering from respiratory insufficiency or obstructive sleep apnea in the home, hospital, or institutional setting. Features include an LCD display, pressure ramp and delay settings, patient lockout mode, automatic altitude/leak compensation, audible/visual alarms, adjustable pressure rise time, and inspiratory/expiratory breath trigger sensitivities. (800) 635-5267; www.mkg.com.
---

Sleep Analysis System
Oxford BioSignals Ltd, Oxford, UK, introduces BioSleep 4, a comprehensive sleep analysis system that detects REM sleep from a single channel. The neural network technology analyzes data collected from the upper EOG position, combining eye movement and EEG signals to evaluate sleep architecture and micro-arousals. BioSleep 4 shows REM and NREM activity to a 1-second resolution and provides objective information about the quantity and quality of sleep. +44 (0) 1865 336170; www.oxford-biosignals.com.
---

Electrodiagnostic Accessories
The Electrode Store, Enumclaw, Wash, supplies electrodiagnostic accessories used in sleep, EEG, EP, and EMG. The company's staff processes and ships orders for more than 500 inventory items, including electrodes in gold, silver, Ag-AgCI, tin, and stainless steel with wire and connectors. Also available are air compressors, gels, creams, and pastes. The Electrode Store distributes Electro-Cap, Mavidon, and Weaver products. (800) 537-1093; www.electrodestore.com.
---

Patient Management Software
ResMed Corp, San Diego, introduces Boomerang™, comprehensive patient management software that can match patients with providers and equipment, and then schedule those patients for follow-up visits. Using information entered into the software, the customer is then able to print reports that track eligible replacement dates, follow-up calls, patient demographics, provider/referral lists, compliance data, and replacement item projections. (800) 424-0737; www.resmed.com.
---

CPAP Device
AirSep Corp, Buffalo, NY, introduces Remedy Renew, a continuous positive airway pressure device with pressure ranges from 3 to 18 cm H2O. Remedy Renew is available with or without an hour meter and can be purchased with a travel bag, nasal mask, and headgear. Mask and headgear come in small, medium, and large sizes. The unit with its no-slip base is available as a 120- or 220-240 volt version. (800) 874-0202; www.airsep.com.
---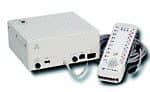 Digital Amplifier
SensorMedics, Yorba Linda, Calif, a subsidiary of VIASYS Healthcare Inc's Respiratory Technologies Division, offers the Cephalo Pro, an all-purpose digital amplifier used in sleep and EEG laboratories. Features include built-in SAO2, 23 reference channels, nine separate differential channels, and eight DC channels. The SAO2 has been combined with the amplifier, reducing the space and cables required in the laboratory. Data from and control information to the amplifier are transferred via USB port technology with a maximum data collection rate of 1,000 Hz. (800) 520-4368; www.sensormedics.com.
---

Pediatric Sleep Software
REMbrandt, by Medcare Diagnostics, a division of AirSep Corp, Buffalo, NY, has released pediatric software for the recording, reporting, and analysis of pediatric and infant sleep studies. Features for specialized collection software with user choices of signals and portable and ambulatory capabilities include pediatric/infant staging, respiratory event scoring, periodic breathing, pulse-transit time, user-defined events, and esophageal pressure, phase, sigh, CO2, cardiac, and reflux analyses. All REMbrandt software includes toll-free support and free upgrades for the life of the product. (888) 662-7632; www.medcarediagnostics.com.
---

Sensor System
BIOMEC Inc, Cleveland, offers Sleepflo, a sensor system that uses one device to integrate five breathing parameters including pressure-based airflow, snore, abdominal effort, thoracic effort, and five body positions. Signal sensitivity is emphasized through the use of a pressure-based airflow sensor and a shortened cannula that preserves high-frequency sounds and eliminates the need for a separate snore electrode. Because the sensors are integrated into one compact unit, output wires are reduced to a single lightweight patient tether. (877) BIOMEC-5; www.biomec.com.
---

Adhesive Forehead Sensor
Nellcor, part of Tyco Healthcare, Pleasanton, Calif, offers the Max-Fast™ Adhesive Forehead Sensor designed for the OxiMax™ Pulse Oximetry System. The sensor detects changes in SpO2 faster than digit sensors for patients with weak pulses. Clinicians are alerted earlier to hypoxemic events and can intervene sooner. The Max-Fast sensor can be used on mechanically ventilated and supine patients and is indicated for patients weighing 40 kg or more. (800) 635-5267; www.nellcor.com.
---

Miniature Pulse Oximeter
Palco Labs Inc, Santa Cruz, Calif, introduces its Model 130 Mini Pulse Oximeter. Oxygen saturation and pulse rate data can be stored every 5 seconds for up to 11.5 hours and then sent via the infrared port to a computer. OxySoft Pulse Oximetry Software allows users to view data in graphical or tabular format with applicable statistics. A cable adapter is available for connection to pediatric and adult sensors or the Integral Finger Sensor. The Model 130 permits multiple readings along with time and date to be recorded for up to 20 patients. (800) 346-4488; www.palcolabs.com.