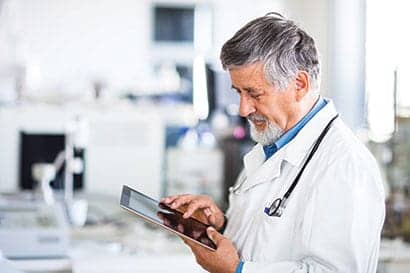 Finding the right electronic medical records system can be a challenge, but once a sleep facility understands its needs, the right system is within reach.
Electronic medical records (EMR) have become a vital tool for any sleep facility looking to streamline operations. Yet deciding which EMR system is right for a practice can be a complex process as staffs have to weigh needs against system capabilities. Still, without an EMR system, many sleep facilities wouldn't be able to do what they do effectively and efficiently.
Needs
But what makes a good EMR system appears to depend on one question: what do you want your EMR system to do for your facility?
"Do you want it to be comprehensive so that you can do scheduling, coding, and registration?" asks Joyce Gray, BSN, RN, manager of Samaritan Sleep Center, a part of Dayton, Ohio-based Good Samaritan Hospital system. As a hospital-based lab, Samaritan Sleep relies on the hospital's system for coding and billing capabilities; however, Gray points out, private labs can benefit from coding and billing features that can reduce long-term costs by potentially eliminating the cost of outsourcing such tasks to a third party.
But to know if billing and coding features are must-haves, a sleep facility must understand its own needs. Rob Labanowski, CPA, RPSGT, chief operating officer and chief financial officer of Nevada Sleep Diagnostics, based in Henderson, who is currently considering a new EMR system for his labs, relies on his background in accounting information systems to best determine what features will serve his facilities. Using a tool he was taught early in his education, Labanowski creates a flow chart of his labs' needs to better understand what his labs do now and their requirements for a new system that will both allow the labs to continue to do those things while also adding new capabilities—such as a messaging feature, which can go a long way to more efficient office communication, or a patient module that allows for limited patient access.
While Nevada Sleep Diagnostics has been using its "antiquated" EMR system since 2007, according to Labanowski, he is in no rush to find something new. Currently, the staff at Nevada Sleep Diagnostics' five locations totaling 19 beds relies on three different programs—a patient management program to handle billing, demographics, and scheduling; a medical records software; and a scanning component—linked by a fourth proprietary software. In addition, staff rely on a number of Excel spreadsheets and other reports they manage by hand to keep track of such factors as whether patients have been set up on a CPAP system following a sleep study. While Labanowski admits it is very convoluted, it works, for now, and, more importantly, it's paid for. Still, he keeps an eye out for a more advanced system that can better integrate information.
On Labanowski's wish list is a system that allows for better searching capability, something that would allow him, for example, to produce reports showing all patients from a specific insurance company with an AHI of 20 who have sleep apnea and comordid conditions such as hypertension and diabetes. Whether that information would be culled for an insurance company or a tracking list for his labs to better follow at-risk patients, the ability to provide such in-the-weeds statistics may be needed in the future, necessitating a good EMR system.
While Gray is happy overall with the EMR system chosen for her lab 4 years ago, she echoes Labanowski's calls for a more query-friendly system.
"The only thing I don't care for with our system right now is that you can't get data out of it very easily," says Gray, who has to rely on the hospital's IT staff, which supports the system, to build a special report for querying the system for information.
Customization
Once needs are defined, customization becomes a key factor in many sleep facilities' final decision, as each sleep center has its own way of doing things.
Wesley Dennis, MD, medical director at the four-bed Arlington Sleep Disorder Center, located in Arlington, Tex, has been pleased with the ability to create customized templates with his EMR system. "I gave [the company] a series of questions to use for various disorders that we commonly see, like insomnia, restless leg, sleep apnea, and narcolepsy. They were able to work well with me to customize and tweak [these templates]," says Dennis.
For Gray, the ability to create a template from scratch, rather than revise an existing template, allowed her staff, which conducts about 850 sleep studies a year, to get something back that "looks like what we do."
"It was wonderful because it mirrored our paper records. It makes it easier for the technologist to begin to use the EMR without a whole lot of training. It's intuitive then," she adds.
That intuitive simplicity can't be underestimated, says Dennis. "[A good EMR system is one] that is very simple and straightforward to use from a physician perspective, but also from a staff perspective since staff members may not have experience when they come on."
Support
But even with the most straightforward and intuitive of systems, problems will arise, and this is where technical support will be key. While good customer service is always a benefit, the priority given to this criteria will vary depending on a sleep facility's infrastructure.
For a fee, a representative came out to the Arlington Sleep Disorder Center and spent a day training Dennis' staff on how to use the system. In addition, a customer service representative is available during work hours if the staff has a question or problem with the software. Gray's staff, however, relies on the hospital's IT staff, who were initially trained by the company they purchased the software from, for support.
Labanowski, meanwhile, finds himself weighing this question of support quite heavily as he considers a new system for his sleep labs. Among the factors he finds himself looking at is the size and potential longevity of the company that is actually producing and potentially supporting the EMR systems, as well as the sustainability of the product it is selling. The EMR company's experience and longevity can be a key factor when a sleep facility with both a large staff and patient population is depending on its system to be properly supported. "If you have to depend every day on having 30 people accessing the system and having it always working, then you need to have a much more sustainable, much more experienced company so you don't risk being down," says Labanowski.
In addition, Labanowski is hesitant to try a new product that hasn't already been tested and has the good reviews to back it up. However, since so many EMR companies are just entering the market, labs considering a new EMR system will have to balance the potential lack of product reputation with other factors such as price and the ability to easily sort data to prove value and outcomes. "With the growing trend in outcomes-based medicine, having an EMR that can sort the data we need will prove to be a valuable and much needed element of our practice," says Labanowski.
Compatibility
Beyond query and support issues, sleep facilities would do well to consider some more basic nuts-and-bolts factors, such as compatibility of a new EMR system with their existing systems.
Given how important a practice-management system is to any facility's day-to-day operations, the ability of an EMR system to properly interface with a facility's existing practice management system is vitally important. While Dennis' facility started with both its practice management and EMR software at the same time, some facilities may find themselves changing EMR systems along the way, making a fully compatible and integrated practice management software particularly valuable. Gray adds that sleep facilities should determine whether their sleep systems are compatible with any new EMR system, as many claim HL7 compatibility, but aren't necessarily.
While sleep facilities may do their research on the best system for their practice, Dennis points out that they may forget one key element that will determine how good and how reliable their system is: Internet capability. "This [software] is Internet based, so you need to make sure that you have a system that is reliable, whether it be cable or DSL."
When considering all these factors, finding the right EMR system can be a challenge. It may require a considerable up-front investment of both time and money. However, the accessibility and efficiency such a system provides today's sleep professionals make it a vital tool for day-to-day operations and a necessity for the future of sleep services. SR
---
Alison Werner is former associate editor of Sleep Review. Questions for the author can be sent to [email protected].