Cloud computing provides sleep professionals access to real-time patient data from any location with Internet access. From CPAP compliance to managing continuity of care, these software solutions are poised to simplify the lives of both providers and patients.
By C.A. Wolski
Thanks to the explosion in the use of smart devices such as iOS and Android devices, the cloud is where most consumers and an increasing number of businesses are spending their computing time. And sleep medicine is no different. In fact, a growing number of CPAP and practice management software providers are moving to cloud-based systems to make the practice of sleep medicine more efficient and successful.
But, what, exactly is the cloud? The "cloud" is simply a term for distributed computing over a network, which allows data to be accessed by many different devices at multiple locations at the same time typically in a collaborative way. This data can be housed anywhere—typically in servers off-site from the user location. Because of its ability to integrate data and give access to users (both professionals and patients) anywhere and at any time, it can help ensure continuity of care and, more importantly, improve patient compliance.
Among the companies leading sleep medicine professionals on the road to doing business in the cloud are Fisher & Paykel Healthcare, Indigo Arc Medical, Philips Respironics, ResMed, Sleep960, 3B, U-Sleep, and Somnoware.
Stay Informed with F&P InfoSmart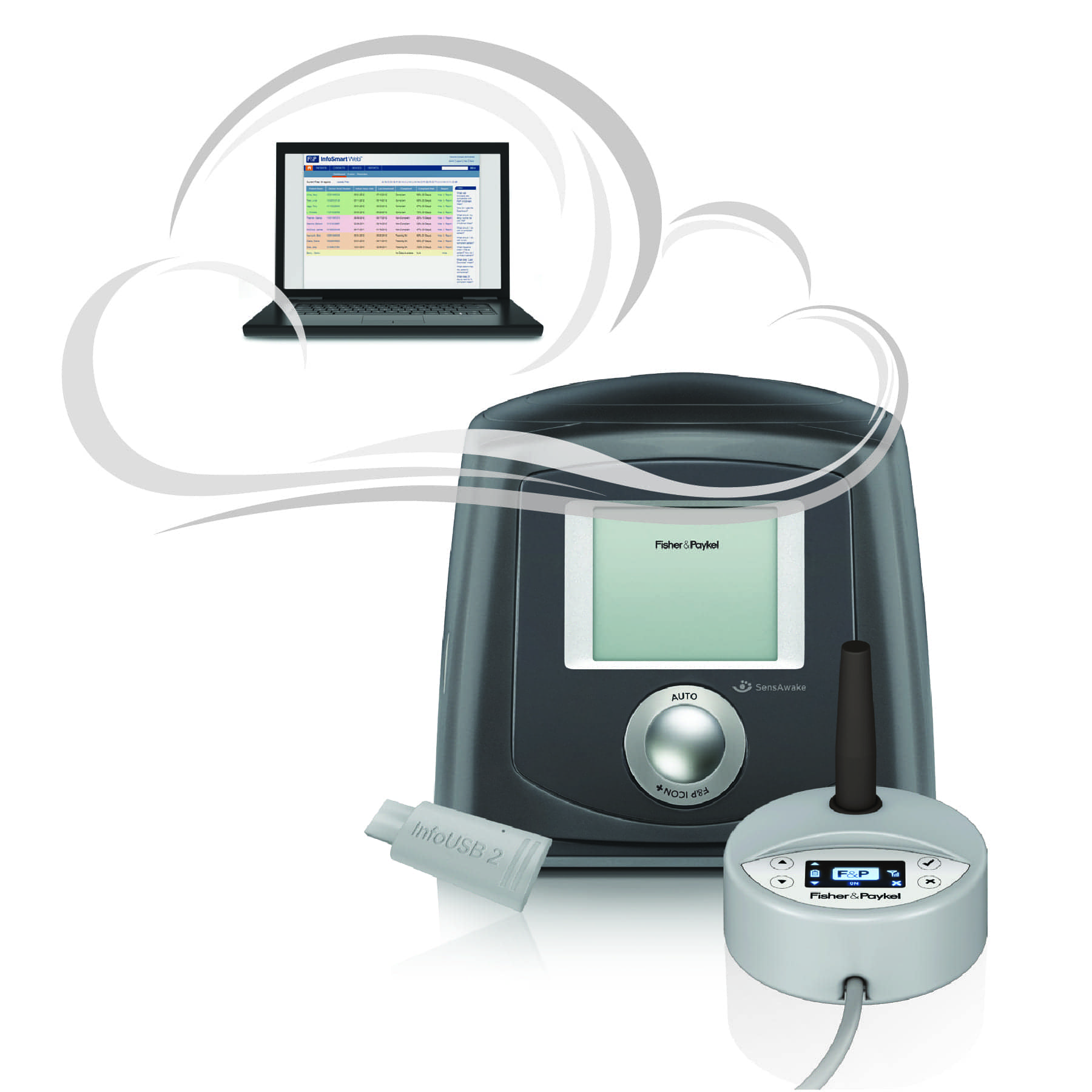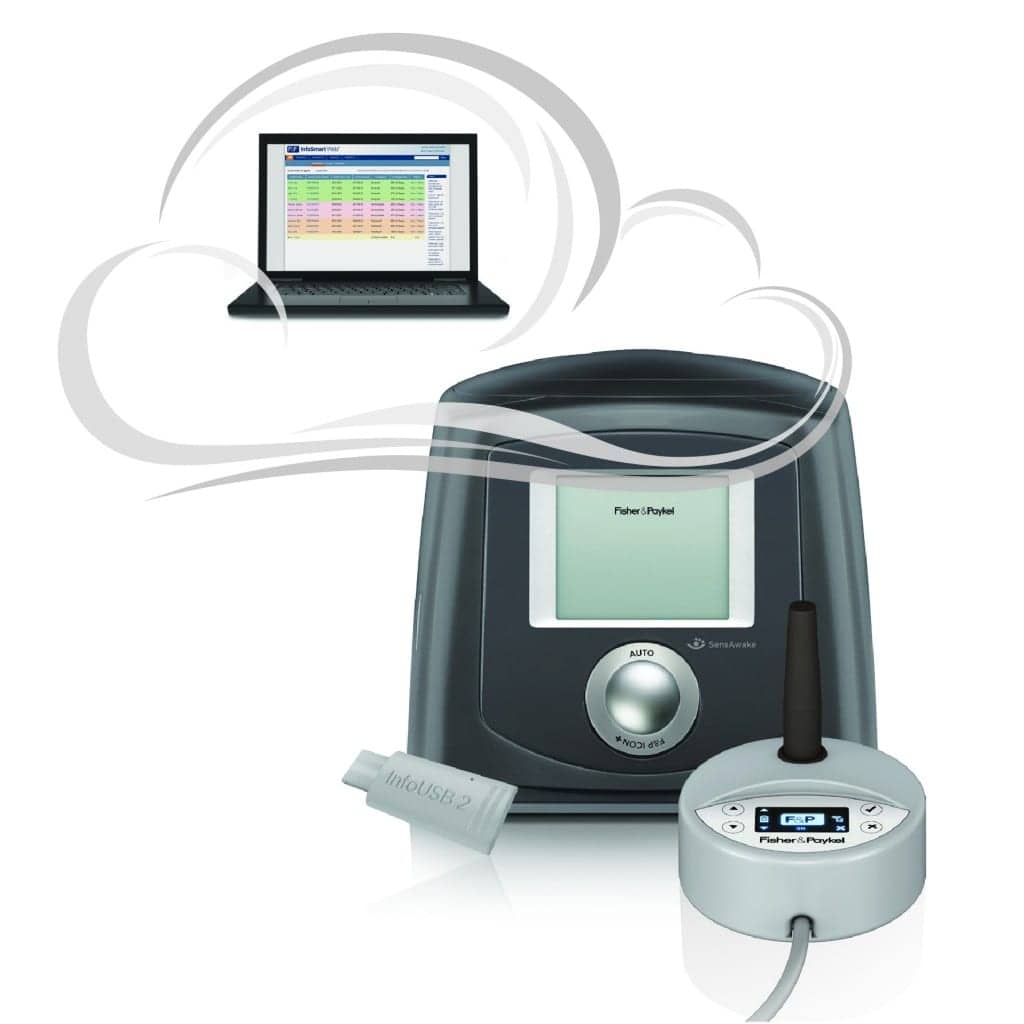 The cloud is helping sleep professionals solve one of the biggest challenges they face—patient compliance. Fisher & Paykel Info Technologies consists of InfoSmart Web, a cloud-based patient management platform which is supported by a range of data communication options in capturing CPAP usage data, as well as InfoGSM modems and the no-cost InfoUSB remote monitoring solution.
InfoSmart Web offers a simple and flexible patient management and data monitoring solution that can be customized to meet your needs. InfoSmart Web enables efficient patient compliance tracking and reporting, regardless of the chosen data capture method.
Making the iCodeConnect(ion)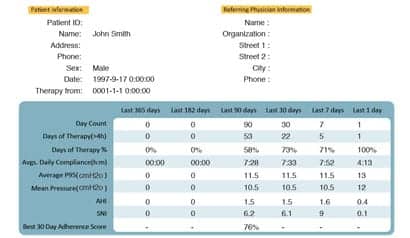 CPAP provider 3B's iCodeConnect includes a patient management system that is not modem dependent.
"No insurer or payor reimburses for modem use, and the logistical challenges of inventorying and moving modems make them less than ideal," says Alex Lucio, vice president of the Lake Wales, Fla-based company. "Our solution integrates smartphone apps with SD cards and our own proprietary iCode technology."
The system populates the patient database using a variety of upload technology, including the patient. "Our smartphone apps allow the patient to merely take a photograph of their CPAP display screen," Lucio says. "Using optical character recognition, our smartphone apps extract the encoded character string and produce a report."
The standard iCode system can generate a sleep report by relaying a character string during a telephone call. SD card uploads are easily handled as well.
The HIPAA-compliant solution integrates several layers of privacy protection with data stored in an encrypted format and transmitted using secure protocols, plus there are secure logins and passwords that restrict access to patient data.
The use of the cloud and iCodeConnect, in particular, gives clinicians a number of advantages, according to Lucio. "Records are updated in real time, keeping the most accurate and current information available to everyone involved in a patient's therapy. Communication between sleep doctor and provider clinician is facilitated through shared access to notes, reminders, and sleep reports contained in the patient record," Lucio says.
Navigating Sleep with Philips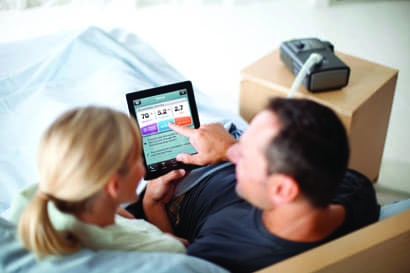 As with 3B's iCodeConnect, Philips Respironics' Sleepmapper system allows patients being treated with CPAP therapy to monitor their own progress. The solution comes free of charge as part of Philips' CPAP system and can be used through both traditional web-based computer systems and mobile apps.
The professional version of the system, Encore Anywhere, is an integrated system that allows sleep professionals to follow the patient from the beginning of their treatment through full compliance with their therapy. "It's sort of expected that there will be compliance software included with a CPAP system now," says Tony Ross, Sr Marketing Manager, Compliance Services for Philips Home Healthcare Solutions.
The HIPAA-compliant system is completely secure, featuring "one of the longstanding cloud-based security protocols," says Scott Frenz, director—Services Field Marketing for Philips Home Healthcare Solutions.
Cloud access also makes managing data more efficient. "In the old days, you'd have to ask a patient to bring in the SD card and transfer the data," Frenz says. "Today the data is automatically in the cloud. That's a huge efficiency gain."
ResMed: Making Care Easy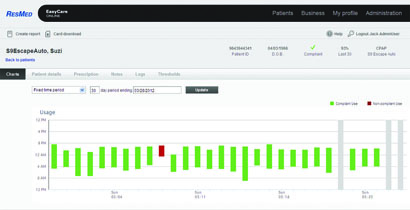 ResMed's EasyCare compliance software is designed to identify patients who are struggling to meet the goals of their CPAP therapy. Among the solution's features are a cloud-based centralized and secure database, remote setting changes, an intuitive user interface, simplified menu navigation, at-a-glance reporting, automatic compliance notification and one-click compliance, and across the board access to patient data through the entire continuity of care (physicians, sleep labs, and durable medical equipment companies or DMEs).
The HIPAA-compliant solution can be accessed by all mobile devices. Pricing is dependent on the DME provider.
Security is among the hallmarks of the solution, according to Jeremy Malecha, Director for Healthcare Informatics and Diagnostics, Americas at ResMed.
"We take security very seriously and subject the system to both regular internal and external audits. We're always looking at ways we can protect the patient's data from outside threats," he says. The company has had PriceWaterhouseCoopers audit the system and proudly provides its findings to its DME clients.
The cloud has a number of advantages for ResMed's EasyCare sleep provider clients, particularly in today's lower reimbursement environment, according to Malecha, who observes that, by necessity, sleep labs have to be more savvy in the way they manage patients, focusing on those who aren't doing well.
This is where the cloud comes in. "You can focus on the 10 to 15 patients who are doing well and can target the care to these patients and achieve better overall quality of care, better compliance by these patients, and, ultimately, better success," Malecha says. "And that quality of care will drive referrals."
Helping U-Sleep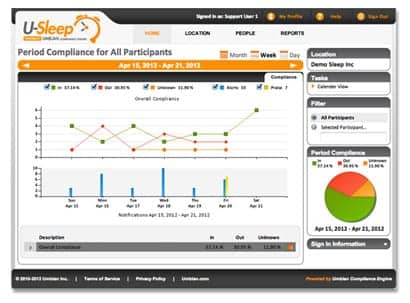 U-Sleep is another web-based CPAP compliance management solution that allows sleep medicine providers the ability to effectively manage multiple CPAP compliance programs, patients, and populations through a single application.
"With U-Sleep, sleep professionals can select therapy rules/programs specific to each patient," says Rob Levings, VP, Business Development for U-Sleep. "Rules can be customized based on any device metric that the patient's CPAP model can collect including AHI, mask leak, and hours used. All stakeholders, including patients, can receive custom notifications via e-mail, SMS text, or voice call. This encourages both patients and sleep professionals to stay active and engaged with therapy."
U-Sleep is HIPAA compliant and has a number of security features, including a secure infrastructure, advanced intrusion detection systems, state-of-the-art encryption methods, and numerous other security-related processes, according to Levings.
For Levings, the biggest advantage of the cloud for sleep professionals is the ability to just do their jobs—delivering patient care "without being burdened with the installation and maintenance of infrastructure required to host and operate an in-house solution."
Offering Sleep960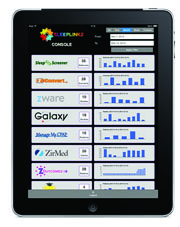 Not every cloud-based system is designed specifically for CPAP compliance. Solutions, such as Sleep960's Sleeplinkz Console, cover the entire continuity of care, making the process more efficient and effective.
Sleeplinkz integrates seven different software applications, including SleepScreener and ZConvert, eliminating redundancies along the way. "The apps talk to each other through the cloud so there's no redundant data entry," says Michael Clark, VP Sales & Development for Sleep960. "The apps can work together or separately."
The HIPAA-compliant solutions can be used on any mobile tablet, according to Clark. Pricing is flexible with each application priced independently. "You can choose from an a la carte menu for each application," Clark says. "It's very flexible."
If it wasn't for the cloud, Clark says Sleeplinkz wouldn't exist. For providers, Sleeplinkz and the cloud, in general, offer a number of advantages. "It saves them time, which is the most important thing we can do," Clark says without hesitation. "They can get the patient information quicker and the whole patient process is faster. The cloud is an incredible new technology that improves everything you do."
Integrating with SomnoWare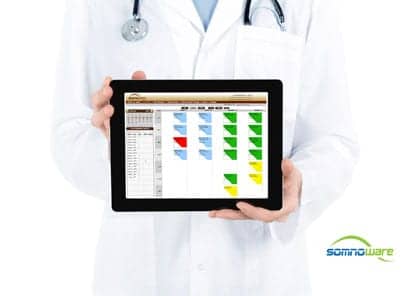 Somnoware is an integrated care delivery platform that provides web access designed for quick patient turnaround and patient compliance.
"We work to provide a complete picture of the patient with a focus on managing their severity, comorbidities, and compliance together," says Subath Kamalasan, Somnoware's CEO.
In addition to being HIPAA compliant and having a full security suite, Kamalasan says one advantage the cloud-based system brings to its users is 100% accessibility. All the data is written automatically to secure servers in Charlotte, NC, and Atlanta.
Somnoware is available on all mobile devices via a plug-in or through its just released iPhone app. The latter is specifically designed to help patients manage their sleep apnea.
The pricing structure is for each new study. "There's no up-front cost other than for any training or travel," Kamalasan says. "And you can use Somnoware to read all legacy studies at no charge. We wanted to make the system very cost-effective." The company releases new updates automatically every 30 to 45 days.
In addition to faster access—a hallmark of cloud computing—and 100% accessibility, Kamalasan says the cloud delivers other advantages. "It eliminates data integration issues and allows for seamless transition of care," he says.
End-to-End Sleep Management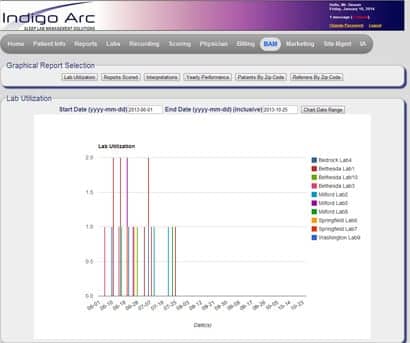 Indigo Arc Medical's 100% cloud- and web-based system is focused on speed, security, and reliability, according to Managing Partner Rajiv Dewan. To that end, the company has brought its experience developing high-security systems for the US government to offer end-to-end sleep management to providers.
The system itself is highly configurable, allowing sleep physicians to customize their interpretation rules and report style. The system also includes a patient portal that issues care reminders and allows patients to securely fill out forms and questionnaires.
Indigo Arc Medical's solution is available on all mobile apps. "However, for a physician to fully review a study, they'll need a desktop," Dewan says.
Security is among the big advantages of Indigo Arc's sleep solution. "We have decades of experience building secure systems. Our sleep solution includes both hardware and software firewalls, data saved to four locations, and 256-bit encryption," Dewan says. "All this is way above what [is typical]."
The solution's pricing is on a per study basis; $9 for an in-lab study and $6 for an at-home study. All reports and data archiving are included. There are no maintenance contracts, licensing, or user fees.
There is little argument that cloud computing brings numerous advantages to sleep medicine providers, but it isn't necessarily a panacea.
Dewan says sleep providers must realize they can't do business exactly the same that they've done it in the past with more traditional web-based systems. "Putting your systems on the cloud is easy; making them effective is hard."
For instance, Indigo Arc's solution allows for decentralized scheduling from a remote location. While it could make the practice more efficient, it is a major paradigm shift in the way traditional medical practices do business.
Dewan also notes there are technical issues that need to be addressed before jumping onto the cloud bandwagon. "Geography is an issue," he says. "If the lab is in a rural location, there may not be bandwidth to implement a true cloud solution." In that case, it may require a hybrid solution.
C.A. Wolski is a contributing writer for Sleep Review. He may be reached at [email protected].