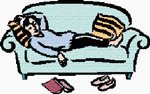 "Father of Sleep Medicine" Retires
With all the time he puts into researching sleep, it is a wonder that William Dement, MD, PhD, ever gets a minute to himself. Even as the renowned "father of sleep medicine" taught his last class at Stanford University on March 12, his date calendar was booked.

Nevertheless, the packed auditorium that attended his final lecture took a few minutes to honor his 33-year-long run as professor of psychiatry and behavioral sciences. The Stanford marching band even played for him in their pajamas.

Dement earned his nickname from a veritable catalog of accomplishments, including: writing the first textbook on sleep, starting the world's first sleep disorder clinic, serving as founding president of the American Sleep Disorders Association (now the American Academy of Sleep Medicine), and winning the National Sleep Foundation's first Lifetime Achievement Award.

In addition to teaching at Stanford, Dement in 1963 established the university's sleep laboratory and in 1970 founded the Stanford University Sleep Disorders Clinic, the first of its kind. He will continue as director of the clinic.

In 1953, Dement was present as a student when scientists in a sleep laboratory at the University of Chicago discovered rapid eye movement, which Dement dubbed "REM." At the 50th anniversary celebration of REM at the Associated Professional Sleep Societies' annual meeting in Chicago in June, Dement will give the keynote address.

In his retirement from teaching, Dement plans to continue conducting research and outreach programs and promoting sleep issues in the public policy arena.
---
Educational Agency OKs Sleep Accreditation Program
Soon, aspiring sleep specialists will be able to attend schools with polysomnography programs specially accredited for entry into the profession.
The new opportunity comes as a result of the Commission on Accreditation of Allied Health Education Programs (CAAHEP) decision to approve a request from the Association of Polysomnographic Technologists (APT) for eligibility to participate in the accreditation system. The commission also approved APT's request to form a Committee on Accreditation for Polysomnography with the American Academy of Sleep Medicine and the Board of Registered Polysomnographic Technologists as sponsoring organizations.
During the summer of 2003, APT will complete standardized educational materials for teaching and assessing polysomnography. Standards and guidelines for schools wishing to apply for accreditation will be available in October 2003.
"This is a momentous occasion for the profession of polysomnography. Professional development has been a primary focus of the APT since 1978, and this accomplishment brings with it the realization of standardized educational programs critical to the future of our profession," says Rose Ann Zumstein, APT president.
---
Contagious Yawning Reveals Empathy Level
Ever wonder why you always seem to yawn after seeing someone else do it?

Steven Platek, PhD, along with his colleagues at Drexel University, Philadelphia, believes that there is a direct correlation between mimicking behaviors—such as saying "ouch" when another individual stubs a toe and contagious yawning—and empathy. He found that undergraduate students who tended to contagiously yawn while watching others do so on video tape also scored highly on tests that measured empathy.

Platek believes that this trait has certain advantages to humans, including the ability to bond social groups together through their feelings for one another. His findings were presented in March at the Eastern Psychological Association's annual meeting in Baltimore.
---
Letter to the Editor

I subscribe to Sleep Review magazine and fully enjoy the information in every issue. I am the vice president of a local DME provider in Southern California specializing in CPAP and bilevel therapies.

I wanted to respond to an article written by Michael J. Breus, PhD, in the March/ April 2003 issue titled "Reimbursement: What's New for CPAP?" In the article, Breus makes claims about the sleep centers providing DME/CPAP themselves instead of using a home care company. I believe Breus' article simplifies the work involved with providing CPAP/ bilevel [therapy] for patients suffering from sleep apnea.

While it may seem like a simple business to provide the CPAP equipment with mask and headgear, it is not if compliance is an issue. Over the years, our home care company has been able to have a very high patient compliance rate because of the involvement with the patients after they have been provided their equipment. It is very laborious work and very rewarding. For true compliance, any company providing CPAP must follow the patient for a period of time to ensure their compliance. I have found that many sleep laboratories provide equipment, and that is the last contact they have with the patient. They may never hear back from the patient and will assume they are using this modality, but in reality, the patient just "gives up" and stops using it.

As a home care provider who takes patient compliance very seriously, I have yet to see a sleep laboratory have good compliance because they are so focused on getting patients in for polysomnography. It is our philosophy that we don't perform the sleep study because that is not our expertise. Our expertise is in the equipment side, and if both the sleep center and DME home care provider perform their expertise correctly, the sleep apnea patient will be in great hands!
Bill Kleiman
Vice President
AirCare Home Medical