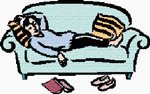 Sleep Community Rises to Katrina Challenge
When the going gets tough, the sleep community gets going. After Hurricane Katrina, the American Sleep Medicine Foundation's Hurricane Disaster Relief Fund sent more than 650 items, including CPAP and bilevel machines, masks, humidifiers, and other accessories to sleep centers in the Gulf Coast region that, thanks to a temporary loosening of prescription and licensure requirements in affected areas, were able to quickly dispense the equipment to people with sleep disorders who had lost their regular equipment in the disaster.

In addition, the American Academy of Sleep Medicine collected donations for members and planned to dispense about $100,000 to help as many as 40 different sleep centers get back on their feet, said Jerome A. Barrett, the foundation's executive director.

"This is not to take anything away from general disaster relief associations," Barrett said. "Our role is to put some immediate attention on some very specific needs that are not going to register very high on very general disaster relief organizations."

The academy also put in a lot of extra staff time and resources to handle the volume of donations received. Extra space to house the hundreds of boxes of equipment that came in was donated by the landlord of its Westchester, Ill, national office and the AASM made a commitment to take the cost of shipping out the equipment—which was around $65 per machine, Barrett said—out of its general operating funds and not out of the monetary donations it received.

"Whatever we take in goes out," Barrett said.

Tracy Nasca, senior vice president of the online sleep community Talk About Sleep, said they had helped generate about 100 of the items that came in to the AASM through appeals to the Talk About Sleep online community, but her hat was of to the academy for doing the rest.

"Talk About Sleep did the easy part, the asking for help," she said. "The hard part was getting the equipment to the people."

While the AASM may have been the biggest donor, they were certainly not alone. Sherry Milligan at the American Association for Respiratory Care (AARC) said that as of early October, the AARC had collected about $55,000 and disbursed about $30,000 to about 50 AARC members. The Board of Registered Polysomnographic Technologists (BRPT) contributed $1,000 to the ASMF Disaster Relief Fund and also matched its members' donations up to $1,000.

In addition, many state associations pitched in, as did patient groups such as Awake in America in Philadelphia, and the American Sleep Apnea Association (ASAA) in Washington, DC. Awake in America collected and shipped out more than 70 machines, and the ASAA collected monetary donations.

The BRPT also worked hard to help technicians who were scheduled to take their Registered Polysomnographic Technologist (RPSGT) examinations on December 10 in New Orleans. The test location was changed to Lafayette, La, and they had about a dozen candidates with various issues related to the hurricane. One, for example, had ended up in the Midwest during relocation and needed to change test sites.

The BRPT and the Association of Polysomnographic Technologists (APT) also helped technicians whose sleep laboratories were closed due to hurricane damage locate new jobs, either in the Gulf Coast area or wherever the technicians ended up evacuating to.
---
Report Projects Double-digit Growth for Sleep Market
According to a report from business analyst Frost & Sullivan, the next 5 years should bring double-digit revenue growth to the US sleep service provider market, despite the fact that it is becoming increasingly saturated. One of the factors behind this expected growth is that sleep disorders are acquiring greater importance within the medical community due to their obvious impact on long-term health.
"Awareness of sleep disorders is increasing, with the medical community adding them to its list of conditions that should be routinely tested for in patients," said Katherine Shariq, an industry analyst for Frost & Sullivan. "The proper diagnosis and treatment of sleep disorders among the aging Baby Boomer population are expected to strongly contribute to the double-digit growth projected over the next 5 years."
Analysis from Frost & Sullivan, US Sleep Service Provider Markets, reveals that this total market generated revenue of $1,631 million in 2004 and is expected to reach $4,436 million in 2011 at an estimated compound annual growth rate (CAGR) of 15.4%.
One factor that could slow this growth, the report cautions, is the impact of accreditation. "Should physicians and insurance companies push to have patients seen only at accredited facilities, the expansion of the market would be severely hampered," Shariq said.
However, the American Academy of Sleep Medicine (AASM), Westchester, Ill, points out that accreditation is already required for reimbursement in some states and many third-party payors now require that patients go to accredited centers. "Expansion of the market has not been hampered by these policies," said Lawrence P. Epstein, MD, president of the AASM. "What has occurred is that patients are receiving the highest quality sleep medicine care available. All sleep centers with adequate expertise, resources, and high standards of patient care can meet the AASM standards for accreditation."
Shariq predicts that independently owned and operated facilities would be the ones most impacted by a push for accreditation because Frost & Sullivan's research found that more than 50% of them are currently unaccredited. In addition, as the market matures, an increasing number of hospitals are beginning to manage their sleep services on their own, rather than contract them to external companies, and that is likely to hurt small independently owned sleep service companies that manage contract-operated, hospital-based sleep laboratories.
To obtain a copy of the report, visit Frost & Sullivan online at www.health care.frost.com.
---
Link Between Gastric Reflux and Sleep Disorders Remains Unclear
Researchers in Atlanta have initiated a study to examine the prevalence of gastroesophageal reflux disease (GERD) and laryngopharyngeal reflux (LPR) in patients diagnosed with breathing-related sleep disorders. The study, titled "Gastroesophageal Reflux and Laryngopharyngeal Reflux in Patients with Sleep-Disordered Breathing," has so far not revealed a significant difference in GERD symptoms between patients with OSA and those with simple snoring. It also found that the severity of OSA had no significant association with GERD symptoms. Although the authors did identify a high prevalence of both GERD and LPR in patients undergoing evaluation for sleep-disordered breathing, in the current study, no significant correlations existed between pH probe parameters and polysomnogram parameters.
Previous research had shown that sleep measures improved following pharmacologic treatment for gastric acid reflux, and conversely, CPAP has provided subjective and objective improvement in measures of reflux. However, the authors found that the increased incidence of GERD and LPR in the sample of sleep disordered breathing patients may be viewed only as a coexistence of these two entities at the current time, rather than a causative or interrelated association.
The findings of the study were presented at the 109th Annual Meeting & OTO EXPO of the American Academy of Otolaryngology-Head and Neck Surgery Foundation, held on September 25-28, 2005, in Los Angeles.
---

Lack of Sleep Yields Similar Effects as Alcohol Consumption
The long hours and overnight shifts that are a rite of passage for young doctors may leave them so sleep-deprived that they function as poorly as if they had had a few cocktails, a new study reports. In findings published in the September 7, 2005, issue of JAMA, 34 young pediatric residents showed similar impairments in vigilance, attention, and driving skills on standardized tests after they had been on duty overnight in the hospital and worked a month of 90-hour weeks, compared with when they had consumed three to four alcoholic drinks after a month of 44-hour weeks with no overnight duties.

The researchers asked the residents to rate their performance and effort on the tests. Ratings of impaired performance were higher following the month of heavy work shifts compared to the light work shifts, and residents rated their effort as higher after heavy work shifts compared to the light work shifts with alcohol.

"This adds to the growing evidence that sleep deprivation among medical residents significantly impairs their ability to perform, although it is important to note that we did not assess performance on specific medical tasks," said J. Todd Arnedt, PhD, a sleep psychologist who is a clinical assistant professor of psychiatry and neurology at the University of Michigan Medical School in Ann Arbor.
---

OSA Surgery Safe on Outpatient Basis
OSA is estimated to cost approximately $42 million annually for hospitalization alone in the United States. Uvulopalatopharyngoplasty (UPPP), or surgical removal of unnecessary palatal and oropharyngeal tissue, has become a common surgical therapy for OSA since its introduction in 1981. But the topic of postoperative monitoring following UPPP remains a subject of controversy. Initially, UPPP was generally performed in conjunction with a tracheotomy and patients were monitored in the intensive care setting postoperatively. Now, some surgeons advocate at least 24-hour inpatient observation following UPPP. Recently, the debate has shifted to whether UPPP can be performed safely as outpatient surgery.
In a study titled "Safety of Uvulopalatopharyngoplasty as Outpatient Surgery," the authors suggest that UPPP can be performed safely on an outpatient basis. Careful preoperative selection of patients should permit virtually all patients to be scheduled for outpatient surgery, the authors said. Patients with severe cardiopulmonary comorbidity or apnea-related arrhythmias are not appropriate candidates for UPPP. Findings for this study were presented at the 109th Annual Meeting & OTO EXPO of the American Academy of Otolaryngology-Head and Neck Surgery Foundation on September 25-28, 2005, in Los Angeles.
---
Researchers Describe New Cost-Effective Method to Assess Sleep
Using information hidden in the beat-to-beat changes of the heart's electrical signals, researchers at Beth Israel Deaconess Medical Center (BIDMC) in Boston have developed an inexpensive method to assess the stability and quality of sleep, which could be used to help understand the mechanisms of sleep control and diagnose sleep disorders, as well as to test the efficacy of sleep aids and other medications. Known as a "sleep spectrogram," the graph is based on data obtained solely from a simple electrocardiogram (ECG). The spectrogram is described in a study in the September 1 issue of the medical journal SLEEP.

"This new ECG-based approach is important because it promises to provide an affordable and readily achievable way to monitor sleep stability in a wide range of conditions, including sleep apnea, depression, fibromyalgia, heart failure, and stress," said cardiologist Ary Goldberger, MD, director of the Margret & H.A. Rey Institute for Nonlinear Dynamics in Medicine and the study's senior author. The new study, led by sleep researcher Robert Thomas, MD, of BIDMC's Division of Pulmonary, Critical Care and Sleep Medicine, identified two distinct types of behavior exhibited throughout the course of a person's sleep, the first being stable and restful, the second being unstable and aroused. The results show that conventional approaches to categorize non-REM (non-rapid-eye-movement) sleep into grades of depth do not capture this potentially important dimension.