Douglas R. Liepert, MD, and Daniel G. Klauer, DDS, sink their teeth into a collaborative multidisciplinary professional relationship that bridges the gap between sleep medicine and dentistry.
Beginning a Professional Relationship
Douglas R. Liepert, MD, FRCS(C): Many in the United States refer to Dr William C. Dement as the father of sleep medicine, citing his work beginning at Stanford University in the early 1960s. Dement's work began with a focus on the study of narcolepsy but soon broadened to include the study of sleep-disordered breathing. Dr Christian Guilleminault joined him from France. I would comment that this relationship was the beginning of multidisciplinary care of patients with sleep disorders.
When I first began studying to subspecialize in sleep disorders, I recognized that I could not possibly have a standard of excellence in all aspects of sleep medicine. I believe we must consider sleep-disordered breathing as a category of sleep disorder cared for by a team, not unlike teams that care for patients with cleft palates or cancer. These teams bring together experts who wish to collaborate, communicate, and bring continuity of care to patients.
The treatment of patients with sleep-disordered breathing has grown since I entered the field in 1985 and now includes dental specialists who can fabricate oral appliances. In many ways, these practitioners have developed their expertise in parallel rather than as a team, leading to fragmented care. Similarly, we witness the same divide between medical and surgical sleep doctors who fail to embrace each other's expertise and focus excessively on criticizing their colleagues. The focus becomes criticism rather than best patient care.
As I was introduced to oral appliances and how these could impact the airway, I found many dentists were interested in referrals for appliances more than collaboration. I came to know my dental colleague Dr Daniel G. Klauer by chance. Quickly I found he was engaged in an educational model designed to understand the pathophysiology of sleep-disordered breathing and craniofacial pain. Dr Klauer's drive to develop a thorough diagnosis and care plan resembled the medical model ideal for comprehensive care. This desire to understand the patient and tailor treatment to the severity and needs of the patient allowed us to communicate and care for the patient together. We each bring our unique abilities and learn from each other to better understand how the sum of our talents is greater than each individually.
Daniel G. Klauer, DDS, DABCP, DABCDSM: All doctors work to protect the best interests of their patients; thus we must develop trusting relationships with others to assure the greatest level of care. In my first meeting with Dr Liepert, I put myself in my patients' shoes ("Would I want this doctor on the team of professionals managing my own sleep-disordered breathing?"). Through our conversations on effective care and treatment methods, I was impressed with Dr Liepert's willingness to embrace the protocols dentists contribute to sleep medicine and how they coincide with those of physicians.
With board certifications in both otolaryngology and sleep medicine, Dr Liepert understood the educational commitment of a niche practice. He was interested in learning about my training and understood that it was not simply a weekend course, but rather a commitment of more than 1,000 hours of live training. This mutual appreciation for each other's training and expertise led us to quickly acknowledge that individually we did not have all the tools to treat patients with sleep-disordered breathing, but together we could create a team to treat our patients more effectively. We both welcome and embrace collaborating with specialists in all areas of medicine/dentistry from orthodontists and internists to oral maxillofacial surgeons and osteopaths. At the end of our first meeting, it was clear that our goals for patient care aligned beautifully.
Maintaining the Relationship
Liepert: This concept of collaboration is at the heart of the relationship. I hear many of my colleagues struggle because attempts at collaboration have ended with patients lost to follow-up with no validation study and partially treated apnea. While it is always a challenge, it is so important to reach out and communicate.
We have this same challenge in medical practice every day—finding those minutes between patients, surgery, and family time to text and talk. In this day of HIPAA, there are significant challenges. For instance, without a HIPAA-secure smartphone, we can only text that we want to talk. However, solutions can be found in secure e-mail and turning the work into play. Once the relationship develops, the short phone calls do not seem to interrupt. Rather, they are the glue between the times we meet to discuss patients in depth. It is also necessary to identify staff members who have the passion to communicate, so that there is a contact point outside of the doctors to care for the patient.
Our team is not just the doctors. It includes identified personnel who are more reachable during the day. These people are essential to keep us connected. In this way, when we get together, we focus on the more difficult patients to develop a care plan that is more complex than a single modality treatment. It is typical to have meetings once or twice a month in the evenings so we have adequate time to discuss caring for our patients. Collaboration, communication, and continuity of care are the vital features for delivering exceptional treatment.
Patient Flow
Klauer: It is the responsibility of the doctors to inform patients of each step necessary to treating their sleep-disordered breathing. I emphasize with every doctor that when patients feel overwhelmed, there is an increased risk of them choosing not to follow through with the treatment they need. Both Dr Liepert and I follow protocols to ensure that optimum patient care is delivered and each patient is monitored throughout treatment. The key is creating and following a system, refining it along the way to maximize efficiency and improve patient compliance.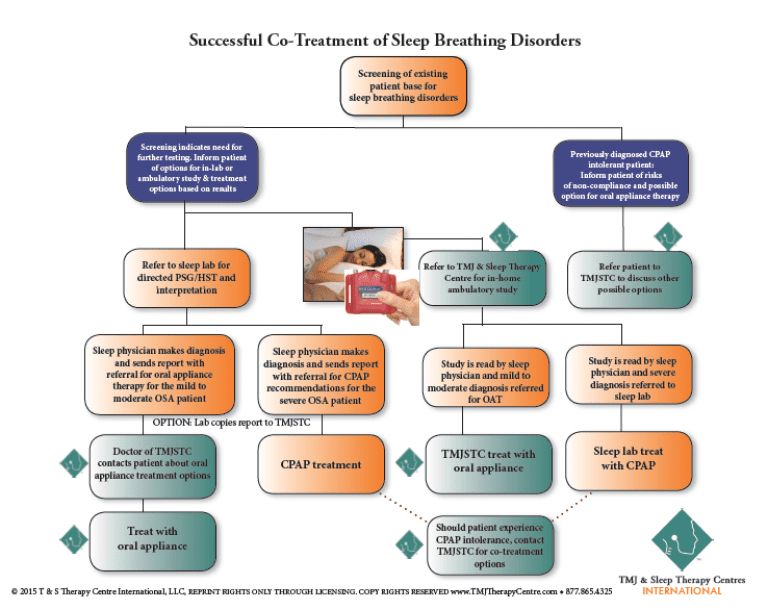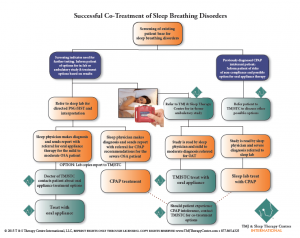 Figure 1 illustrates the beginning of the treatment process and demonstrates a flow for conservative treatment. Integral to any treatment for sleep-disordered breathing is establishing the nasal airway by either medical or surgical means. Dr Liepert understands every patient I treat with an oral appliance will receive at least one home sleep test titration evaluation and a validation sleep study interpreted by a board-certified sleep physician. If conservative modalities fail, then combination therapy (CPAP with oral appliance) and surgical options are discussed with the patient.
Mutual Respect Is Key
Liepert: We are often asked, "What are the ground rules?" What is actually more important than rules is mutual respect. It is imperative to embrace the literature in other disciplines so we can discuss and find the truth in the commonality. Respectful communication both affirms and allows us to grow as a team and challenge dogma that holds us back.
We both respect the practice parameters and use these in our patient care, but we are open to challenging these guidelines as we understand that we must care for patients, not numbers and statistics. It is common at meetings to hear the speaker take the focus way from the AHI as there are many other aspects to measuring cardiovascular stress and cognitive function. The key is collaborating and developing the least invasive combination of treatment options for a patient to treat their sleep-disordered breathing. This often means having a discussion with a provider who is upset about a referral to someone out of their typical network. Patients routinely present without a referral, but we still need to communicate the rationale for the treatment plan and the reason for any outside referral. We have found that practitioners who initially resisted this are now part of our collaborative team. What is clear is that the only ground rule is respectful communication while focusing on the patient.
Is There Any Competition?
Klauer: My father told me early on, "There will always be plenty of patients for a good doctor." If you treat your patients like a beloved family member, it pays dividends in keeping your schedule full. Systems and protocols are rigid guidelines to assessing patients, but each should be treated as an individual.
If I determine that another provider will complement my treatment and contribute to the success of a patient's outcome, I add that doctor to the team. This was something that Dr Liepert and I agreed upon from the start. It is an honor to be given the opportunity to treat someone, and it is our duty to deliver the highest quality care, even when it means referring to an additional provider.
It can be a daunting task to navigate the waters of multiple hospital systems, insurance networks, and providers. Initially, doctors may fear their choice of referral may threaten a preexisting relationship. When the interests of your patients are placed before your own, or those of other doctors, be confident that your advisement was made in good faith. If a doctor makes a referral based on politics and not on patient care, should the highest level of care be expected? I certainly would not want my doctor worrying about anything other than what is best for me when directing my healthcare.
Liepert: This patient focus becomes the platform of practice growth. You only effect change in someone's mind when you earn the right in his mind. The common factor for us all is a desire for quality patient outcome. There will be some people who fight and do not want to be part of the team because they really only want to develop a profit center. Those interested in a quick and easy new treatment to offer are actually missing the point. Sleep-disordered breathing is part of a complex area of sleep disorders, and if you want to be involved in this, you need to appreciate multidisciplinary patient care. If you focus on the patient, collaboration, communication, and continuity of care, your practice will grow and the sleep physician or dentist who did not return your call will come onside. If colleagues seem to ignore your concern, they either do not want to collaborate or do not understand the clinical reasons behind your concern. Communication will lead to improved collaboration and quality of care.
Liepert and Klauer agree: Clearly, this new medical dental sleep paradigm is not for everyone. In our opinion, this is the model for those dentists and physicians who want to provide excellent care for patients with sleep disorders. This will evolve the same way we have seen the multidisciplinary clinics in cancer, cleft palate, and many other complex disorders evolve. Evolution takes time, but remember that sleep medicine is only in its adolescence. So, be patient, be thoughtful, and work hard to appreciate the multitude of specialties required to treat the entire spectrum of sleep-disordered breathing.