Advanced practice registered nurses and physician assistants have an increasingly expanding place on multidisciplinary sleep medicine teams and can play a vital role in patient care and education.
In the treatment of sleep disorders, a multidisciplinary team of healthcare professionals is essential in administering comprehensive care to patients. Advanced practice registered nurses (APRNs) and physician assistants (PAs) have an increasingly expanding role on sleep medicine teams and can play a vital role in patient care and education. This article will explore the current role of APRNs and PAs in sleep centers, how these professionals can transition to sleep, and what the future holds for APRNs and PAs.
Current Roles
The utilization of APRNs and PAs in sleep medicine is varied and can include a range of responsibilities. In addition to doing a good job with follow-up care, Ann Cartwright, MPAS, PA-C, physician assistant, sleep medicine at National Jewish Health and chair of the American Academy of Sleep Medicine's APRN/PA Task Force, says APRNs and PAs are integral in providing hands-on patient care, including learning the nuances of therapeutic masks and machines. As such, APRNs and PAs can educate patients regarding diagnosis and treatment, which can aid in improved patient compliance.
From research to conducting patient evaluations to insomnia therapy, APRNs can fulfill a variety of roles. Cartwright says, "It really depends on how the sleep center is designed…I think we're really being used in pretty much every facet of sleep medicine at this point."
Loretta Colvin, APRN-BC, assistant professor and faculty simulation specialist at Barnes Jewish College Goldfarb School of Nursing, says the trend for APRNs and PAs in sleep medicine is primarily a clinical expert role. They may have a role in preparing for accreditation or in keeping up with Medicare standards, or may act as liaison for the sleep center at clinical meetings. If the APRN or PA is serving as a clinical liaison, Colvin says they can "bridge the gaps between the different specialties, the different roles, and really try to be part of that team-based care focus."
Denise Lassaline, MS, PA-C, physician assistant at University of Michigan Sleep Disorders Center, says the role varies due to factors such as the individual's experience, whether it's an academic or nonacademic setting, and whether it's an urban or rural location. For example, "an APRN/PA working in a more rural area and in a smaller center may not have access to specialty clinics and would potentially see and treat a larger variety of sleep conditions," Lassaline says.
Also, the experience and comfort level of the APRN or PA may be a factor. Lassaline says, "It is reasonable to think that a new practitioner in the field may initially only see sleep-disordered breathing cases, but as [her] knowledge base expands so does the complexity of the sleep disorders [she] feel[s] comfortable treating."
Colvin says, "From an anecdotal perspective, the trend within sleep seems to mirror the trend within general medicine as APRNs and PAs become more common."
Responsibilities and Clinical Focus
The responsibilities of an APRN or PA can vary depending on the institution. However, Colvin says, "There's a natural role for a significant portion of their clinical time in sleep-disordered breathing, both based on the patient population we see in most sleep centers and based on the role APRNs and PAs play within the clinic." In addition, they can have a strong role in insomnia, hypersomnia, movement disorders, and a broad spectrum of other sleep disorders, according to Colvin. "Care coordination" is a clinical focus of APRNs and PAs, which Colvin notes is "one of the buzzwords for the future of complex healthcare systems."
Lassaline says that, in general, an APRN/PA in a typical patient visit is "responsible for taking a history, performing a focused physical exam, making an assessment/diagnosis, and then formulating a plan, which may include ordering diagnostic testing, blood work, prescribing medication, [and] other therapeutic interventions (ie, cognitive behavioral therapy)." Lassaline adds, "Interpretation of PAP downloads is also a frequent part of the visit. This is important when trying to tailor a patient's treatment and can identify where potential problems may exist."
Patient education is also a role. As a PA, Lassaline says, "I spend a good majority of the clinic visit educating my patients about their condition and the importance of treatment. I believe patients who have a good understanding of their condition and their recommended treatment are more likely to be compliant."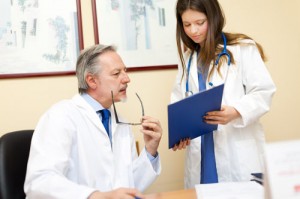 Billing for Sleep Medicine
APRNs and PAs can bill for their time and care similar to other healthcare professionals, but the reimbursement rate may vary. APRNs and PAs generally bill the same as physicians, Cartwright says, though they may be reimbursed at a lower rate depending on the payor. An advantage of these two positions is they can bill for their time. Cartwright says, "We can bill for counseling time, which I think is really helpful because it does take a lot of time to do a good job, especially when you're dealing with insomnia and sleep apnea. There's a lot of patient education involved."
Colvin says, "Medicare reimburses at a slightly lower rate for APRNs and PAs, but they still recognize that the cost of care, having the clinic, and having the staff to support the clinic are still the same cost whether you're an APRN or a physician."
Transitioning to Sleep
For those currently working as a PA or APRN, the transition to sleep will likely require formal education and on-the-job training. Cartwright suggests the individual first ensure sleep medicine is a subspecialty in which they would like to work. She says, "I would say it's a good idea…to find a provider working in sleep medicine and spend time with them in the clinic and see what a day in sleep medicine is really like, make sure that it's something you're interested in."
For formal training, Colvin says there are a few college programs that offer a certification within sleep that may provide the foundation to work in this area of medicine. Lassaline says, "On-the-job training will still be very important. However, beginning with some sleep medicine foundation will only make on-the-job training more effective and efficient."
Educational resources can also be found on the American Academy of Sleep Medicine website (aasmnet.org), including modules specifically geared toward APRNs and PAs in sleep. Lassaline says, "I have attended the courses myself and can say firsthand that I found them to be very useful for both the new and experienced APRN/PA working in sleep medicine. These courses are also a great place to network and to meet others working within the field."
As formal education may not focus on the clinical practice of seeing patients and providing diagnosis and treatment, on-the-job training is also a significant part of learning. Cartwright says when a new APRN or PA is joining a sleep medicine team, providing the employee ample time to study and see how the workplace operates is vital. Cartwright says, "I had a lot of time when I first started just to study and read textbooks and shadow and spend time with all the different physicians in our clinic and learn from them before I started seeing patients on my own, and then they eased me in slowly."
Colvin also says exposure to the various areas of sleep can be helpful for APRNs or PAs new to the field. For example, the APRN or PA can see what the sleep tech's role is, such as preparing a patient for overnight testing, and can also see the role of the physician, which can include interpreting a sleep study. Colvin says, "It's nice to get a sense of everyone's roles so you can better work as a team."
Lassaline echoes a similar sentiment and says it can be beneficial for an APRN or PA to shadow a staff member, such as a technician or respiratory therapist, who deals with equipment and mask fits in order to familiarize themselves with the different products. Lassaline says, "Being familiar with the equipment/masks is vital as it allows you to pinpoint areas requiring adjustments, which hopefully will improve patient compliance. Your patients will be extremely grateful if you can make their treatment comfortable."
As a PA or APRN will likely not have sleep training at first, Cartwright says the staff should keep that in mind. The staff must be patient and understanding that it's going to take a significant amount of time before the PA or APRN is "up and running on their own," Cartwright says, adding that sleep clinics "need to know that it's going to take time. They have to be willing to invest that time to train someone for the long haul."
Overall, from hands-on training to educational conferences or lectures, all healthcare professionals learn differently. As such, Cartwright says education and training should be tailored to each clinician in terms of how they learn best.
Tips for Incorporating APRNs/PAs
A business looking to add an APRN or PA to their sleep medicine team should first examine the applicable state laws related to scope of practice, which may vary depending on location. Cartwright says, "If you're in a sleep clinic and you can't write a prescription for a sleeping pill or you can't write a prescription for stimulants for your narcolepsy patient, that may or may not work depending on your model."
Colvin says it may be helpful for sleep clinic staff to talk with people in their region who already employ PAs and APRNs in order to better understand the specific challenges within the state regarding regulatory requirements or individual insurers.
Also, be sure to assess your needs and what specifically you're looking for in a person in these positions. Colvin says, "I think they want to do a little self-analysis of what are they looking for. They need to be thinking more of what are complementary skills and what are their needs, and what patient population do they have in mind as they're creating this position [while] trying to match clinical skills and personality with the sleep center needs as well."
Evolving Future in Sleep Medicine
With an increasingly significant role on sleep medicine teams, the role of PAs and APRNs will likely continue to grow. Cartwright says, "There are more and more people needing access to sleep medicine and there are not enough sleep providers to go around and that's just the reality. I think sleep centers are going to increasingly look to APRNs and PAs to fill that need and fill that gap."
Specifically, Cartwright says insomnia is an area where these two positions can expand as they can administer behavioral therapy for this patient population. She says, "That's an area where APRNs and PAs can be extremely useful for a good majority of insomnia patients. I think that we can be trained, and there are training programs available to teach us how to do some of the cognitive behavioral treatments for straightforward insomnia patients."
Lassaline says APRNs and PAs will serve an increasingly important role in sleep medicine as more people have access to medical services with the Affordable Care Act. Lassaline says that having quick access to a provider is more important as insurance companies may require a patient to be seen within a specific number of days following equipment setup. As such, Lassaline says, "APRN/PAs can help to ensure that patients are seen promptly for follow-up as they will likely have more available clinic hours and are less likely to be involved in research….APRN/PAs not only ensure that patients meet insurance requirements, but they also can see new PAP users quickly after beginning treatment. Again, this is necessary to aid in trouble-shooting, which I believe is really important in improving patient compliance."
Colvin says the role of care coordination for APRNs and PAs will likely "get more prominent as healthcare continues to become more complicated. I think [they]…may play an even more prominent role in coordinating diagnosis and care in the home and on the outcomes-based side." In addition, Colvin says APRNs and PAs in the future may play a larger role as accountability shifts into the clinic. Colvin says this role may expand if a clinician needs help understanding what's expected and how to communicate and measure outcomes to ensure the clinic is meeting expected outcomes.
Cartwright concludes: "APRNs and PAs are an integral part of that team and really do a good job of tying all the pieces together and managing the patient, making sure all the different players are on board with the care plan."
Cassandra Perez is associate editor for Sleep Review.