From Bluetooth-enabled therapy tracking apps to simplified implant procedures, neurostimulator technology for sleep apnea patients has undergone exciting updates.
By Chaunie Brusie, RN, BSN
When implanted neurostimulators were first cleared by the US Food and Drug Administration for treating sleep apnea, their adoption—while hopeful—was limited by magnetic resonance imaging (MRI) restrictions, lack of patient access to their sleep data, and other constraints.
While some limitations will likely always be necessary, recently unveiled advances in implanted neurostimulators open the doors for more patients and providers to use the devices to treat their sleep apnea. For instance, full-body MRI compatibility and a remote management platform from Inspire Medical Systems and a simplified implant in Zoll Respicardia's remedē EL-X System unlock neurostimulator therapy as a possibility for more people.
Neurostimulators & MRI Compatibility
Previously, implanted neurostimulators used for sleep apnea limited patients to only head, neck, and extremity MRI scans. However, as of July 2022, the Food and Drug Administration (FDA) OKed patients who had received an Inspire implant Model 3028 generator from July 2018 onward to receive full-body MRI image scanning as needed, provided scan conditions in the Inspire manual are followed.
Kevin Verzal, vice president of product development at Inspire, attributes this change to Inspire's internal testing and modeling results that evaluated medical devices in the MRI environment. The team completed and shared with the FDA its detailed computer simulations to establish MRI conditional parameters using this framework.
The change gives sleep apnea patients—who often have other medical conditions—the assurance that their future health imaging will not be limited due to their implant. "MRI labeling provides peace of mind that diagnostic imaging flexibility is available for future health needs," says Donnie Fellows, vice president of medical professional marketing at Inspire.
MRI compatibility for the remedē System is currently under FDA review, according to Todd Goblish, vice president of research and development/operations at Zoll Respicardia.
Streamlined Procedure and Implant Improvements
Patient comfort is also an ongoing focus of neurostimulator technology. For instance, the FDA recently approved a two-incision implant technique for the placement of Inspire's neurostimulator. The technique replaces a longer surgery requiring a third incision and a lead tunneling procedure. "The two-incision implant technique reduces procedure time and decreases postoperative discomfort," Fellows says.
Along with procedure improvement, the devices themselves are also improving. The recently released next-generation remedē EL and EL-X models have 40% longer battery life, a 25% reduction in size, and simplified implant procedure and therapy programming, such as a single-port system that provides both stimulation and sensing from a single lead, according to Goblish.
Inspire, too, improved its implant with new sensing silicone leads that allow for easier system implantation, increased long-term performance, and enhanced reliability.
Increased Neurostimulator Data Access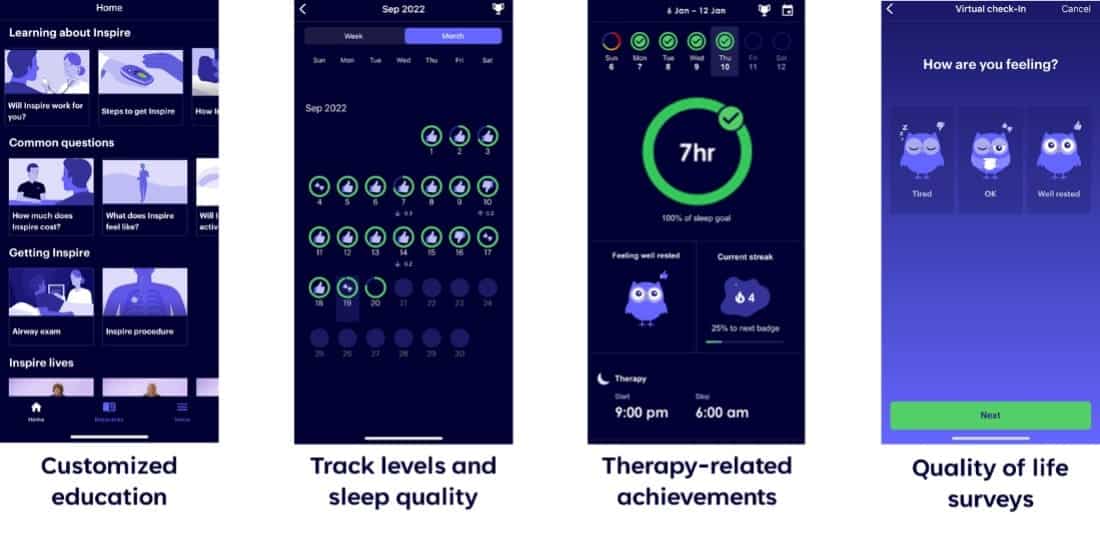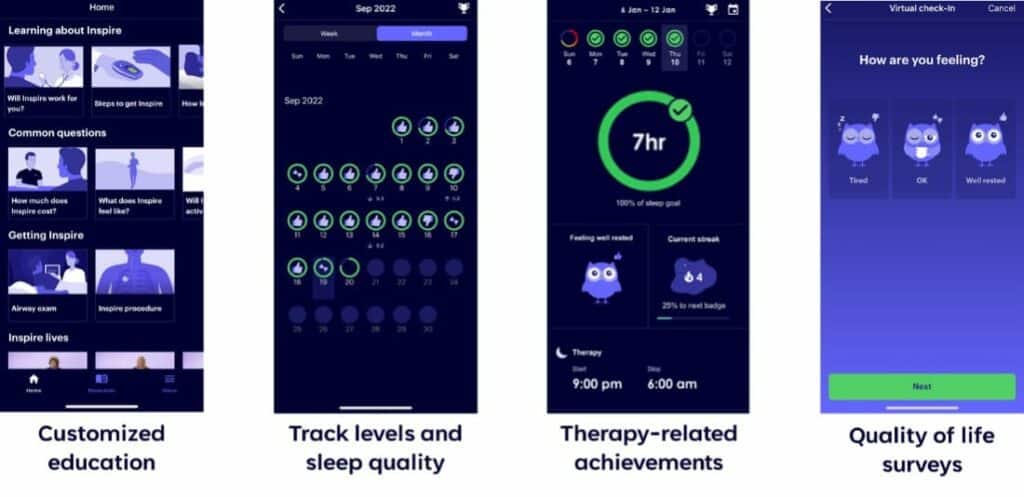 The ability to see their therapy in real time was a common patient request, so Inspire responded by launching a Bluetooth-enabled patient remote and Inspire SleepSync remote patient management platform.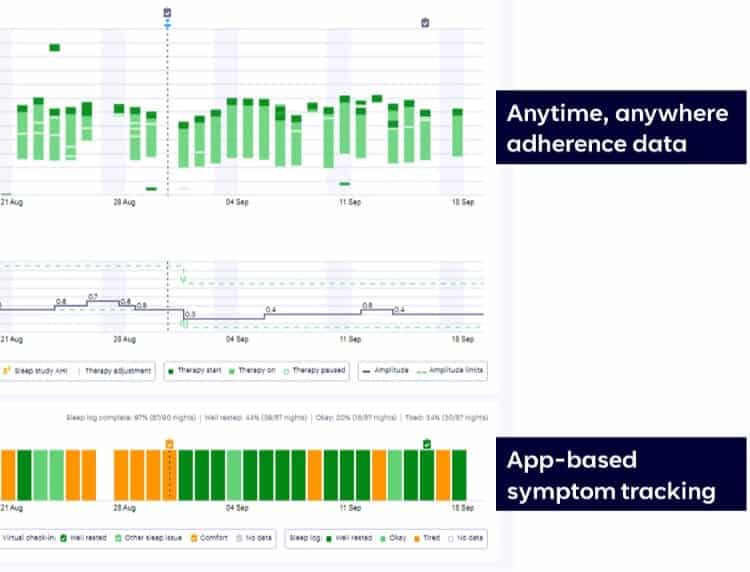 SleepSync provides automatic remote monitoring, similar to the data on web-based CPAP monitoring platforms, which also helps with care coordination between sleep medicine and surgical partners. Patients download the Inspire Sleep app (free on the Apple App store and Google Play) to view and engage with their sleep data. The app comes with videos of patient stories and educational modules. It also allows users to input and edit key health data, such as how they feel after a night of sleep and what their sleep goals are, and awards them achievement badges for reaching therapy goals.
"The Inspire Sleep app and Bluetooth remote provide for more engagement with therapy, which has been shown to improve adherence with other therapies, such as CPAP," Fellows says.
At Zoll Respicardia, Goblish says remedē is "very excited" to offer physicians DRēAM View—a full-night diagnostic report that allows clinicians deeper insights. "For the first time, we can see breath-by-breath how patients are responding to therapy," he says. "We believe that DRēAM View diagnostics will enable clinicians to better tailor therapy settings for each individual patient."
Collaborative Innovation
Innovations like remote patient management systems, user apps, and physician reporting are driven by a robust model of feedback and ongoing data collection.
For instance, Kent Lee, Inspire's research director, says the company relies on sources ranging from physician advisory councils to patient and medical professional surveys to its ADHERE real-world registry. "Broadly, we are always reviewing the science and outcomes, including data from our real-world ADHERE registry, to understand therapy response in various populations," says Lee. "When findings reach a level of significance, Inspire works with the FDA to evaluate labeling and indications."
Similarly, Goblish says the idea for DRēAM View originated as the team designed and tested the original remedē System. "The physicians we worked with found the best way to observe the remedē therapy in action was to monitor the therapy delivery data side-by-side with data from the PSG," he says. "By matching the data, we could see breath-by-breath how therapy resolved central events."
DRēAM View is designed to give similar data, but without the need for an in-lab sleep study. "This makes it easier for clinicians to understand what programming adjustments are needed to optimize the therapy for an individual patient," Goblish says.
Once a design concept has been established, teams can move to an evaluation phase with both healthcare professionals and current and prospective patients before finalizing and submitting for regulatory approval. By keeping the user at the forefront of their design process, neurostimulator technology companies are able to offer advances that allow for greater accessibility—and simplicity.
"All enhancements are made with the patient in mind," Goblish says. "Our goal is to not only improve the therapy itself but also make the process of getting remedē as simple as possible."
Future Neurostimulator Advances
Sleep technology companies will undoubtedly continue to build upon patient data and needs to advance neurostimulators for sleep apnea. For instance, Fellows notes that Inspire currently sponsors investigational use-only trials, such as within a pediatric population with Down Syndrome, sleep apnea, and intolerance to CPAP—illustrating a drive toward innovation.
Goblish anticipates continued enhancements that will make the end-to-end patient experience of getting neurostimulation therapy easier, such as remote monitoring and programming, improved diagnostics that could allow providers to optimize and titrate the therapy more quickly, and enhanced therapy algorithms for easier patient adjustment. He also looks forward to "revolutionary technology advancements" that could include everything from miniaturization to artificial intelligence.
"We know sleep apnea is a complex disease, and researchers are just beginning to understand the impact on the physiological or psychological functions of the body," says Goblish. "While neurostimulators have been used to treat sleep apnea for over a decade now, we are just at the beginning of what's possible."
Photo 117666370 © Everythingpossible | Dreamstime.com