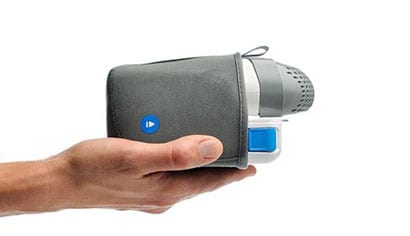 Human Design Medical, LLC (HDM) just released the Z1, a CPAP device that fits in the palm of your hand and weighs only 10 ounces. HDM promotes it as the ultimate solution for CPAP users who travel. It can fit in a coat pocket or briefcase and is a breeze to pass through airport security. Unlike most CPAP machines that require a separate carrying case, the Z1 doesn't need additional bags. Patients can even use the Z1 on the plane.
The Z1 has an optional PowerShell that seamlessly houses an integrated 14.4v lithium ion overnight battery module within a convenient neoprene case. The PowerShell has a sophisticated computer chip that enables users to get power either through traditional cords or with a cordless battery. It delivers at least 8 hours of continuous positive airway pressure without external power. If there is a power outage, the Z1 automatically transfers over to battery power so patients can continue their sleep without interruption. It also provides an ideal solution for camping, boating, or any other activities where external power sources are limited.
"Our goal was to make CPAP treatment more user-friendly for people with active lifestyles and I think we really nailed it. I am a CPAP user myself and have taken the Z1 on business trips across the US and overseas, and I can attest to the value of having CPAP that is ready to go wherever I need it while taking up as little space as possible. The integration offered by the PowerShell—our solution that unifies the CPAP machine with an overnight battery module—makes CPAP so convenient," says Steve Moore, the company's Sr VP of Sales and Marketing, in a release. "It really is a quantum leap in the industry. People are going to love it."
In addition to standard features, including 4-20 cm H20, ramp, and altitude adjustment, the Z1 includes Bluetooth technology embedded within the device. The unit offers data viewing software that gives users valuable feedback on their therapy and features its proprietary Z-Breathe algorithm that learns from a user's breathing pattern and relieves machine pressure on exhalation.