Inspired by a stylish sister with amyotrophic lateral sclerosis (ALS) who carried around her BiPAP device in a Lord & Taylor shopping bag, inventor Hindy Ginsberg wanted to create designer bags for medical equipment.
So "Spoonful of Sugar" was born. "We know that it's difficult to get patients to use the CPAPs that they have been prescribed and we hope that using a Spoonful of Sugar bag that is both stylish and convenient will make the experience just a little easier," Ginsberg says.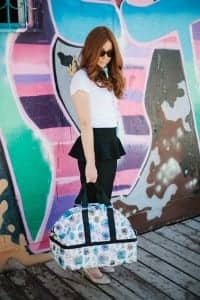 The Spoonful of Sugar CPAP bags are $169 each and include the following features:
padded lining in the machine compartment
individual compartments for each part of the machine
adjustable compartments for machines of every size
removable divider for the BIPAP/CPAP compartment
pocket for manual and other important papers
pockets for filters and other small items
zipper closure
detachable shoulder strap
detachable wheelchair straps
exterior phone pocket
spacious purse section with 3 internal pockets
Pictured is The Marilyn Duo Bag.