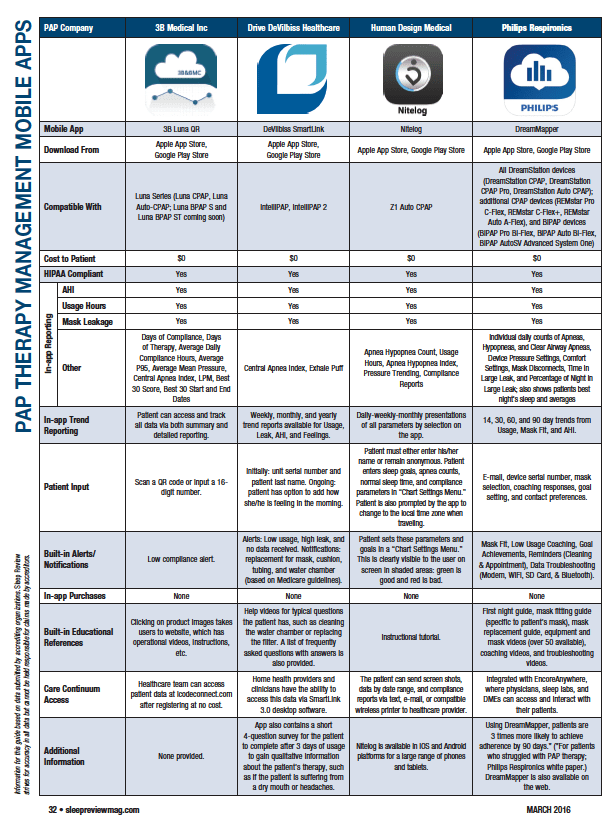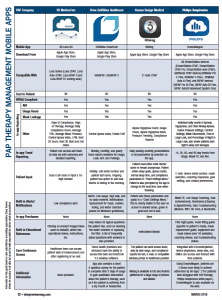 Compare 4 PAP therapy management mobile apps side by side. Click on the thumbnail above or "PAPTherapyApps" to view the full matrix at a legible size, download it, or print it. Sleep Review's matrix compares features such as app store availability, compatible PAP devices, cost, HIPAA compliance, reporting, trend reporting, patient input, built-in alerts/notifications, in-app purchases, educational references, and care continuum access for the following apps: 3B Medical Inc 3B Luna QR, Drive Devilbiss Healthcare DeVilbiss SmartLink, Human Design Medical NiteLog, Philips Respironics DreamMapper.
A version of this comparison guide was published in the March 2016 issue. If your company is missing, please e-mail sroy[at]allied360.com so you can be considered for the next update.
Find out about the latest product releases at www.sleepreviewmag.com/products.