Newly FDA cleared, the Bleep DreamPort Sleep Solution is a new mask option that eliminates headgear via adhesive strips that are flush to the nose instead. It is compatible with many existing CPAP devices (so long as they have a universal hose).
Sleep technologist and sleep apnea patient Stuart Heatherington, RPSGT, is the founder and CEO of Bleep. He says in a release, "Creating the Bleep DreamPort Sleep Solution may seem too good to be true to many. But our product isn't some pipedream project—it actually works! After suffering from uncomfortable CPAP devices for decades, I knew that we needed to create something that works exactly the same as a traditional mask, but it fits comfortably and doesn't restrict your movement, enabling a better night's sleep."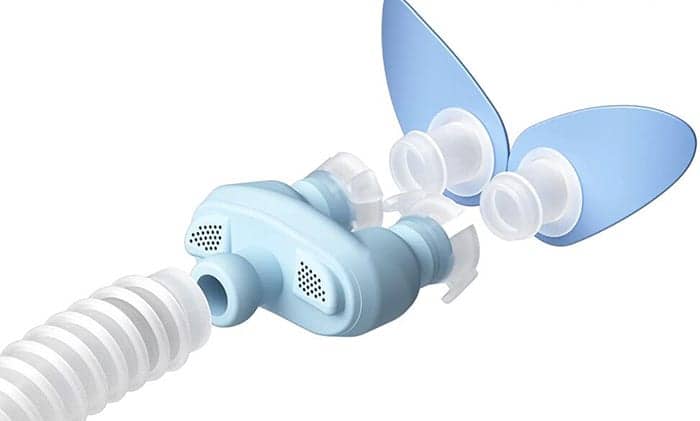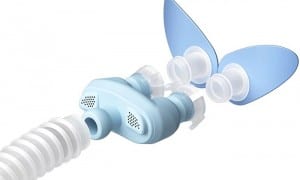 The DreamPort Sleep Solution consists of a DreamWay base unit and 32 pairs of disposable DreamPorts (a 1-month supply). The DreamWay unit is made up of a 10-inch hose and universal port which connects to existing 6- or 7-ft CPAP supply lines. The DreamPorts use a hypoallergenic surgical tape, manufactured by 3M, to keep the port in place (much like an adhesive bandage).
Before sleeping, patients peel the backing off each DreamPort, position over each nostril, and secure the adhesive to the shape of their nose. Once in position, snap the DreamPorts into the flexible DreamWay unit and connect to the supply line. Once in place, turn on the CPAP as normal.
According to Bleep, the adhesive strips leave no marks on a patient's face. Application takes less than a minute and the lightweight design allows patients to sleep on their backs, sides, or stomachs comfortably.
"It's simple," Heatherington says. "We give a Bleep about sleep!"
Prior to the FDA clearance, Bleep launched an Indiegogo campaign that raised $3,405 from 35 backers. It will use the money to support product testing, better the user experience, accelerate manufacturing, and increase consumer awareness.