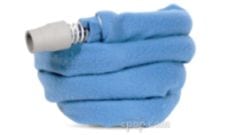 SnuggleHose Cover
SnuggleHose, Salt Lake City, offers the SnuggleHose Cover. The soft fleece material covers the CPAP hose and fastens with Velcro to keep the hose from disturbing users' sleep when it comes in contact with the skin. In addition, for those using a heated humidifier, the SnuggleHose insulates the hose from the cooler ambient room air, helping to reduce condensation within the hose.
(801) 217-3437 snugglehose.com
---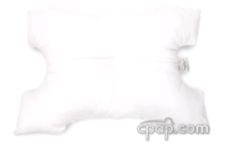 SleePAP CPAP Pillow with Pillow Cover
Hudson Industries, Richmond, Va, offers the SleePAP Pillow for CPAP and BiPAP users. The pillow allows stomach, face, and side sleepers to better position the CPAP mask and tubing. It helps prevent red marks and pressure sores, and mask leakage. Cut-outs on either side of the SleePAP pillow help prevent obstruction of the mask exhalation ports, which can lead to carbon dioxide build-up. The 26-inch-long by 20-inch-wide, 100% hypoallergenic polyester fiber pillow comes with a machine-washable pillow case.
(800) 343-8112 hudsonmedicalproducts.com
---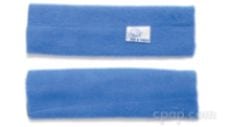 Pad A Cheek CPAP Mask Strap Pads
Pad A Cheek, Stanardsville, Va, offers Pad A Cheek CPAP Mask Strap Pads. The breathable polyester micro fleece pads slide over CPAP mask straps to help prevent red marks and irritation on the face. The design allows users to select up to three layers of padding between their face and headgear straps. Pad A Cheek mask strap pads are approximately 6 inches long and 1 1/4 inches wide. The micro fleece straps are machine washable and dryer safe.
(434) 985-4003 padacheek.com
---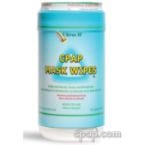 Citrus II CPAP Mask Wipes
Beaumont Products Inc, Kennesaw, Ga, offers Citrus II CPAP Mask Wipes. Designed for everyday cleaning of CPAP equipment such as masks, machines, and tubing, the wipes remove dirt, oils, dust, and other particulate matter. Made from all natural ingredients derived from corn, coconut, and citrus, the wipes are alcohol and solvent free, and require no rinsing. One package of Citrus II Wipes contains 62 wipes.
(800) 451-7096 beaumontproducts.com
---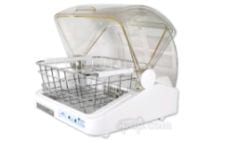 Hurricane CPAP Equipment Dryer
SiestaMed Technologies Inc, Camarillo, Calif, offers the home edition Hurricane CPAP Equipment Dryer. The dryer uses static warm air to dry CPAP parts and accessories, including masks, tubing, headgear, water chamber, and chinstrap, in an enclosed cabinet. The Hurricane features automatic shut-off settings (15-, 30-, or 60-minute dry times) and temperature controls to keep the cabinet temperature under 121°F. The dryer weighs 7.48 pounds and uses a 120V AC power outlet.
(866) 251-6403 siestamed.com
---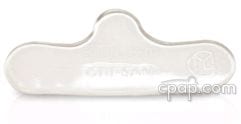 Gecko Nasal Pad
ResMed Corp, San Diego, offers the Gecko Nasal Pad. The Gecko pad provides an extra layer of soft padding between the user's nasal bridge and CPAP mask to help reduce nasal skin irritation, nasal bridge soreness, and mask leaks. Made with USDA grade mineral oil-based polymer gel material, the Gecko pad is hypoallergenic and latex free. It can be cleaned with soap and water and reused. The Gecko pad works with all nasal and full face masks and is available in two sizes: small (3 1/4-inch length); and large (4 1/8-inch length).
(800) 424-0737 resmed.com
---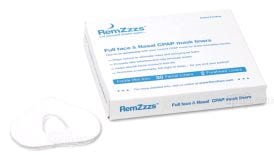 RemZzzs Padded Full Face CPAP Mask Liners
RemZzzs, Jackson, Mich, offers the RemZzzs Padded Full Face CPAP Mask Liners. The liners are designed to wick away moisture that accumulates for some CPAP mask users and causes skin irritation and mask leaks. The liner material is also designed to absorb facial oils that can loosen the mask seal and to prevent the cushion from slipping. A 30-day kit includes 30 RemZzzs mask liners and two forehead liners. The forehead liners are designed to eliminate red marks from a mask's forehead support. Each forehead liner lasts approximately 15 days.
(877) 473-6999 remzzzs.com
---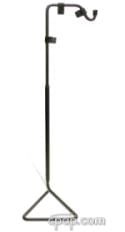 HoseBuddy Tangle Free CPAP Hose Suspension System
Bro-Gho, Dallas, NC, offers the HoseBuddy Tangle Free CPAP Hose Suspension System. The holder fits between the user's mattress and box spring to lift the CPAP hose above the user while they sleep. The HoseBuddy system features a swivel arm that moves back and forth when the user turns, keeping the user from rolling over on the hose or having to wake up and make adjustments during the night. According to the company, the HoseBuddy can also help reduce water condensation in the CPAP hose or mask. The device weighs 4.5 pounds and has an adjustable height up to 33 inches. A 4-inch foam headboard protector is also included to guard against damage to a bed headboard.
(877) 922-1765 bro-gho.com