John Kattwinkel, MD, crafted bold recommendations that spawned the creation of the "Back to Sleep" campaign.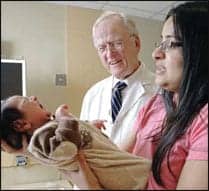 John Kattwinkel, MD, instructs Kajal Gohil about proper sleep position for her infant.
John Kattwinkel, MD, has never been afraid to follow the evidence. As chairman of the American Academy of Pediatrics (AAP) task force on sudden infant death syndrome (SIDS), the University of Virginia (UVa) neonatologist led the task force to carefully review the world's research and recommend to the AAP that all infants start sleeping on their backs—rather than their stomach, which was the norm at the time.
With the AAP imprimatur behind their words, the 1992 declaration received widespread dissemination and has influenced parental actions for more than a decade. "That was the first recommendation by the task force, and it took guts," says Fern R. Hauck, MD, Department of Family Medicine at UVa, Charlottesville. "There were many people who disagreed."
Hauck, who is a member of the current SIDS task force, says critics feared that infants who slept on their back would be more susceptible to reflux or aspiration. The statistics, however, show that back sleeping has helped to reduce the rate of SIDS by a whopping 50%.
For Kattwinkel, who spent a remarkable 32 years as director of neonatology at UVa—before stepping down 2 years ago—reducing SIDS has been a source of great satisfaction. Defending the decision, and the "Back to Sleep" campaign that it spawned, has not always been easy despite the undeniably favorable numbers. "Flat spots on the back of the head increased with supine sleeping," says Kattwinkel, a Harvard-educated physician who currently serves as UVa's Charles Fuller Professor of Neonatology. "So we included the importance of 'tummy time' when awake to help develop upper shoulder girdle strength, and to help prevent positional plagiocephaly. Also, periodically changing the baby's orientation in the crib encourages them to turn their heads in different directions at night, thus reducing development of flat spots."
Some colleagues were concerned that supine slumber would result in less deep sleep, delay of motor milestones, and aspiration of vomitus—all points that Kattwinkel's group meticulously addressed through academic channels. It was a battle worth fighting for the man who continues to do research on behalf of babies.
After shedding the heavy administrative load that went with chairing the neonatology division, Kattwinkel is now co-directing an NIH-funded study to collect all bedside physiologic monitor data from the 45 beds in UVa's NICU on a 24/7 basis. He and his colleagues will analyze respiratory, heart rate, and oximetry data to distinguish waveforms and patterns that could allow clinicians to predict which premature babies are going to have apnea.
Since premature infants in the ICU can't really go home until their chance of apnea is negligible, predicting which babies are more at risk would get some babies home earlier and would appropriately delay discharge in a few who might be likely to have an apparent life-threatening event (ALTE) at home. The end result would likely be decreased hospital costs, safer babies, and happier parents.
Ceding leadership of the SIDS task force to Rachel Moon, MD, and stepping down as division chief, have allowed the 68-year-old to focus on new projects, although actual hours at work have essentially not changed. In addition to the study, putting the final touches on a new book edition and editing a neonatal resuscitation textbook easily take up time that previously had been spent going to meetings and negotiating with administration. "My wife tells me that all it meant is that I cut my salary," says Kattwinkel with a chuckle. "The one day a week that I was going to take off I just don't take off or I work at home. It's not because I'm a workaholic. I just love what I do. I don't know what I would do if I retired, so I'll just keep doing what I feel I can do well and effectively."
NO BIAS
How did a neonatologist with no specific SIDS experience end up heading the first AAP SIDS task force? "I think one of the main reasons was that my real specialty was neonatal apnea, and not SIDS," offers Kattwinkel. "The Academy asked me to look at it in 1992 because I really did not have any bias, and there were a lot of people who felt as if they had the answer and had an agenda. Reports were coming out of other countries saying that if babies slept on their backs, instead of their stomach, their risk of SIDS was dramatically decreased."
By definition, SIDS is inherently confounding. When the cause of an infant's death is unidentifiable, it is labeled SIDS. Back in 1992, apnea was largely thought to be the leading cause, and Kattwinkel says companies tried to capitalize on the belief by selling apnea monitors to concerned parents.
The thinking was that if premature babies are likely to have apnea, and those same babies are at a higher risk for SIDS, the two must be related. "Epidemiology would suggest that although premature babies are at higher risk for SIDS, it is not the premature babies who have apnea that have a particularly high risk for SIDS," explains Kattwinkel. "Something about prematurity seems to increase their risk, but it is not apnea. The whole apnea theory started to fall apart in the 1980s and early 1990s, and there is no evidence that apnea monitors changed the incidence of SIDS at all."
The theory advanced by current SIDS researchers is that brainstem abnormalities are present in the majority of babies who die of SIDS. As a result, there is probably a delay in arousal mechanisms, rather than true breathing abnormalities.
Building on Kattwinkel's work, Moon and Hauck will continue to conduct their own epidemiologic studies, and evaluate evidence published by others with an unbiased eye. "We still do not know the exact cause of SIDS, but we are closer," says Hauck. "We are getting closer to identifying that it is a brainstem abnormality that makes these children vulnerable. And when you provide an environment that is less favorable, babies tend to be more susceptible."
Hauck explains that the current thinking about SIDS is that risk increases when various factors occur simultaneously. Subtle abnormalities could be developing in utero, and once the baby is born, second-hand smoke may conspire with nutritional deficiencies or even genetic variables. Kattwinkel reports that there are still apnea enthusiasts when it comes to SIDS, but he confirms there is no further evidence that apnea is the primary etiology.
EVOLUTION OF A CAREER
Since earning his MD in 1968, Kattwinkel has had a front row seat for the philosophical and technological changes in the medical profession. Neonatology and obstetrics, for example, used to be incredibly paternalistic. However, even early on, Kattwinkel never embraced that attitude, thanks largely to his mentor at the time who was considered a "maternal bonding" guru. "Too often it was a culture of all males telling women what they ought to do," muses Kattwinkel. "Even people who were pioneers in child care such as Dr Spock had a fairly paternalistic approach. I think we have changed dramatically."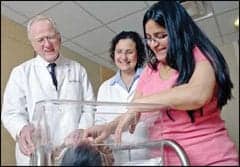 John Kattwinkel, MD, and Fern R. Hauck, MD, tell Kajal Gohil that babies should sleep on their backs in order to reduce the risk of SIDS.
Too much empathy was often discouraged in the old days, lest doctors become too emotionally involved. For Kattwinkel, empathy was impossible to avoid after he endured the death of his own infant daughter. She had a congenital heart defect, and died when she was just 3 days old. The painful experience taught the young doctor that empathy was essential. "You can be empathetic without being personally involved," explains Kattwinkel. "If you can understand what parents are going through, then the decision-making that you have to undergo will be a lot more meaningful than if you make it in a vacuum. It's important that physicians involve the parents and, whenever possible and reasonable, have them be the primary decision makers and caretakers for their children."
As a child in a family filled with doctors, the young Kattwinkel saw the emotional and physical toll of the profession and vowed to stay away from it. He ultimately changed his mind, but his own two children—both daughters now ages 39 and 43—chose not to follow in the medical footsteps. "My oldest daughter is an academician at the College of Charleston, teaching theater history, and now is designing curricula to help new freshmen students adjust to adult life," reports Kattwinkel. "My youngest daughter is in data analysis for companies that conduct clinical trials in medicine. I think both of my daughters learned what lifestyles are like in medicine. It's total dedication and total consumption of your time and energy. I am very proud of them both and what they are doing. Their contributions are just in a different venue."
From a clinical and technological perspective, Kattwinkel has seen it all—from old shoebox-size cell phones to startling advances in gene therapy—and finally to information technology. His current apnea study alone will involve a staggering 30 to 35 terabytes of data.
Will the next 30 years yield as many new discoveries as the previous 30? Yes, but the focus will shift. "There will be exponential growth in knowledge, but it will be quite different," says Kattwinkel. "Gene therapy, and really working at the building blocks of life, is something we would not have dreamed of 30 years ago."
| | |
| --- | --- |
| Stay up to date on SIDS research. Subscribe to Sleep Report. | |
Will this focus on the micro leave some areas neglected? "I am now involved with developing resuscitation guidelines for neonates through the American Heart Association and the AAP," says Kattwinkel. "We have to strive to find studies now being done by physiologists—whole body physiologists—because there are very few of them left. Everyone is working at the molecular level, and probably 90% of the progress that has been made over the last 25 or 30 years is by whole body physiologists. I'm sure there will be a lot less progress in physiology, but more in gene therapy and molecular medicine."
Whatever bold new paths medicine takes in the years to come, Hauck agrees that certain physician traits—as exemplified by Kattwinkel—must continue to be honed. "Dr Kattwinkel has a great easygoing personality, and is very thorough, efficient, ethical, and reliable," says Hauck. "When he says he is going to do something, he does it. He is a great mentor and role model, and it is an honor to work with him. He has, and continues to be, a true advocate for children's health."
---
Greg Thompson is a contributing writer for Sleep Review. The author can be reached at sleepreviewmag@allied360.com.