Colleagues and industry players remember Jensen as a compassionate, down-to-earth leader who built enduring relationships in the sleep medicine community.
By Alyx Arnett
Eric Jensen, the founder of MVAP Medical Supplies, died after a long illness on Wednesday, May 10, at home. He was 61.
Born in Fresno, Calif, Jensen made a name for himself in the field of sleep medicine for his business that provides sleep, electroencephalogram (EEG), electromyography, respiratory, and patient care supplies to customers worldwide. He started the company in 1995 with just four products and grew it to a catalog of over 7,500 products, saturating 93% of sleep labs in the United States.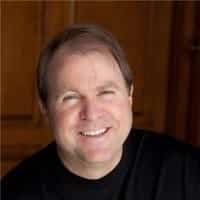 A 1983 graduate of California Lutheran University, Jensen got his foot in the door working in sales for companies like Physiometrix, WestMed, and Medtronic, where he became acquainted with different medical devices, like EEGs and cannulas, and built strong industry relationships.
When Jensen founded MVAP—Medical Video Audio Products—his product list was simple: VHS tapes, floppy disks, printer ink, and printer paper. As sleep studies were recorded on hard copy video and paper then, these supplies were in demand in sleep labs. Jensen's client list quickly grew, with increasing requests from customers for an expanded product range. He worked to accommodate, aiming to become a one-stop-shop for sleep lab needs. Jensen was known for going the extra mile to source hard-to-get and custom products for clients in need with a quick turnaround.
Before Brenda Hocking, RPSGT, RST, joined MVAP 17 years ago as technical support manager, she knew Jensen from her time managing sleep labs and working at VivoMetrics, a provider of patient monitoring devices. At one point, VivoMetrics needed a custom eight-inch electrode, and Hocking reached out to Jensen to get it. "He would do the research," Hocking says. "All these people would go to him and say, 'Well, I need this little custom thing.' 'I need a cannula that does this and that.' And he would find it."
Even after growing the company into a well-respected, well-known company, Jensen never lost his hands-on, personal approach, qualities longtime MVAP employee Connie Hewitt attributes to MVAP's success.
"Talk about being approachable," says Hewitt. "Customers would call him all the time. He would have Post-It notes all over his door of phone calls to return. He was always on the phone. It was just one customer after the next because he was reachable. It wasn't just you talk to his voicemail, or you talk to a manager. He was absolutely willing to discuss whatever with the customer and did whatever he could to help them."
That same level of approachability was extended to employees, too. Hewitt, who's worked at MVAP for 19 years, currently as accounts receivable manager, says Jensen truly cared about each employee. When he asked, "How are you?" he actually wanted to know, she says. During her first year with the company, she remembers paging him, asking for "Mr. Jensen," to which he jovially responded, "Don't ever call me that. It's Eric."
His down-to-earth leadership style resulted in low employee turnover. Most employees have been with the company for at least 10 years.
MVAP is known for its product catalogs with meaningful covers. According to Hocking, one of the covers closest to Jensen's heart was the 2010 catalog that featured his infant daughter, Emma, a baby Jensen and his wife, Cherie, had been longing to have for years. "That catalog was huge. We all wept tears when the baby was born," says Hocking.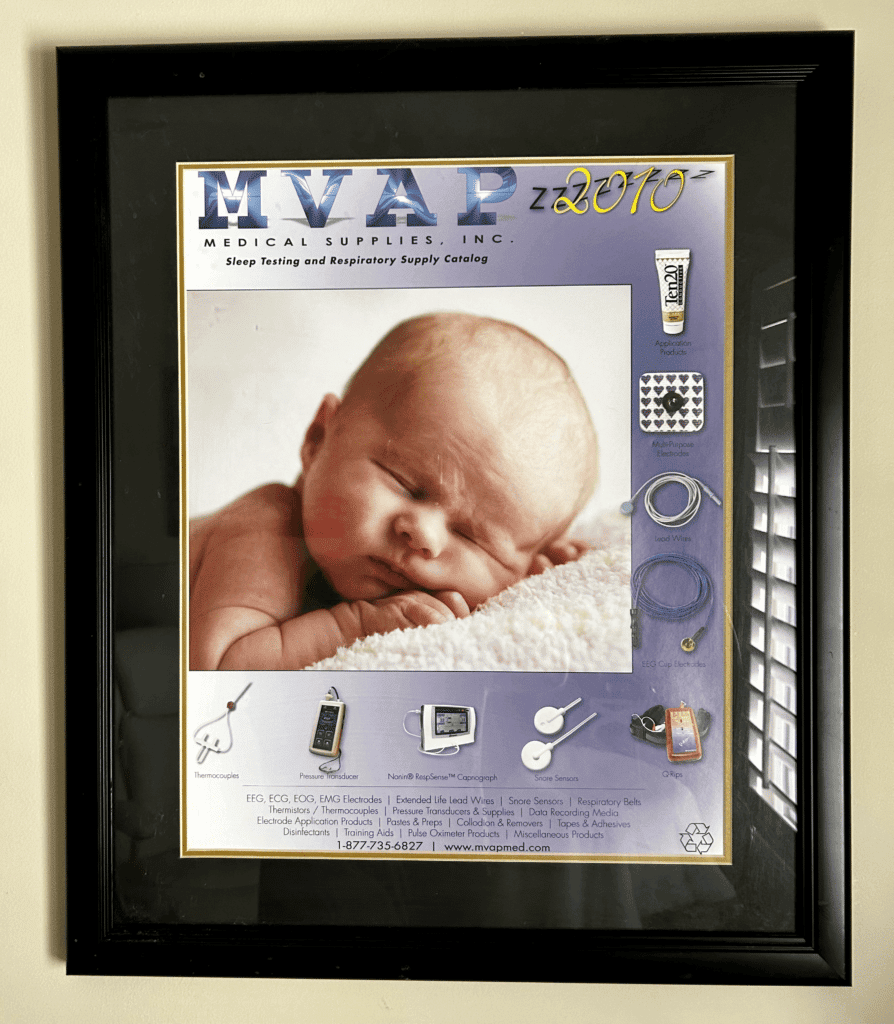 Interestingly, Emma's birth coincided with a rise in pediatric sleep medicine. "Pediatric EEG had just hit full force," says Hocking. "When we did this, all the manufacturers came in, and we started to get pediatric everything, the small wires, little electrodes, little baby tapes, all the products. We even had pacifiers that would take their temperature, just all kinds of products."
Todd Eiken, RPSGT, FAAST, remembers how important those catalogs were—and still are. As MVAP was gaining name recognition, Eiken was managing sleep laboratories. Eiken says the very first thing he would do was make sure he got his hands on the latest MVAP catalog. If he had a question, he'd call the company, and it wouldn't be unusual for Jensen to answer the phone. Jensen was always all-ears if Eiken had an idea for a new product, too. Eiken would often fly to the West Coast to show Jensen his ideas.
"He was always happy to put some time aside and meet with us," says Eiken. "I remember one time when we were there doing that, he gave me and my co-workers a tour of the facility, which is very impressive, and I can tell that he was very proud of everything that happened with that company."
Eiken is now vice president of product development at Dymedix Diagnostics, a maker of disposable and reusable sensors for sleep diagnostics, and says MVAP is one of the company's most successful distributors.
In addition to his company, Jensen also was proud of being the organizer of Blues Night, according to those close to him, an event MVAP sponsored during annual SLEEP conferences. The band comprised industry players, with the late William Dement, the "Father of Sleep Medicine," singing and playing saxophone well into his 80s. Eiken played guitar in the band for over a decade. 
Roy Felts, president and publisher of Sleep Review, played drums in the band. He says Jensen will be missed by all who knew him. "He loved the industry, he loved the people in it, and he always helped someone in need," says Felts.
Ron Richard, senior vice president of sales and marketing at Invent Respiratory, also played in the Blues Night band and got to know Jensen well over the years, occasionally consulting on new product development and talking golf and music. Richard called Jensen "a class act" who was always interested in cutting-edge technology for use in sleep labs.
"His business was probably and still is the leader in sleep supplies and support. He also had the best tech support staff in the business, and many people have worked there for years," says Richard. "He will be missed, and I am very proud to have gotten to share my time with him over the years."
Jensen left his business to his partners. Hocking says she and the rest of the MVAP "family" will strive to carry on the company as Jensen would have wanted it. Jensen's passing is a reminder of the positive influence one person can have on the lives of others, says Hocking. "He literally altered my life forever in a good way," she says. "His loss is worse than a family member's to me."
Hewitt says, "The loss is tremendous, but it's also very bonding. Everybody has pride in their workmanship, but it's even more significant now that we carry on his legacy now that he's gone."
Friends and family will gather at Ascension Lutheran Church in Thousand Oaks, Calif, on May 18, at 10 am PST, with a reception to follow.
Photo caption: Dymedix Diagnostics awards Eric Jensen with the first Pinnacle Club trophy in recognition for 15 years of outstanding service, performance, and partnership in 2017.
Photo credit: Dymedix Diagnostics INC on Facebook