Can you solve this sleep medicine-themed crossword puzzle, designed specifically for Sleep Review readers? A hard copy published in the June/July 2018 issue.
Click on the thumbnail or 0618Crossword to open a printable PDF.
Across
1 Wake-up call
4 Electrodes that make direct contact with skin without gel or saline
6 Establish, such as the pressure of a CPAP device
8 Aerophagia is excessive swallowing of this
10 Injection
11 Forceps, tweezers, etc (singular)
12 CPAP interface
15 Teeth grinding
16 Former
17 Intra___ scanner can be used to take dental impressions
18 "O" in ODI
21 "T" in HST
22 Non-process portion of a neuron
23 Type of imaging technology scan
25 "Sure"
27 Excessive sleep breaks for urination at night
30 Medical pro, abbr.
31 Controlled release, abbr.
32 Daytime dozed
33 A CPAP manufacturer based in San Diego
Down
1 Dentist's association
2 Of the ear
3 A problem patients can encounter when using a CPAP, 2 words
4 Go and see, 2 words
5 Year for short
6 It enables smartphone playback of sounds someone makes when sleeping, 2 words
7 Track a CPAP patient's progress from
a distance
9 Prefix meaning opposite of
13 Copper symbol
14 Hormone that promotes sleep
17 Hospital location where surgeries take place (plural), abbr.
19 Imaging technology that uses electromagnetic waves
20 Quinine water
24 CPAP connector part
26 CPR pros, abbr.
28 Cover
29 Part of ETA, abbr.
30 Scheduled to occur now
To suggest clues for an upcoming sleep crossword, email sroy[at]medqor.com. To sponsor a future puzzle, email rfelts[at]medqor.com.
Answer Key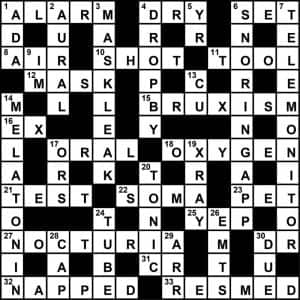 Myles Mellor is a full-time professional crossword puzzle writer who is internationally published.