The National Sleep Foundation (NSF) and the National Science Teachers Association (NSTA) are kicking off the inaugural year of the Bright Schools Competition with registration now open. Through the competition, students in grades 6-8 located in the United States and Canada will explore the correlation between light and sleep and how it influences student health and performance. Students have a chance to win up to $5,000. Project submissions will be accepted until January 29, 2016 at http://brightschoolscompetition.org.
"In order to achieve healthy sleep, people need to understand all the various environmental factors that impact sleep, including light," says David Cloud, NSF CEO, in a release. "This is particularly important for children as they are developing habits that will influence their health for years to come. We're excited to offer students this opportunity to engage with the scientific concepts related to light and sleep and to put their learnings to work in everyday life."
NSTA executive director David Evans, PhD, says, "Through the Bright Schools Competition, students are immersed in a dynamic hands-on learning experience that allows them to see the scientific process unfold from idea to fruition. This unique learning experience not only helps students to better understand the relationship between light and sleep, but lets them practice teamwork, problem solving, and creative thinking."
Through the competition, teams of two to four students plus an adult coach/teacher are asked to identify and investigate an issue within the realm of light and sleep as it pertains to their community and/or young adolescents. After teams choose a topic, they must select one of three exploration options:
Developing a prototype;
Creating an awareness campaign; or
Writing a research proposal.
Using scientific inquiry or engineering design concepts, teams then create and submit an original project. The project itself consists of two parts: a four-page written document, detailing the rationale, project description, next steps, and a bibliography; and a three-minute video that articulates the problem, summarizes the written project elements, and includes visuals of the exploration route associated with the project. A panel of judges will evaluate and score the projects on the basis of several criteria, including scientific accuracy, innovativeness, and potential impact.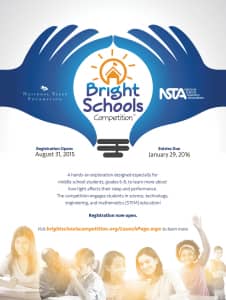 The competition website helps teams get started with a robust resource section that includes information about the correlation between light and sleep, lesson plans, and much more. The downloadable lesson plans, developed by NSF and NSTA with guidance from a panel of leading experts, provide the scientific content needed to help students understand and successfully participate in the competition. These concepts include the introduction of how the presence and/or absence of light controls circadian rhythms and how to quantitatively define the amount of light received throughout the day.
Every student whose team submits a completed project will receive a certificate of participation. Student members of the first place national winning team each receive a cash prize of $5,000. Second place national winning student members will each receive a cash prize of $2,500, and student members of the third place winning team will each receive a cash prize of $1,500. The coach/teacher of the first place national winning team will also receive a prize package, which includes Vernier Middle School Probeware, an all-expense paid trip to an NSTA conference, and membership to NSTA. The coach/teacher of the second place national winning team will receive an all-expense paid trip to an NSTA conference and membership to NSTA and the third place national winning team coach/teacher will receive membership to NSTA and a $500 gift certificate to use in the NSTA Science Store.
Registration for the 2015-2016 competition will remain open through the entire submission period. Teams must be registered in order to participate. Final projects are due January 29, 2016. To participate, students must be US or Canadian citizens or legal residents, living within the United States, U.S. Territories, or Canada. Students must be officially enrolled in sixth, seventh, or eighth grade in a public, private or home school.