Currently, medical examinations for screening commercial drivers for sleep apnea do not go far enough, but there are glimmers of change on the horizon. If and when more strict mandates for commercial driver sleep apnea screenings become a reality, will your lab be ready to cater to this patient population?
A study in the March 2009 edition of the Journal of Occupational and Environmental Medicine illustrates the problem of current commercial driver screenings. Researchers examined 456 commercial drivers from more than 50 different employers over a 15-month period; 78 (17%) met the screening criteria for suspect OSA. These drivers were older and more obese, and had a higher average blood pressure. Of the 53 drivers who were referred for sleep studies, 33 did not comply with the referral and were lost to follow-up. The remaining 20 were all confirmed to have OSA, but after diagnosis, only one of these 20 drivers with confirmed OSA complied with treatment recommendations.
"Although it is not surprising, it is concerning that we found that drivers with sleep apnea frequently minimize or underreport symptoms such as snoring and daytime sleepiness," says Philip Parks, MD, MPH, medical director of Lifespan's employee health and occupational services, and the study's lead author. "In our study, the majority of truck drivers did not follow through on physician recommendations for sleep studies and sleep apnea treatment." He continues, "As a result, it is possible that many of the 14 million truck drivers on American roads have undiagnosed or untreated sleep apnea."
Stefanos N. Kales, MD, MPH, medical director of Employee and Industrial Medicine at Cambridge Health Alliance, is the study's senior author. Kales says, "It is very likely that most of the drivers who did not comply with sleep studies or sleep apnea treatment sought medical certification from examiners who do not screen for sleep apnea, and are driving with untreated or inadequately treated sleep apnea."
But this "loophole" could soon be closed. In 2007, a medical expert panel recommended more in-depth screening for OSA, which included a detailed outline of symptoms and risk factors for OSA. For diagnosis, the preferred method proposed by the panel was overnight PSG. They also supported objective recording devices, validated against PSG, that include 5 hours of measurement of oxygen saturation, nasal pressure, and sleep/wake time.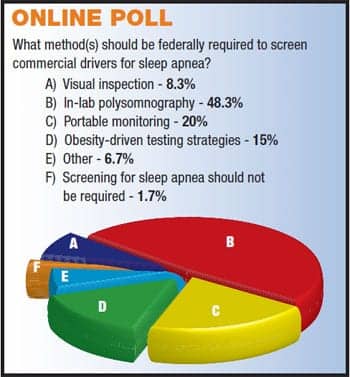 According to Duane DeBruyne, deputy director of the Office of Communications for the Federal Motor Carrier Safety Administration (FMCSA), "It is anticipated that before the end of the calendar year, this Agency will formally announce a 'Notice of Proposed Rulemaking' [NPRM] that may include elements of the FMCSA Medical Review Board's recommendations covering a broad range of physical qualifications regulations. Once the NPRM is announced via the Federal Register, there is a public comment period as is required of all federal regulatory agencies. Once the public comment period closes, it can be a year or more before a Final Rule is developed, reviewed by the Office of Management and Budget, and published in the Federal Register, at which point it becomes a regulation."
DeBruyne notes that FMCSA's final regulatory outcome could take full, limited, or no action on the recommendations of its Medical Review Board.
Proposed rules will also meet resistance from commercial drivers who do not support new regulations.
A source highly familiar with the industry, but who requested not to be identified, added, "Roughly half of all truckers in the United States are independent owner-operators. Their business margins do not compare to those of the large fleet carriers. For the independent truckers, as well as some fleet drivers, to be compelled to pay personally out-of-pocket for mandatory sleep apnea tests in order to continue their livelihood is extremely controversial within the entire industry. The independent drivers would demand scientific evidence that sleep disorders are significant attributable causes of fatal crashes involving large vehicles warranting the tests. They will ask, 'Where is the proof that this is a severe public safety matter? What does the crash evidence reveal?'"
There may be resistance, but as drowsy driving and OSA awareness campaigns gain strength, the move for change could create enough momentum in favor of the recommendation's implementation.
Will your lab be prepared to cater to this patient population? Envisioning the impact of these potential changes, Mark B. Berger, MD, president and chief medical officer for Precision Pulmonary Diagnostics, says, "There would be an upswing in business because there are thousands of drivers who will need to be tested and treated." But, he adds, "A commercial driver is unlike other patients that sleep clinicians will have experience with. They are resistant; they are also the most afraid." This is because if they are diagnosed with sleep apnea, they will have to use effective treatment and prove it repetitively when their medical certifications come up.
While more data on the subject is being gathered and debated, now is the time to start developing your business and clinical plans to meet the needs of this patient population. "Treating commercial drivers has the potential to be very rewarding when you find someone with severe sleep apnea who has been driving an 80,000-pound rig across the country for 13 years with that condition and now you are able to effectively diagnose and treat it," Berger says.
—Franklin A. Holman
sleepreviewmag@allied360.com