As more sleep centers look for ways to grow their offerings, the PAP-NAP comes to mind as a service that can give labs and physicians a competitive edge. A healthcare lawyer explains how to approach its reimbursement.
By Daniel B. Brown, Esq
Nobody said PAP therapy was easy. There's the mask, the headgear, the hoses, and the forced air—it's like wrestling a grumpy dragon between the sheets in the twilight between wake and sleep.
It's no wonder that PAP compliance among obstructive sleep apnea patients has been said to hover around 50% within the first year of treatment.1 Studies suggest PAP intolerance may be even higher among insomniacs and persons suffering from post-traumatic stress disorder (PTSD), claustrophobia, or other psychological conditions that impede sleep onset.2

Studies also say that PAP compliance increases significantly if the patient receives hands-on intervention that promotes patient familiarity to help tame the "dragon." But if patient compliance is the goal, declining reimbursement for the sleep physician, the sleep center, and PAP suppliers lowers the incentive—or even the financial ability—to offer these high touch PAP familiarity and desensitization sessions.
In 2008, Barry Krakow, MD, wrote an article published in the Journal of Clinical Sleep Medicine introducing the PAP-NAP as a reimbursable option for acclimating insomnia patients requiring PAP therapy for their sleep breathing disorders.2 Krakow found the PAP-NAP procedure to be an "innovative, reimbursable procedure [that] may prove to be a beneficial approach for exposing PAP therapy to complex insomnia patients who are likely to dismiss PAP therapy early in the course of treatment."2 Today, 6 years later, the PAP-NAP continues to be a useful service for complex, PAP-intolerant patients. But given the overall cost of the service and inconsistent insurance reimbursement, acceptance of the PAP-NAP as an integral part of a sleep lab's program is inconsistent depending upon the region of the country.
What is a "PAP-NAP"?
The "PAP-NAP" is a daytime sleep study conducted to desensitize patients to PAP therapy, especially patients who have acute anxiety about using PAP due to insomnia or other anxiety conditions. The procedure contemplates the patient's presence in the sleep lab or physician office for individual PAP coaching, an attended cardiopulmonary recording involving at least four channels, and instruction and fitting of the PAP equipment. The patient is then left to sleep briefly with the PAP to familiarize the patient with the equipment and pressure sensations in a controlled setting.
The entire procedure is attended by a sleep technologist and ranges from 3 to 5 hours in length, including patient check-in, instruction, approximately 1 to 3 hours of sleep time, and discharge.
Coding the PAP-NAP
Coding the PAP-NAP for reimbursement has required some acrobatics since the procedure's inception. That's because there is no specific Current Procedural Terminology (CPT) code describing the PAP-NAP per se. Coverage and payment hinge on use of some analogous code loosely describing the actual service as well as the agreement by the payor to cover the service.
In his 2008 article, Krakow concluded that the PAP-NAP procedure meets criteria for sleep study CPT code 95807 because PAP-NAPs use four or more sensors, including simultaneous recording of ventilation, respiratory effort, ECG or heart rate, and oxygen saturation, and are attended by a technologist. Ever since, providers have used this code and insurance carriers have come to recognize 95807 as the code affiliated with the PAP-NAP.
But as stated by the American Academy of Sleep Medicine (AASM), CPT code 95807 only approximately reflects the service that is being performed with a PAP-NAP.3 Further, the short duration of the PAP-NAP session makes CPT code 95807 standing alone a loose fit.
Medicare reimbursement guidelines contemplate 6 hours of recorded data for sleep studies. PAP-NAPs are intended to end before all 6 hours of the study's data are recorded. Providers performing PAP-NAPs address the shortened duration of the study by using "Modifier -52" when billing the 98507 test.
Modifier -52 identifies a reduced or partially eliminated service or procedure. It is used in situations where the services performed are significantly less than usually required. For example, a patient might voluntarily terminate a full PSG halfway through the night or the physician might elect to reduce or eliminate a portion of a service or procedure. In either case, the test provider would indicate the reduced performance of the service by appending a "-52" to the billed CPT code. (A reduction in service may trigger a reduction in reimbursement.)
Even with the use of Modifier -52, some physicians and sleep labs choose to utilize other desensitization methods over the PAP-NAP, especially for the general patient population. According to Scott Leibowitz, MD, medical director of the Sleep Medicine Practice of Laureate Medical Group in Sandy Springs, Ga, "There is benefit in the PAP-NAP as a desensitization tool, but our practice is not doing them at this time." Instead, Leibowitz says his patients receive extensive PAP desensitization instruction, including "an initial meeting with our respiratory therapist for brief in-office exposure and desensitization along with a graded, at-home exposure process to allow for gradual acclimation prior to attempting to sleep with PAP therapy."
Reimbursement Trends
While CPT code 95807-52 appears to be the most applicable CPT code for PAP-NAPs, payors are not always willing to cover the service billed under that code. There is no Medicare local coverage determination or other reimbursement guidance specifically addressing PAP-NAPs. But Medicare has historically reimbursed the PAP-NAP service when billed as 95807-52.
Coverage of the service by commercial carriers is less uniform. Commercial payors are beginning to recognize the specific service of "PAP-NAPs." Unfortunately, those that have looked at and described the service in their medical policies have denied coverage as being investigational.
For example, BCBS of Alabama states that "for dates of service on or after June 13, 2013: the use of an abbreviated daytime sleep study (PAP-NAP) as a supplement to standard sleep studies does not meet Blue Cross Blue Shield of Alabama's medical criteria for coverage and is considered investigational." BCBS of Minnesota came to the same conclusion, stating that PAP-NAPs are considered "investigative due to lack of evidence demonstrating improved health outcomes." The same language can be found in BCBS policies in other states, such as Tennessee.
Humana also has released a statement that Humana members may not be eligible for coverage of PAP-NAPs for any indications. Yet another private payor, Premera, states in its policy that "the daytime PAP-NAP desensitization procedure is considered investigational to help patients with insomnia/panic attacks/claustrophobia overcome anxiety about the mask and pressure sensations of the PAP device."
The trend is not all-inclusive. Priority Health explicitly covers PAP-NAPs in limited scenarios (see additional information at the bottom of this article: Payor Perspectives).
So it is clear that blanket denial is not the case for all payors. Additionally, when a payor initially responds with a denial, physicians may receive reimbursement via appeal, Krakow says. "I have found insurers to be receptive to PAP-NAP reimbursement, even when the policy indicates it is not covered," Krakow says. "I appeal the denial with detailed explanations and receive coverage on appeal." Even so, sleep centers will benefit from a careful review of sleep testing policies for any payor with which the sleep center may be working.
If a payor's medical policy does not mention the PAP-NAP, providers of the service can increase their chances of being paid if they check with the payors before initiating a PAP-NAP program. Sleep labs and physician practices with special needs patients—those with panic attacks, anxiety, PTSD, or insomnia or who are wholly insensitive to PAP therapy—should make the case to the payors' medical directors that the procedure promotes the necessary nighttime air pressure therapy possible for these patients. Checking with the carrier first and obtaining its consent to reimbursement is a key item of due diligence before electing to initiate a PAP-NAP program.
Physician's PAP Initiation and Maintenance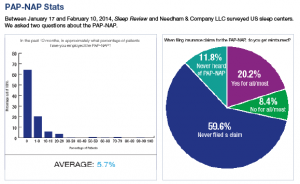 Unlike stand-alone, non-physician-owned sleep labs, physician practices have the option to bill a separate CPT code for CPAP services. Code 94660, for CPAP ventilation, initiation, and management, may be used when a patient's visit is primarily to review issues related to PAP treatment and management of his or her sleep disorder. A sleep technologist working under the "incident to" provision may conduct the appointment in whole under the general supervision of the doctor, Krakow says, citing several sleep specialists who spoke at a conference about their practical, clinical experiences with the use of code 94660. The code covers both the initial education and long-term management of the patient related to PAP, meaning a physician could bill for 94660 multiple times over a period of time, depending on payor restrictions. (A provider should not bill for both 94660 and an E&M code for the same service. If a distinct service is offered the same day, the provider should bill for the appropriate CPT code with Modifier -25.) Medicare reimburses approximately $60 for services billed under the code in 2014.
Because this code describes services similar to evaluation and management services, payment for a patient's PAP office visit under 99212, 99213, or 99214 would perhaps be more appropriate than the 94660, particularly if a history or management services other than PAP were performed. In any event, CPT code 94660 would be inappropriate for PAP services involving attended sleep or NAP sessions, if for no reason other than the cost to the physician for attending, data recording, and instructing on PAP desensitization.
Overall, the PAP-NAP can be a promising tool to salvage patients reluctant to comply with PAP therapy.4 Payors have historically recognized CPT code 95807-52 as the method for billing the service. But acceptance has not been universal.
Sleep centers and physicians will want to directly inquire of their Medicare contractor or commercial insurance plan before they begin a PAP-NAP program. Providers should check whether the payor will recognize 95807-52 as the proper code to bill for the service and, if so, if the carrier will pay for the service performed under the code.
Daniel B. Brown, Esq, is the founding member of The Daniel Brown Law Group, LLC, in Atlanta, and is a member of Sleep Review's editorial advisory board. Submit questions about the article to sleepeditor@allied360.com.
References
1. Ballard RD, Gay PC, Strollo PJ. Interventions to improve compliance in sleep apnea patients previously non-compliant with continuous positive airway pressure. J Clin Sleep Med. 2007;3(7) 706-12.
2. Krakow B, Ulibarri V, Melendrez DC, Kikta S, Togami L, Haynes P. A daytime, abbreviated cardio-respiratory sleep study (CPT 95807-52) to acclimate insomnia patients with sleep-disordered breathing to positive airway pressure (PAP-NAP). J Clin Sleep Med. 2008;4(3):212-22.
3. American Academy of Sleep Medicine. Coding FAQ, Can 95807-52 be used for an attended CPAP acclimation, referred to as PAP-NAP? www.aasmnet.org/codingfaq.aspx#368.
4. PAP-NAPs May Help Reluctant CPAP Patients. Megan Brooks, June 19, 2012. www.medscape.com/viewarticle/765956.
Additional Information 
Payor Perspectives
BCBS Alabama

For dates of service on or after June 13, 2013: The use of an abbreviated daytime sleep study (PAP-NAP) as a supplement to standard sleep studies does not meet Blue Cross and Blue Shield of Alabama's medical criteria for coverage and is considered investigational.

BCBS Minnesota

Use of an abbreviated daytime sleep study (eg, PAP-NAP) as a supplement to standard sleep studies is considered investigative due to a lack of evidence demonstrating improved health outcomes.

BCBS Tennessee

Currently considered investigational: www.bcbsnc.com/content/services/medical-policy/updates/medical-policy-notification-2013-12-31.htm.

BCBS North Carolina

The use of an abbreviated daytime sleep study (PAP-NAP) as a supplement to standard sleep studies is considered investigational [and is not covered].

Cigna Coverage
Policy Number: 0158

Cigna does not cover an abbreviated cardiorespiratory sleep study to acclimate an individual to PAP (eg, PAP-NAP study, CPT code 95807-52) because "it is considered experimental, investigational, or unproven."

Humana
Policy Number:
CLPD-0381-014

"Humana members may not be eligible under the Plan for facility based, daytime, abbreviated, cardiorespiratory sleep studies to acclimate patients to PAP (PAP-NAP testing) for any indications. This technology is considered experimental/investigational as it is not identified as widely used and generally accepted for the proposed use as reported in nationally recognized peer-reviewed medical literature published in the English language."

Premera Blue Cross:
Number 2.01.503

"The daytime PAP-NAP desensitization procedure is considered investigational to help patients with insomnia/panic attacks/claustrophobia overcome anxiety about the mask and pressure sensations of the PAP device."

Priority Health

PAP-NAP (95807-52, involving mask fit, patient desensitization, and leak control during a daytime nap while monitoring airflow, respiratory effort, EKG, and oximetry) is covered in the following situations:a. Before prescribing PAP in a patient diagnosed with sleep apnea using out of center sleep testing and meeting criteria for PAP prescription, 

OR

b. In patients prescribed PAP who have less than 70% compliance in the first 30 days of use

c. In patients unable to tolerate home titration (ie, moderate to severe mental illness, cognitive impairment, claustrophobia, insomnia < 6 hours of sleep).
 Related Article: PAP-NAP in a Nutshell