Full Face Mask
DeVilbiss, a division of Sunrise Medical, Longmont, Colo, will now offer the Hans Rudolph 7600 Vmask Full Face Mask. The Hans Rudolph Full Face Mask is a latex-free mask that fits securely under the patient's chin to provide a secure and comfortable fit. This full face mask is available in five different sizes ranging from petite to extra large. The mesh headgear is available in two sizes, small and large, and features a quick release option. (800) 333-4000; www.sunrisemedical.com.
---

Screening Device
The SleepStrip®, new from Great Lakes Prosthodontics, Tonawanda, NY, a division of Great Lakes Orthodontics Ltd, is a reliable, cost-effective, screening device that can help identify patients with OSA or determine the effectiveness of oral appliance therapy. The single-use SleepStrip is simple for patients to use at home. The patient positions the self-adhesive device on the face prior to sleeping. Three miniature flow sensors monitor respiration throughout the night. An integrated central processing unit analyzes respiration patterns to detect and count each apnea and hypopnea event. Results are ready in the morning. SleepStrip results and other risk factors including obesity, hypertension, heavy snoring, and family history are taken into consideration to correctly identify OSA. Patients with positive SleepStrip results should be referred for further evaluation and diagnosis. (800) 828-7626; www.greatlakesortho.com.
---

Sleep Software
Aladin Professional 5.1 from Callidus LLC, Delmar, Md, is a powerful interactive tool designed for sleep laboratories. The professional version provides access to a database management system that captures and measures all data used in the sleep laboratory process. The data is centrally located providing ease of access, automatic updates, report generation, and transfer of critical patient information. Aladin has capabilities of compiling large quantities of data from laboratory input machines including polysomnography, MSLT, vigilance readings, amnesia readings, BGA readings, DCO readings, and specialized lung function readings. (800) 372-3175; www.callidusllc.com.
---

Nasal Interface System
Respironics Inc, Murrysville, Pa, announces the release of the ComfortCurve™ Nasal Interface System. As the newest addition to the Comfort Series™, the ComfortCurve provides a less invasive, more complete, and lifestyle-oriented form of airway delivery. The ComfortCurve Nasal Interface System features an innovative cushion that gently cradles the nose and delivers a dispersed flow of airway pressure. The cushion is supported by two ergonomic and adjustable cheek pads that further eliminate unnecessary nostril irritation, pressure, or pulling commonly caused by pillows or prongs-based products. The ComfortCurve comes complete with three cushion sizes (small, medium, and large), headgear, and an exclusive tubing system that is approved for all Respironics sleep therapy devices including REMstar® Systems with C-Flex™, BiPAP® Pro Systems with Bi-Flex® and REMstar Auto-CPAP Systems. (800) 345-6443; www.respironics.com.
---

Nasal CPAP Device
DeVilbiss, a division of Sunrise Medical, Longmont, Colo, introduces the DeVilbiss FlexSet mask to provide nasal CPAP users with a modular and easy-to-use nasal CPAP interface. The FlexSet features self-anchoring headgear that allows users to put on the headgear without applying the mask, dual nose bridge pivot points for expanded positioning, Soft Breathe-O-Prene® foam forehead pad to minimize forehead indentation and increase comfort, hose connection swivel that rotates 360° or can be locked in an upright position, two quick disconnects—one on the mask bridge and the other on the hose swivel—and clipless sliding headgear that makes the mask easy to put on and keeps the mask centered on the face. The DeVilbiss FlexSet mask is also dishwasher safe and provides four interchangeable cushion options that can quickly and easily interface with the FlexSet frame. (800) 333-4000; www.sunrisemedical.com.
---

Nasal Pillows Interface
DeVilbiss, a division of Sunrise Medical, Longmont, Colo, now offers the Viasys Lyra Nasal Pillows interface. The Viasys Lyra is being distributed nationally by DeVilbiss. This unique nasal interface is an improvement on the current nasal cannula style interfaces. Each Lyra Interface includes a CustomOne Fit Kit that includes four sizes of soft nasal inserts, a sizing gauge that simplifies patient fit and improves comfort, and EasyStrap Headgear. This latex-free interface features a removable elbow, which allows the patient to choose how they want to wear the Lyra—over the head or below the chin. The EasyStrap headgear provides an unobtrusive and comfortable fit no matter how the patient prefers to wear the Lyra. (800) 333-4000; www.sunrisemedical.com.
---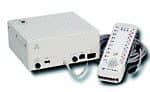 Dermal Care
LouSal Enterprises Inc, Aledo, Tex, offers RoEzIt Dermal Care, a petroleum-free emollient to address the problem of irritation, chafing, and cracking tissue caused by nasal cannula rub during supplemental oxygen therapy that has plagued caregivers for decades. RoEzIt is equally effective in addressing these same problems associated with CPAP therapy, especially with those interfaces that employ the prong insert into the nasal cavity. The product is available to OEM accounts, home care dealers, sleep laboratories, and hospitals. (866) 323-4567; www.roezitdermalcare.com.