By Lisa Stovall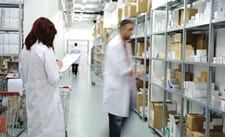 Sleep apnea is a lifelong condition treated with equipment that loses therapeutic effectiveness over time. Routine follow-up calls let patients know the provider is engaged with their therapy, and open up equipment best practice education opportunities. Proper follow-up ultimately leads to the identification and resolution of therapy issues. Instituting a strategic follow-up plan is a key component to a provider's resupply program. For any provider of sleep equipment, proficient clinical care and solid business practices revolve around a strategic resupply program.
Elements of a Resupply Program
Resupply companies typically offer follow-up call services and drop ship services. While most providers choose to partner with a resupply company for all services in one unified bundle, a provider can always opt to keep some services in-house if it better fits their business.
Follow-up. With an in-house follow-up call program, a provider would typically:
Track and schedule each patient for follow-up;
Contact each patient when they are scheduled to be followed up; and
Manage the collection, storage, and accessibility to follow-up notes on patient status and reasons for supply dysfunction notes.
With a resupply company follow-up call program, a provider would typically:
Provide a patient list to a resupply company, which will make follow-up calls;
Review and confirm orders created from the therapy updates; and
Access clinical notes on patient status and reason for supply dysfunction as needed.
When using a resupply company, a provider's existing patients are contacted at set intervals for therapy updates and equipment status checks. The results of these follow-ups are recorded and communicated to the provider. This allows the provider's staff to focus their time on trouble-shooting specific clinical issues and approving resupply orders for shipment.
Drop Ship. With an in-house drop ship program, a provider would:
Manage inventory levels, storage, accuracy, and organization;
Pick and pack orders; and
Ship and record order tracking information.
With a resupply company drop ship program, a provider would typically:
Provide an order to the resupply company; and
Access order tracking information once the order ships.
When using a resupply company for drop ship services, providers create orders that are sent by the resupply company to the patient on the provider's behalf. The resupply company takes on the overhead of warehouse space, managing inventory levels, and working with shipping companies. Using a resupply company for drop ship services allows orders to be processed reliably and can reduce overhead and inventory tax expenses for the provider.
In-House Resupply Program Considerations
Scheduling Process. An effective scheduling process to follow up with patients needs to be created and maintained. The process needs to include a follow-up calendar that identifies when each patient should be contacted. The process also should include regularly importing newly set up patients and removing inactive patients. Medicare and some private insurers have guidelines that govern how long since the last supply date a patient can be contacted. Once that time frame has passed, the patient needs to be removed from the resupply follow-up. The calendar also needs to be able to track unsuccessful patient contact attempts so that another contact attempt can be scheduled. The key to an in-house follow-up is to track each patient so no one falls through the cracks.
Calling Procedure. A calling procedure needs to be established for follow-up calls. A basic call script should be created so that each call goes over the base information needed for the follow-up. Call scripts range from a bullet point list of main questions to be covered in a call to a process document that specifies exactly what is to be done on a call and can be referenced in case of an audit.
An established calling procedure will reduce the number of times a program must call back a patient for information not collected on the initial call. The call script also should be followed if a patient is calling back from being left a voice mail message. In order to make sure these calls are not lost, many times a provider will assign dedicated staff members or a dedicated staff team to whom outbound and any resulting inbound calls from left messages are routed.
Clinical Note Maintenance. While following up with a patient, the caller needs a way to document clinical notes. These notes can include general use as in how often the patient is using the equipment, any issues the patient is having that need to have a clinical follow-up, and changes in patient information such as new address or insurance. The caller also must be able to document reasons for dysfunction for every supply item. For Medicare guidelines, each of these notes should be taken with each call, maintained, and easily accessible in the case of audits.
Resupply Order Creation. The caller should have access to notes on what equipment the patient has been using and what resupply items the patient is eligible for depending on their last order and what insurance they have. The caller needs a way to create a resupply order, confirming the specific equipment items for the order and shipping address. Once the order is created, the insurance should be verified and co-pay collected.
Fulfillment of Resupply Orders. Once the order is cleared for fulfillment, the in-house inventory should be verified that the items are in stock. Assuming they are all in stock, the order then needs to be picked, packaged, and shipped. Once the order is shipped, the tracking information should be added to the order's clinical notes for proof of shipment.
Evaluating A Resupply Company
Follow-up Call Styles. An automated follow-up program consists of an interactive voice response (IVR) system in which the patient answers questions by pressing numbers on their phone, much like the system a person goes through when calling many bank customer service lines. For example, the IVR will ask the patient if they continue to use their equipment on a nightly basis. The patient will respond by pressing 1 for "yes" or 2 for "no."
IVRs have the typical advantages and drawbacks of computer systems. They rarely have downtime, they can scale up and down quickly, and they will literally and reliably record patient responses. However, patients tend to share the same dislike of "talking to a machine" as the rest of us, and response rates can suffer. The rigid yes or no only nature of the process makes it hard to record and provide detailed notes of patient issues for clinician follow-up. Some IVRs counter this by telling the patient up front to press a given key to receive a callback from a live agent, but if that instruction is ignored or forgotten, frustration can result. Also, the logic tree of IVRs is complex and resupply companies using them can be slow to adjust call workflows. This can turn into a business risk in cases where Medicare updates or clarifications of a policy alter what questions need to be asked and what information needs to be documented.
A live call follow-up program consists of real live humans calling patients and working from a script or seeking to answer a set of predefined questions. Live callers are generally well received by patients and response rates are higher as a result. Callers can customize their questions to each patient and ask follow-up questions to clarify patient answers in ways a computer cannot. This is especially helpful in cases where patients do not know the exact equipment they have and the use history is not readily available or accurate. Scripts are easily adjusted as a result of regulatory changes.
When considering a live follow-up call offering from a resupply company, ask how many live callers they have on staff. If a provider has several thousand patients or more and the company has three or less full-time dedicated callers, it could signal a delay in scaling the call center to meet demand. The larger the number of live full-time callers a resupply company has, the less of an issue scaling becomes as call volume can be shifted among and between an internal team of callers familiar with the account.
In the early days of resupply, IVR style follow-up systems were dominant. The trend recently is a strong shift toward live calls. While live calls cost a little more up front, higher patient response rates and smoother clinical interventions tend to drive higher supply reorder rates and more efficient use of a provider's internal resources.
When shopping for any follow-up call offering, a provider should ask to be entered into the company's production system as a "patient" so they can receive a call and interact with the service just as a patient would.
Supply Dysfunction Documentation. Medicare sets resupply guidelines for providers. These guidelines are set up to ensure beneficiaries have the equipment necessary to receive effective therapy. The guidelines are also in place to prevent providers from sending supplies to beneficiaries when it is not medically necessary.
Providers who issue new supplies to beneficiaries need to confirm that patients have dysfunctional equipment and document the specific dysfunctional reason why supplies must be replaced. Providers who do not follow the traditional Medicare replacement schedule or document reason for dysfunction run the risk of payment recoupment from Medicare.
Providers should insist that any potential resupply company show their process for documenting dysfunction to ensure it aligns with the provider's internal practices and parameters. Make sure the resupply company's web portal makes accessing this documentation fast and easy in case of an audit or immediate need.
Clinical Notes and Notifications. A concern many providers have when working with a resupply company to contact their patients is knowing they will still be notified when there is a problem with a patient. When reviewing a resupply company, ask to tour their process for recording patient issues and notifying the provider.
The process should make it easy for the provider to quickly know which patients need to be contacted and what issues the patients have so the provider can ensure the correct person on staff contacts them. The more detailed the notes a resupply company's follow-up calls can provide, the more efficiently a provider's staff can resolve patient issues. SR
---
Lisa Stovall is general manager at CPAPDropShip.com. She can be reached at [email protected] or (225) 806-5633.