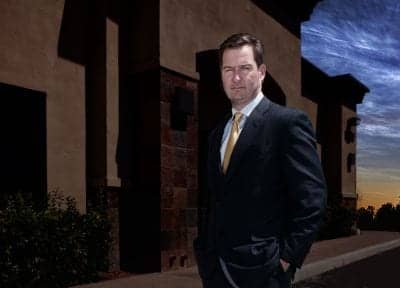 Photos by Trent Black
It's hard to climb the ladder of marketing success without truly knowing what is being marketed. And it's hard to know what's truly being marketed if a company's product and/or services are unclear, unfocused, or unrelated. Successful companies know this, and therefore have learned to know themselves or shape themselves to meet market needs. The process doesn't happen overnight, but some companies, such as Graymark Healthcare Inc, can make it appear so.
Often, there is some quiet history behind a meteoric rise. That of Graymark Healthcare lies in the history of Graymark Productions Inc and of Graymark Healthcare's chairman and chief executive officer, Stanton Nelson. Nelson, who describes himself as a serial entrepreneur, first began investing in sleep diagnostic facilities in 2006 through Graymark Productions. In 2008, it acquired ApothecaryRx LLC and SDC Holdings, LLC, and these combined entities moved forward as Graymark Healthcare, becoming a publicly traded company on the NASDAQ.
Now, 3 years later, the company is the nation's second largest provider of diagnostic sleep services. And although Nelson prefers not to get caught up in market rankings, he has helped to put in place a growth strategy that aims to make Graymark the biggest player in the space over the long term—a strategy that is tied to the essence of the company.
KNOW YOUR PRODUCT
This wasn't always the case, however. When Graymark Healthcare was first created, it had two lines of business: sleep medicine and pharmacies. "People were confused about what we did, and so we decided to become a pure-play company. In 2010, we divested of the pharmacies and now focus solely on sleep medicine," Nelson says.
Today, the essence of the company is a five-step approach to sleep medicine that covers the entire continuum of care for patients with sleep disorders: convenient referral, accurate and timely assessment, diagnosis, treatment, and long-term follow-up targeting patient compliance. All steps are managed by a board-certified sleep medicine physician.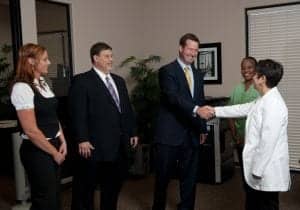 Effective implementation of a comprehensive care model hinges on the collaboration of the whole team. From left, Christina Shaughnessy, Ed Carriero, Stanton Nelson, Carolyn Jackson, and Nellie Duran, RN, RPSGT, discuss consistency of care.
Patients can come to a Graymark facility at any point in the care continuum to complete the cycle. "I see [our sleep facilities] as one-stop shops. Once a patient is referred to one of our facilities, we can take that patient and follow them through the entire process, which is more convenient for the patient and good for business," Nelson says.
The comprehensive approach has helped to improve care while opening new opportunities and driving the company's growth. "It's the single biggest component of what we do. There are lots of companies that do diagnostic sleep. There are many that do therapy. There are also numerous physicians who care for sleep apnea patients. But what really sets us apart is that we bring all of the components under one wing," says Shoba Sampath, Graymark's vice president, business development.
All of the components are vital, but Nelson feels the treatment and follow-up portions have afforded much of the opportunity for increased revenues. In the first quarter of this year, Graymark realized a 107% year-over-year increase in patient resupply shipments.
"Our fulfillment program is the area that saw record growth. We don't just put a CPAP machine on patients and let them be, we follow up and make sure they have resupply every few months," Nelson says. The effort has resulted not only in record revenues, but also in record compliance. The company drives higher patient compliance rates than the national average, Nelson notes.
KNOW YOUR STRENGTHS
To further enhance its five-step approach to patient care, Graymark has also adopted and standardized best practices throughout each of its facilities. "We looked at what we were doing well and what we could be doing better, streamlined the processes that have been effective, and incorporated them within the organization," says Steven Hull, MD, FCCP, FAASM, chief medical officer, Graymark Inc.
The challenge when altering organizational processes is resistance from employees, who, as humans, often do not readily embrace change. "Our advantage has been that we have able and receptive employees who are willing to try something different even though they may have had some success in the past with their own processes," Hull says.
Once the organizational culture is established within a facility and standards implemented, things not only run smoothly (ideally), but also are better positioned for growth—both at the individual sites and for the corporation as a whole. "People are no longer in silos but communicating within a framework, so there is consistency in what the company does. You can also have practice guidelines, information technology, billing, and other support systems in place that will allow you to be scalable," Hull says.
This means operations are the same whether a patient visits a Graymark facility in Kansas City, Mo; Tulsa, Okla; or Winner, SD. "You can provide a pattern of care that is consistent throughout the organization. It doesn't have to be identical, because each patient may have special needs, but it should be the same kind of comprehensive care model to provide some consistency of care throughout the organization," Hull says.
KNOW YOUR RESOURCES
"The disadvantage, of course, is that it takes a lot of resources to do that," Hull says. Growth, whether organic or not, easy or hard, requires resources. Companies that overreach can still topple, no matter how much success they have achieved. Graymark's executives know this.
"With strong growth comes making sure you have adequate resources in order to accommodate that," Sampath says. To stay agile, Graymark has continually built up its resources throughout its lifetime in an organic fashion. For instance, rather than expand by creating new space with construction, it will instead work with potential existing partners, such as hospitals.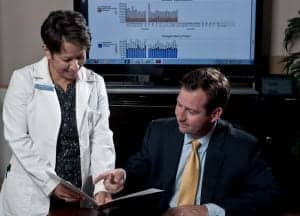 Nellie Duran, RN, RPSGT, and Stanton Nelson ensure that resources are maximized in order to minimize waste.
However, resources must still be properly managed. "This means ensuring an adequate number of technicians to staff a hospital facility or strengthening a referral network. We're building on top of what we already have," Sampath explains.
Being publicly traded proves an advantage in acquiring resources, particularly capital. "If you're trying to grow as an organization, obviously one of the things you have to have is money. Your access to capital is typically better in the markets than it is if you go just to private equity firms or private investors alone," Hull says. Publicly traded firms will often find they have access to capital not available for the privately held.
At the same time, public companies incur fees that privately held institutions do not have to pay, such as charges for audits or regulatory processes. "Your company has to be big enough to be able to overcome those costs, but then above and beyond to deliver a return to your investors," Hull says.
One way to maximize resources is through efficiency, which, when repeated through standardization and best practices, minimizes waste. "As with most other sleep centers, we want to be as efficient as possible from a process, policy, and procedure perspective so that we make the most use of all of our systems and people," Sampath says.
This streamlining is also driven in part by lower reimbursements. To counteract the impact of declining revenues tied to reduced reimbursements, Graymark's standardized goals include trying to achieve a two-to-one patient-to-technician ratio and implementing central office processes that ensure patients are called and no-shows and cancellations minimized. "Things of that nature really tend to drive your efficiencies to a lower point and are not really restricted to sleep management, but are seen within health care in general," Sampath says.
KNOW THE MARKETS
Sleep medicine is unique within health care, however, in that it is a young science. "The first independent sleep center [opened] in the 1970s, so it's a bit of a baby as far as science goes," Sampath says. Research, however, is beginning to show that sleep ties into health overall and can be an asset to preventive care. Graymark therefore makes an effort to be involved in physician and community education, not only for its benefit but also primarily for that of persons suffering from sleep disorders.
"[Approximately] 80% of [these] people today are undiagnosed. As a public company, we can share thoughts in the public venue to drive better awareness, which in the end will help all of us," Nelson says.
Awareness is an organic part of the growth process, in terms of both the markets being served and the institutions that serve as competition. Graymark has used its knowledge to set itself apart and influence its growth, focusing on its five-step approach to sleep medicine.
"When you look at our regional competitors, the market is fragmented. There are sleep diagnostic centers and companies that provide a wide range of durable medical equipment, from crutches and wheelchairs to CPAP. We certainly feel like our [comprehensive care model] gives us a competitive advantage against these regional competitors," Nelson says.
It also fills in gaps in care. Many areas lack comprehensive sleep medicine services, particularly rural locations. "The reason to be a bigger company is to help serve more people," Hull says.
To achieve that aim, Graymark has studied the industry and made one of its objectives to increase hospital partnerships. "Hospitals already have a pretty distinct referral network built in, so we are trying to tap into the market from that perspective," Sampath says.
The company has seen a lot of growth in this segment and expects to expand further in the area. "Our strategy is to continue our outreach processes and try to grow the hospital markets," Sampath says.
KNOW YOUR GOALS—REACH FOR THE STARS
The opportunities remain wide open, at least according to Graymark executives. "The funnel is getting bigger in my view," Nelson says, specifying Baby Boomers, the growing obese population, and transportation employees as particular groups to target. Media attention to sleeping air traffic controllers, while possibly fear-inducing, also helps to start discussion.
"I think that we as an industry have to do a better job informing not only our potential referring physicians, but the industry in general, including payors and Congress," Nelson says. More options are helpful as well, and in addition to increasing its reach into communities, Graymark will look into home testing.
"There are patients out there who are uncomfortable coming into a lab situation, so we'll be rolling out a home testing platform as it becomes more evident that it will be a viable model. And doing that, the ability to be able to treat or at least diagnose additional patients becomes greater and greater," Nelson says.
The company will continue its hospital outreach as it continues to evaluate and implement best practices. It will also consider appropriate acquisitions. "We feel that there is a consolidation at play here," Nelson says, admitting that as the space is consolidated, Graymark would like to become the biggest player over the long term.
This means the company will focus on its successes, such as its resupply program. The company will continue to enhance this segment, primarily because it helps to improve compliance and therefore patient outcomes, although the revenue is a definite bonus. Development of an e-commerce site for the company's CPAP supplies has been put on hold to maintain focus and conserve resources, but the initiative has not been tabled forever, illustrating the company's balance of reach and caution.
These strategies are based on Graymark's knowledge of itself—what it is capable of, what it wants to do, what it can do today, and what it can do tomorrow. It won't happen overnight, but with executives who remain aware, the company can be expected to continue to make it look easy.
---
Renee Diiulio is a freelance writer based in Manhattan Beach, Calif. She can be reached at [email protected].