Rest assured. Productive partnerships between sleep physicians and dentists are possible, and clinicians who have done this have tips on how to make it happen.
By Lisa Rapaport
In this era of personalized medicine, patients with sleep-related breathing disorders are increasingly demanding clinicians provide a seamless experience that results in interventions that are highly effective with minimal disruption to their daily lives. Beyond this, a growing number of patients are being treated with oral appliances, an option that requires coordination between physicians and dentists. It's becoming increasingly unsustainable for sleep physicians and dentists to work in isolation.
Even when clinicians recognize that physician-dentist relationships are necessary to offer patients a broader range of treatment options, just considering a partnership can seem daunting. There's the question of how to find a clinician whose credentials and experience you trust. Then there are challenges with insurance networks, electronic health records, and day-to-day office routines that may seem incompatible. And a natural fear that patients might abandon you for your dental or physician colleague.
But according to clinicians who have been there, these relationships are absolutely possible to forge in ways that are beneficial for both clinicians involved—and for patients. We spoke to five pairs of physicians and dentists who work together to find out what it took for them to accomplish this and what they learned along the way that can make it easier for you to collaborate in your own work. We put the same questions to everyone, and edited their answers for style and clarity.
Colleagues We Interviewed
Asim Roy, MD, Ohio Sleep Medicine Institute, suburban Columbus &
Brandon Canfield, DDS, Ohio Sleep Treatment, Columbus
Teresa E. Jacobs, MD, Creekside Sleep Medicine Center, Bellevue, Wash &
Syeda Bakhtawar, DMD, MFDS, BDS, Artisan Dental, Bellevue, Wash
Alison Kole, MD, MPH, FCCP, Summit Health, New Jersey &
John A. Carollo, DMD, D-ABDSM, D-ASBA, Dental Sleep Medicine of New Jersey
Aditi Desai, BDS, MSc, HCA UK Outpatients & Diagnostics at The Shard and RB&HH Specialist Care Outpatients & Diagnostics, both in London, England &
Vik Veer, MBBS, DoHNS, FRCS, Royal National ENT Hospital, UCLH & Queens Hospital Romford, London, England
Jonathan Arad, MD, Wellness and Surgery, Ardsley, NY
Evan Temkin, DDS, Syosset, NY
How did your professional relationship develop?
Canfield: Our office is relatively close by to both of Dr Roy's offices, so early on we reached out to him. Like any good relationship, it took time to develop as we learned more about each other and our staffs worked more closely together. We learned we are both really interested in emerging therapies and technology. Now, we routinely share journal articles and have discussions about complex patient cases we are dealing with.
Roy: Over the first year working together, we were referring patients to them and they were referring patients to us, and it was working out very well. We then decided to bring their practice in house once a month to see our patients at our clinic. Patients appreciate the fact they don't have to go to another location, their dental device is covered in-network with their medical insurance, and that we have a collaborative approach.
Canfield: We took a long look at the current referral process and saw there was a better way. Our dental sleep medicine team started going to Dr Roy's office to treat his patients there about two years ago. This benefits patients in many ways: they stay in the office they are familiar with, a known qualified dentist is providing oral appliance therapy (OAT), the costs to the patient are known, and Dr Roy and his staff see the patient throughout their therapy. This has also made Dr Roy and his staff more comfortable in prescribing OAT—it removed a lot of the barriers he used to face and also enabled my staff and I to educate Dr Roy and his staff on the various appliances and how to answer patient questions about them.
Bakhtawar: I opened my practice in downtown Bellevue in 2016. Our team started to come across patients who had a history of sleep apnea, and they spoke highly of Dr Jacobs, their sleep physician. Our SomnoMed sales representative arranged an introduction. I felt an instant connection. We discussed patient-specific indications for dental appliances, our expectations of open communication platforms, and follow up care. This was the beginning of a thriving and successful working relationship.
Jacobs: We are always looking for specialists in the community with which to partner to deliver the best care for our patients. Dr Bakhtawar has the training and expertise to manage our patients seeking oral appliance therapy for snoring and obstructive sleep apnea. We continue to work with her because in addition to the excellent care she provides, she communicates well with our office regarding treatment so the patient has the right follow up.
Carollo: We started working together around 2014 after being introduced by a mutual colleague, Dr Jessie Wilt, who was one of my existing dental patients. We were discussing how I was doing more dental sleep medicine in my practice and starting to collaborate with sleep physicians, and Dr Wilt suggested that I meet Dr Kole.
Kole: John came highly recommended to me by Dr Wilt, pulmonary division chief for Summit Health. After meeting with him, it was very clear that he is a dentist with a deep academic interest in dental sleep medicine. Having just completed a year of sleep fellowship training, this is a quality I respect. He also is fair in terms of pricing and making this option an affordable option for patients in need of an alternative to CPAP. I have been collaborating with him ever since.
Are you on the same electronic health system? Why or why not?
Desai: This is difficult and not possible yet. But we use an encrypted platform to communicate with each other or a simple phone call, and our respective medical secretaries exchange documentation.
Veer: I don't think this is a major issue. We employ the same secretary and administrative staff so the referral of patients between us is almost seamless. This is more important than the electronic system, and the patient receives a much better service.
Temkin: We both use his office software for documentation of patient treatment. It's a team approach. We both communicate constantly.
Arad: Constant communication between practitioners and the patients is critical. Working well with the team is important to having patients feel comfortable and also increases their success with therapy.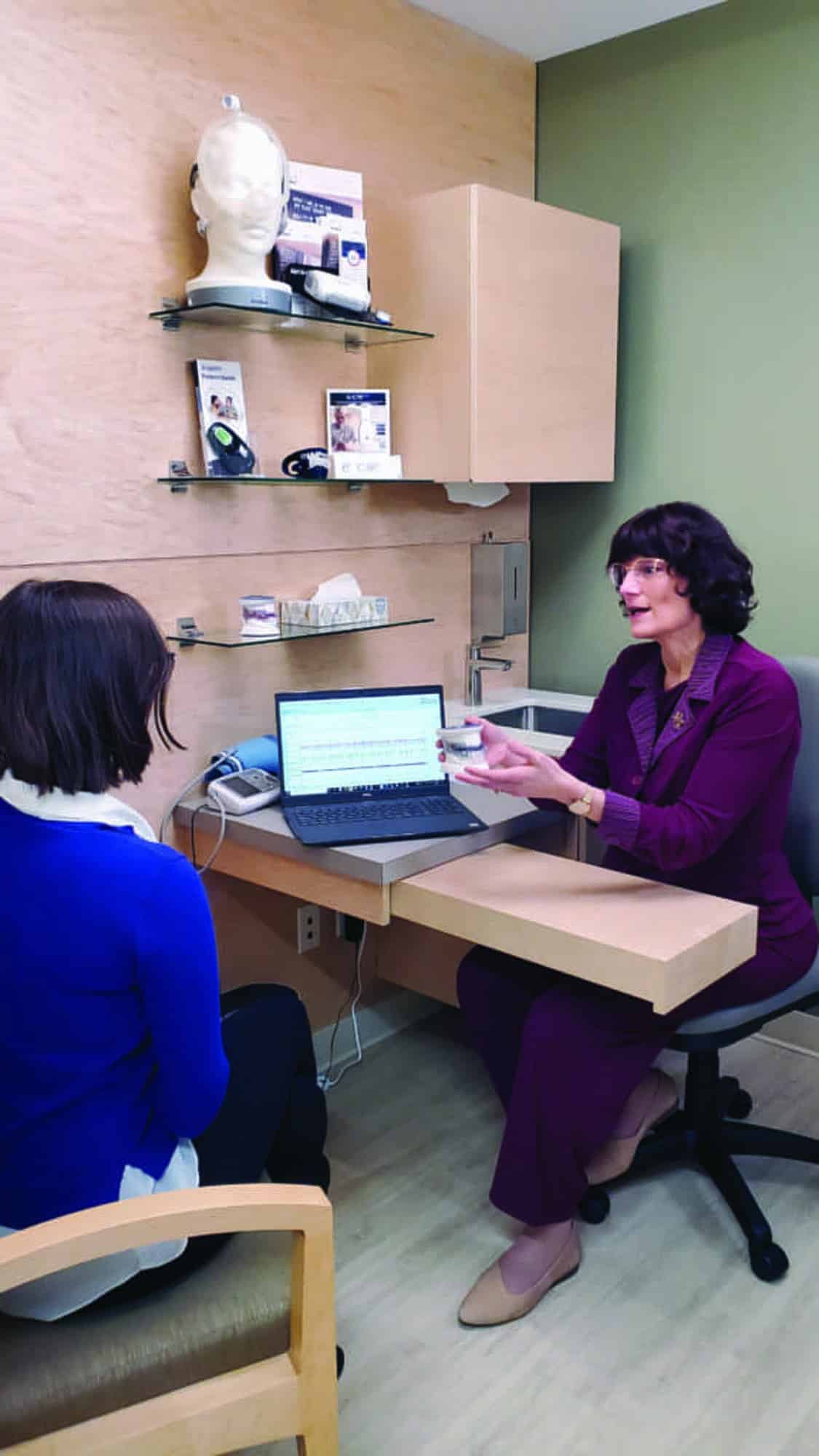 What are your tips and tricks for sharing patient information?
Veer: Patients often want to be followed up quickly, so I often call or text Dr Desai while I have the patient with me for a consultation. I find that a one-minute phone call is often a clearer method of communication than a formal referral letter. This also shows the patient that I trust Dr Desai to take care of them. We can also transfer an entire patient data portfolio to Dr Desai with the patient's permission, or the patient can log on to my electronic system to download documents and email these to Dr Desai.
Desai: Always with a patient's consent, a phone call or an encrypted messaging platform such as Silo makes it easy so patients don't delay receiving care due to paperwork.
Carollo: Sharing patient information can be done in a variety of ways as long as the systems are HIPAA [Health Insurance Portability and Accountability Act] compliant. Good communication is especially important between the staff of the two offices, so knowing how staff in each office like to get information is imperative. We use secure email and the good old-fashioned fax machine.
Kole: We fax each other notes and sleep testing results. This is our primary mode of communication. Patient privacy is paramount.
How do you handle follow-up sleep studies? Who does these, when, and how do you review and act on the results?
Roy: We usually decide based on patient symptoms and when the dentists feel the device is in optimal position.
Canfield: We let Dr Roy know when the patient's optimal position has been reached based on symptom improvement, usually at six to 12 weeks. Then, Dr Roy and his team conduct the study and share the results with my team. If we get inconclusive results, that's when Dr Roy and I touch base to see what we can do to optimize the patient's therapy: Should we advance the device? Have we over-advanced? Should we consider adjunctive therapy or pharmaceuticals?
Carollo: If a patient cannot tolerate CPAP, or if an oral appliance (OA) is indicated then I receive a prescription from Dr Kole along with her sleep study results for the patient. Dr Kole reviews the sleep study with the patient and I also do a review. When patients have high moderate or severe obstructive sleep apnea (OSA), I like to do a titration study with their OA and then share the results with Dr Kole. If the titration study doesn't show good efficacy, I may adjust their OA and then send the patient back to Dr Kole for a definitive sleep study.
Kole: Dr Carollo may refer a patient to my office if he has concerns for OSA. If we agree the patient would benefit from an OA, I will schedule formal testing, either via HST [home sleep testing] or via in-lab, usually via HST. I share results with Dr Carollo via fax.
Have you ever "lost" a patient to your counterpart?
Bakhtawar: Fortunately, we have never had a situation like that.
Jacobs: I always recommend follow up with both of us since we address different parts of the patient's care. I rely on her to manage the appliance and any side effects from treatment while we manage all aspects of sleep health.
Veer: If a patient were to continue their care with Dr Desai rather than me, then frankly I am grateful. If a patient can avoid having surgery with me and is happy with Dr Desai's care, then together we have one happy patient and our joint reputation has been strengthened. I believe we can only lose a patient when another practitioner from the same specialty takes over the patient's care.
Desai: If the patient does not return to me, it's because the physician has taken over their care beyond what I can offer. This is usually for the very sick patients who may need more than what I can provide.
Arad: We work as a team and are not competing with each other.
Temkin: Since we are not competing for patients, the care is via the team and not by an individual.
What advice would you give to physicians and dentists who haven't set up this type of collaboration before—what are the secrets to making it work, pitfalls to avoid, and pros or cons of working together?
Kole: Make sure there is secure and open communication that can occur in a timely fashion between physician and dentist. I can tell you that it is possible. I collaborate with several dentists. Keep in mind that it is about the patient and not all patients are CPAP material. Start with a few patients and get your interaction down.
Carollo: Dentists need to be educated in dental sleep medicine, and do this routinely in their dental offices. Making OAs is not something that can be done on a limited basis. Physicians should work with dentists who are trained in dental sleep medicine and do this routinely in their practices. The secret to making this work is open communication and collaboration on treating patients. Poor communication is a recipe for failure.
Canfield: As far as our communication, we are always available for each other and are very open and honest with each other. We will always respond to each other in a timely manner and also spend time meeting face-to-face to discuss important matters.
Roy: We try to meet every four to six weeks to review our processes and make sure everyone is on the same page.
Bakhtawar: Setting clear patient expectations and effective communication are the keys to making it work. For a dentist, patient care does not end at delivery of the OA—it must be followed up for years to ensure the patient is being managed adequately. And at each visit, the dentist needs to reinforce the importance of close follow up with the sleep physician.
Jacobs: There is no question that my patients get the best oral appliance therapy from dentists with a specialty in dental sleep medicine. Dr Bakhtawar can choose the right appliance, help the patient get the most from it, and monitor them for complications. I cannot think of any downside of working together!
Lisa Rapaport is a freelance journalist with experience writing and editing news about health, medicine, wellness, and science.