CPAP alternatives for travel are easy to use, effective, and unobtrusive.
There is little argument why CPAP has become the gold standard for treating obstructive sleep apnea (OSA). It has a high efficacy and, when properly fitted to patients, is well tolerated. Because of CPAP's bulk and, in most cases, its need for an external electricity source, some patients who use their CPAP regularly at home prefer not to travel with their machines. But, particularly for patients with severe OSA, suspending treatment while on the road can put them in line for serious health consequences, not to mention limiting the enjoyment of a once-in-a-lifetime trip.
Glenn Adams, MD, medical director and sleep medicine specialist at Sarasota Memorial Health Care System, says that between 10% and 20% of his patients have approached him about a treatment other than CPAP while they're traveling. "You want to sleep well [while you're on vacation]," Adams says. The good news is that there are several effective CPAP options for patients.
Presenting the Options
One of the most popular and, according to Adams, most effective options to CPAP is Provent, which goes over the nose and creates back pressure to treat OSA.
Dennis Hwang, MD, FCCP, medical director of the sleep medicine department for Kaiser Permanente's Fontana Medical Center, says Provent offers a number of advantages for the traveler. It is inconspicuous and doesn't require the use of electricity, not even batteries. It's also relatively easy to use. "Provent isn't an option for long-term therapy for every patient," Hwang says. "It's not 100% efficacious for everybody, but it is an option for long-term use or travel for many patients. About 50% of patients using Provent are doing fine on CPAP. These patients just want a more convenient travel option."
Adams notes that even in patients for which it isn't 100% effective, they will at least be getting a better night's sleep than if they are using nothing.
While Provent is compact, portable, and effective, Hwang says one of the disadvantages is that it isn't covered by insurance.
In addition to Provent, Hwang offers a prefabricated oral appliance that advances the jaw to treat OSA. While effective, it, too, is not a long-term solution. "The oral appliance lacks durability. It may last for 3 months or 6 months or even 9 months, but it's not ideal as a long-term solution," he says of the specific device he employs.
The oral appliances provided by Kathleen Bennett, DDS, a restorative dentist and president of the American Academy of Dental Sleep Medicine, aren't designed just for traveling. These patients are seeking a broad-based alternative. "There is a growing percentage of patients who use oral appliances only," she says. "These patients prefer oral appliances or can't tolerate CPAP."
Within this group are a small subset who use CPAP, but are looking for an oral appliance to use while they are traveling and as a backup to CPAP. "For them, it's a convenience factor," she says. "This gives us better compliance."
As with Provent, an oral appliance has a number of advantages for patients while they are on the road. An oral appliance doesn't require power or any specialized cleaning regimen (generally, a soap and water brush each morning is recommended), and it's less obtrusive—Bennett likened it to a sport guard—so a patient could use it while on a red eye flight without drawing attention. Provent, too, can be used on a flight or in other travel situations.
"In general, oral appliances are effective for many, but not all patients. They're good for patients with mild to moderate OSA, as well as those with good dentition. CPAP is the best option for patients with severe OSA; however, for patients with severe OSA who do not adhere to CPAP, an oral appliance with partial effectiveness that is worn all night long is a much better alternative than no treatment," she says. "One potential side effect of oral appliance therapy is that teeth can shift over time. This is why skilled titration and check-up appointments are important."
No matter which of these two options patients choose, there is one thing they share in common—they have to be planned for as carefully as the trip.
Planning Ahead
For patients opting for Provent or an oral appliance, they need to be evaluated and properly fitted for the device weeks or months prior to the trip. This isn't a result of a conservative approach to treatment. The Provent website notes that it can take patients up to a week or longer before they become comfortable using Provent.
Adams says that since three out of four of his patients are in the severe category, he always does a sleep study prior to prescribing Provent.
Bennett noted for her, there can be up to a 3-month titration period during which time she is evaluating the effectiveness of the device. "The time frame depends on the patient's history," she says.
But no matter the alternative, it's not something that can be handled the day before a trip.
Getting Feedback
The good news for those patients looking for alternatives to CPAP while traveling, there is a growing body of evidence that clinicians can turn to when recommending options.
Hwang has conducted research with patients who have used Provent. The data from a group of 97 patients found that, after 3 years, 53% are still using it and 47% are not. Tellingly, in this group of patients, those still using Provent for day-to-day use just edged out those using it for travel only by 1% or 51% to 49%. (This data was presented as a poster at SLEEP 2013.)
Adams has about 350 patients currently using Provent. Of those, about a third are using it for travel only, according to Adams.
While Bennett's patient profile is a bit different than Adams' and Hwang's Provent patients, she said that feedback is "generally very good."
Options for the Options
While Provent and oral appliances are in the process of proving themselves as alternatives to CPAP, there are patients who may not want to pay out of pocket for these non-CPAP solutions.
Provent and, in some cases, oral appliances aren't covered by insurance. (When oral appliances are covered, it is via medical insurance, not dental insurance. Many payors will cover oral appliances for CPAP failures or refusals, though may not when the oral appliance is strictly for travel purposes.) Adams says that Provent costs about $65 for a 30-day supply. An oral appliance can run as high as $4,000. Bennett notes that financing options may be available for these patients.
But whether they cost a few dollars or thousands, there are those patients who don't want to pay anything extra. For patients who have positional OSA, Hwang recommends they sleep on their side, including using the old-school "tennis ball" technique.
Adams tells patients to pack their CPAP machines. Adams says some of his patients have the machine they use regularly and an older one that isn't being used but is perfectly operational and effective. Some of these patients are snowbirds who have a winter and a summer residence and he recommends they keep a machine in each location—usually the older one at their winter residence—so they can take advantage of CPAP therapy.
Another option that is also catching hold is compact CPAP devices (see sidebar: "CPAP Goes Compact").
Options such as Provent and oral appliances may make up a small menu of options currently, but what is certain, this is only the beginning.
Looking Ahead
Hwang doesn't see CPAP becoming obsolete anytime soon, but alternative therapies are here to stay. "Alternative therapies will be a huge part of the future," he says. "There have to be non-CPAP options, but CPAP will be around for a long time."
And there are more alternative devices coming over the horizon, Hwang says. One is an implanted, pacemaker-type device that is activated when the patient enters a sleep state. Inspire Medical's Upper Airway Stimulation therapy was FDA approved in 2014.
The bottom line, no matter if the patient is planning on bringing their CPAP with them or if they want an alternative, is good lines of communication.
Hwang says that not a high percentage of his patients discuss traveling with either their CPAP or what alternatives are available to them. "We need to do a better job educating patients," he says.
For Adams, the bright spot for patients looking for alternatives is that "physicians are more intelligent about sleep apnea" today than they have been at any time in the past.
[sidebar]
CPAP Goes Compact and Luggage Friendly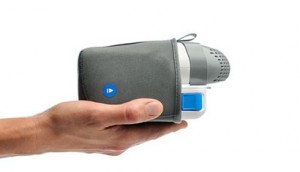 Today's CPAP machines are more compact than ever, but, compared to the alternatives available to patients, they're still bulky, and—for those wanting to travel light—less than ideal.
While there are non-CPAP alternatives like Provent and oral appliances, for patients who want to travel with their CPAP, there is the Z1 CPAP by Human Design Medical. The device can fit in the palm of the user's hand and weighs only 10 ounces. It can be plugged in when staying in a hotel room and is also available with an optional battery pack.
Ruchir Patel, MD, FACP, medical director for the Insomnia and Sleep Institute of Arizona, has been prescribing it to his patients as a travel alternative since 2013. Patel first tested the device himself. He has mild sleep apnea and he said it worked well. He continues to take it on trips.
While not as unobtrusive as other alternatives, Patel says that he knows of patients who have used it when they fly with no issues.
He describes the device as always an adjunct to traditional CPAP therapy and notes that it does not include a humidifier, which can be a drawback in a dry climate. "If you're in a place that's humid, there's no problem," he says.
When Patel started prescribing the Z1, insurance companies were reimbursing for it, but, beginning in 2015, that changed. His patients are now paying for it out of pocket. For those patients who can't afford the Z1, he recommends that they travel with their standard CPAP machine.[/sidebar]
When Los Angeles-based freelancer C.A. Wolski travels for business (which is frequently), he packs as lightly as possible, so he was intrigued by the number of compact options available for travelers to treat their sleep apnea while on the road, wondering how many of his fellow travelers have a CPAP option tucked away in their luggage.