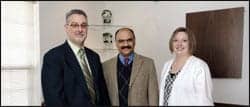 Anthony Palumbo, Mansoor Ahmed, MD, FCCP, DABSM, and Nicole Ryan, RPSGT, (pictured left to right) work together to promote awareness of sleep disorders.
When Southwest Cleveland Sleep Center, Cleveland, opened its doors in 1998, the science of sleep medicine was relatively unknown outside the academic arena. Since that time, Mansoor Ahmed, MD, FCCP, DABSM, and his staff have worked tirelessly to promote awareness of sleep disorders and the benefits of sleep medicine to both the medical community and the lay population.
Their efforts have paid off. Today, the 10-bed facility boasts four centers in the Cleveland area. While the center sponsors more than 90 community events every year to boost awareness of sleep medicine, the real education begins in the practice itself. The staff puts significant effort into making patients feel comfortable with the sleep studies and follow-up care.
"Sleep is not just putting on the CPAP and then never seeing the patient again," Ahmed says.
By having support personnel in place through every step of the process—from the patient's initial call through CPAP follow-up—Southwest Cleveland Sleep Center arms patients with the information and encouragement they need to maintain their health.
BUILDING THE PATIENT RELATIONSHIP
Patient education efforts begin in the scheduling department, where Anthony Palumbo, lab operations coordinator, gives the patients as much information and reassurance during that first contact as possible. While almost every patient wants to know about the staff's credentials, most initial questions center on the logistics of the study itself, particularly the time commitment involved. This is the time to accommodate special requests or address specific fears.
After scheduling the appointment, Palumbo mails the patient a packet with guidelines and information brochures, including one that shows where the electrodes will be placed during the actual study.
On the day of the actual study, Palumbo calls to confirm the time and location with the patient, a step that has significantly reduced no-shows.
The day after the study, Nicole Ryan, RPSGT, lab manager, places follow-up calls to each patient to let them know when to expect their results and address any outstanding issues or questions. Prior to calling, she reviews the sleep study to get an idea of what the patient's experience was like. She also reads and records patient feedback from the pre- and post-sleep questionnaires as well as the patient satisfaction survey so that she can follow up on any concerns with the patients.
During these calls, some patients want to know as much information about the study as possible, while others don't want to talk in depth until the study is ready. "Everybody's a little bit different, but we like to let patients know they're not just a number here," she says.
Once Ahmed has interpreted the studies, Ryan contacts the patients again to either set up a titration study or schedule a clinic visit to go over the results in detail and talk about next steps. During the titration studies, patients are given a mask workshop, where they try four or five different masks to find the right fit.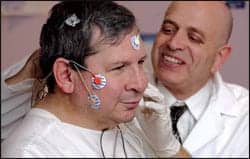 Bashar AlAsfari, MD, prepares Philip Abelow for a sleep study.
These days, many patients have done their homework before they arrive. The Internet gives them access to the information they need about titration studies, CPAP machines, and other sleep-study details. Sometimes, a well-informed patient will even request a particular mask for a titration study. "The educated patient is just wonderful because they are trying to be proactive in their health," Ryan says.
Giving patients the opportunity to ask questions at every step builds their relationship with the practice, which ultimately contributes to their compliance level with CPAP, Ryan notes. "The biggest way to have them be compliant is to feel that they're comfortable," Ryan says. "The more information we can give the patient, the better off they'll be."
FOLLOWING UP WITH CPAP
Every Thursday, Southwest Cleveland Sleep Center hosts a CPAP clinic led by Ahmed and Eric Jaber, RRT, who is a clinical manager for a local home care company. Patients are encouraged to bring their masks and equipment to the clinic, and Jaber works with them to determine the cause of compliance issues or any other concerns they have.
Jaber also addresses problems with the equipment itself. He looks over the masks and machines and calibrates them to address any leakage, pressure, or humidity problems. If he makes a pressure alteration, he alerts the patient's home care company to ensure continuity.
Patients generally return for a follow-up visit 6 weeks after their titration study, and compliant patients are encouraged to come to the CPAP clinic at least every 6 months. During clinic days, Jaber reinforces the proper cleaning techniques and maintenance needs of the devices, informs patients of their insurance benefits, and even helps them find a better-fitting mask, if needed.
This regular contact, especially early on, translates to improved compliance— and it is a service that patients may not be able to get consistently through their home care companies. Solving their problems while they are already in the office gives patients the incentive they need to be compliant. "You have got to push them," Jaber says. "Especially for the first 90 days to the first 6 months, they need a follow-up almost on a monthly basis—either by phone or in person."
With noncompliant patients, Jaber works to get to the root of the problem. He probes them about sleep habits, behavioral changes, and medications that might affect their experience. For those who have claustrophobia or difficulty wearing the mask, he encourages them to take it slowly. "We tell them to turn on the machine in a well-lit area, in a comfortable place during the day, and just get the mask close to their face," he says. "They don't even have to strap it to their face. It sometimes takes a little mental adjustment beside the physical adjustment."
In most cases, these efforts ultimately result in successful compliance. But Jaber also lets patients know that CPAP is not for everyone. After 4 to 6 weeks, if it is still not working out, he will alert them to other options that they can discuss with Ahmed. For example, the sleep center has a staff orthodontist who can fit patients with oral appliances.
In addition to patient follow-up, the sleep center also updates the patient's primary care physician after the study to explain the results and the next steps of treatment. "Most of the time, specialists don't communicate with the physicians," Ahmed says. "We made it an absolute point by having a very detailed consultation note explaining what the patient's problem is, exactly what we want to do, and why we are doing it. It is a very important tool." Not only does this letter give physicians valuable information about their patients' care, but it also helps the practice educate referring physicians about the benefits of sleep medicine.
EDUCATING THE COMMUNITY
Reaching out to referring physicians has always been part of Southwest Cleveland Sleep Center's education effort, and the facility continues to host round-table meetings with primary care physicians and community hospital personnel. The facility also welcomes physicians, especially those from rural areas, to visit the office and spend time learning more about how the sleep studies are administered. The idea is to help them set up their own sleep centers in underserved areas.
Ahmed also has been involved in promoting sleep awareness among international physicians. For 3 years, he chaired the international affairs committee for the American Academy of Sleep Medicine. During his tenure, he helped establish a mini-fellowship program that invites international physicians to tour US facilities, including Harvard, the Cleveland Clinic, and the Mayo Clinic, during a 6-week period to expose them to sleep medicine practices here. "The program has expanded to having 12 physicians come every year from other parts of the world," Ahmed says. "They then go back and provide those services in their countries."
Staff also participate in education programs for large corporations based nearby, including Goodyear Tire, Nestle, and Stauffer's. These programs are usually attended by up to 50 of the company's senior personnel and generally focus on shift-work concerns.
Hosting these events not only helps promote awareness of sleep medicine in general, but also educates the public about lesser known issues than OSA, which has been receiving attention from the national press lately. OSA also receives the most industry attention, as reimbursements are high. But Ahmed hopes to see greater emphasis on other areas of sleep medicine, including insomnia and shift-work issues.
---
Ann H. Carlson is a contributing writer for Sleep Review. She can be reached at [email protected].