Sleep Recording Accessory
BRAEBON Medical Corp, Ogdensburg, NY, introduces the EKG Eliminator Model 0600, which removes unwanted electrocardiogram artifact from bilateral electromyogram recordings, such as legs, for cleaner periodic limb movement (PLM) detection and improved automatic PLM detection. Using standard 1.5-mm touch-proof connectors, the EKG Eliminator connects directly to any AC headbox and is compatible with virtually all sleep systems. (888) 462-4841; www.braebon.com.
---

Oral Appliance Therapy Guide
The Dental Services Group, Minneapolis, introduces the Dream Team CD, a free resource with information on how to successfully implement oral appliance therapy. From patient evaluation to treatment success, the CD offers a blueprint to better understand the function and use of the company's two FDA-approved oral appliances, the Adjustable PM Positioner™ and TAP®. Often prescribed for noncompliant or CPAP failure patients, these are custom-made adjustable mandibular repositioning devices. Dream Team experts at 17 US locations can assist with technical support, educational tools, staff-patient consultation, and marketing and insurance information. The CD is compatible with Windows® 98 or newer. Call Laura Sheppard, CDT, at (800) 253-9227 or Jay Eddy, CDT, at (800) 255-2412 for a copy of the CD. www.dentalservices.net.
---

Sleep Diagnostic System
Puritan Bennett, a part of Tyco Healthcare, Pleasanton, Calif, introduces the Sandman® EXpress™, a comprehensive, easy-to-use turnkey sleep diagnostic system, designed to get sleep laboratories up and running quickly. It includes a Sandman Digital 20™ amplifier with built-in pulse oximetry, a Dell™ computer system, the Puritan Bennett® KnightStar® 330 Bi-Level® ventilator, and the Sandman EXpress sleep diagnostic software, which features the Coach™ software assistant to guide users step by step through each sleep study. With the software, users can control the KnightStar 330 Bi-Level ventilator from the computer. Pressures can be adjusted with a single mouse click, and real-time tags are automatically placed in the patient study with each pressure change. (800) 663-3336; www.sandmansleep.com.
---

Reusable Sensors
Dymedix Corp, Minneapolis, introduces a line of polyvinylidene fluoride (PVDF) reusable sensors to complement the existing line of disposable PVDF sensors and electrodes. The RealFlo™ reusable airflow sensor is available either as a highly accurate sensor capable of detecting flow limitations associated with respiratory effort related arousals or with a narrower filter to produce waveforms similar to those seen with thermocouple/thermistor technology. (888) 212-1100; www.dymedix.com.
---

Wireless Pulse Oximeter
The Avant® 4000 system by Nonin Medical Inc, Plymouth, Minn, is a wearable digital pulse oximeter that connects wirelessly to a tabletop display. Using Bluetooth® technology, the Avant 4000 is ideal for short-range use within a 30-foot radius. This lightweight, durable system features PureSAT™ signal processing technology, 120 hours of battery life, and 33 hours of memory. In addition, the Avant 4000 is compatible with Nonin's line of PureLight® sensors and nVISION® software. (800) 356-8874; www.nonin.com.
---

Nasal Pillows System
ResMed, San Diego, introduces the 2.5-ounce Mirage Swift™ nasal pillows system, which rests lightly on the face with the pillows positioned at the entrance of the nostrils. The Mirage Swift air tube can be used in an up, down, left, or right position. The innovative design, combined with the soft and secure headgear, enhances seal and stability and eliminates the need to over-tighten. Once adjusted, the Mirage Swift can be fitted quickly and easily, without clips or Velcro. In addition, it reduces inventory, as each Mirage Swift ships with three sizes of pillows, eliminating the need for fitting templates. Each product comes with its own carry bag, including an educational CD, quick-fit guide, and user instructions. (800) 424-0737; www.resmed.com.
---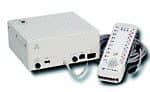 Ambulatory Sleep System
XLTEK™, Oakville, Ontario, Canada, introduces the Trex ambulatory sleep amplifier, which can run complete ambulatory sleep studies, portable and laboratory-based sleep studies, as well as EEG recordings. This rugged device features 24 referential inputs, four differential pairs, four DC inputs, an event switch, and an oximeter interface. It connects directly to a PC using standard USB ports, and is used with XLTEK's Inspirex Sleep System, which features easy-to-use, workflow-based software. Inspirex provides manual and automated tools for smooth data collection, rapid analysis, flexible reporting, data management, synchronized MPEG4 video, and security and privacy features. In addition, XLTEK supports all sleep systems with a comprehensive training program and 24/7 technical assistance. (800) 387-7516; www.xltek.com.
---

New Mask Features
Hans Rudolph, Kansas City, Mo, introduces new models of the VIP 75™ and the VIP 76™ oro-nasal (full face) Vmasks™ and Alizes™ nasal masks. Due to the large demand, according to the company, all sizes are now available with the new features. The new Vmask models, available in five more half sizes, feature buttons for attaching the new Sensa Seal™ optional accessory for assisting in leak-free fits; easy-release headgear clips; and a soft, clear finish on the mask and sealing surface. (800) 456-6695; www.rudolphkc.com.