As more dentists treat patients with obstructive sleep apnea, more legal cases will follow, says Ken Berley, DDS, JD, DABDSM. Berley shares his front-row perspective as a dental sleep medicine practitioner and legal consultant.
Sleep Review (SR): Tell us about your background, both in dental sleep medicine (DSM) and in law.
Ken Berley, DDS, JD, DABDSM: I have been actively practicing dentistry for more than 35 years, and it is my passion in life; however, I have also always been fascinated by the law. After undergraduate school at Texas Tech, I took both the Dental Admission Test and the Law School Admission Test. Dentistry won the tug-of-war and I attended the University of Tennessee, College of Dentistry, in Memphis.
1986 was a traumatic year! It was the start of a 3½ year divorce that resulted in two trips to the Arkansas Supreme Court. As you might imagine, my interest in the law was rekindled so in 1991 I enrolled in night classes at the University of Arkansas, Little Rock (UALR) Law School. At the time, I had two dental offices in two different counties and was driving an hour each way to school. Surprisingly, I survived, graduating in 1995.
I never intended to practice law, but I did very well in law school and I represented UALR in a national moot court trial team that made it to the competition finals. As a result, I was offered a full partnership in a small law firm in Little Rock. For over 5 years, I tried to practice law full time and run two dental offices. That was not one of my more brilliant moments. During that period, I learned a lot about sleep deprivation. My body finally collapsed, and I came to the realization that I could not work 100 hours per week. However, my dual degrees well equipped me to effectively represent dentists with board issues and malpractice cases. Ultimately, I became too busy to continue. In 2000, I started the process of leaving the law firm and I decided to slow down. I relocated to northwest Arkansas where I started a new dental practice from scratch and developed a legal consulting firm.
SR: In what state(s) do you practice dentistry? Law?
Berley: I currently am licensed to practice dentistry in Arkansas and law in Arkansas and Texas.
If I have a client in a state where I don't have a law license, I can apply to represent my client pro hac vice. Out of state attorneys are allowed to represent clients in states where they do not have a license as long as they have a valid law license, in good standing, from any US state or territory and the attorney graduated from an American Bar Association-accredited law school. As a result, state boundaries are not a major obstacle.
SR: What percent of work time do you spend per week on dentistry? On law?
Berley: That depends on the week. The bulk of my law practice is telephone conversations with clients who have a patient who has threatened to sue or turned them in to a state board of dental examiners. However, when we have a malpractice case that is close to going to court, that dominates my time. Most weeks, I spend 10 to 20 hours practicing law and 32 hours practicing dentistry.
SR: What kind(s) of legal action are you currently most commonly being consulted on and/or hired to defend against?
Berley: Commonly I review cases and help develop defense strategies. I always collaborate with the attorney of record. This can be for appearances before the board or a malpractice action. Frequently, I counsel dentists on how to avoid litigation or respond to an angry patient.
SR: What types of legal action related to DSM do you predict will become more common 3 years from now? Why?
Berley: Law always trails life—the law always follows the actions of our society. Twenty years ago, we did not have a rash of lawsuits as a result of texting. Attorneys did not know this cause of action was possible. Now, if you have an accident while texting, you will be sued. Dental sleep medicine is a new discipline and the law has not caught up with it yet. As a general statement, the average plaintiff's attorney does not know DSM exists, but they will soon! Currently, the cases that have been filed in DSM are due to complications of mandibular advancement: tooth movement, jaw movement, and temporomandibular joint disorder (TMD). I expect these suits to become much more common in the next 3 years as more dentists become involved in the practice of dental sleep medicine.
SR: Will any types of legal action related to DSM become less common 3 years from now?
Berley: No!
SR: Will physicians and dentists ever come to an agreement on their scopes of practice with regard to the screening, diagnosis, treatment, and management of obstructive sleep apnea (OSA)?
Berley: The short answer is no. That is unfortunate, because physicians and dentists desperately need to be working together. There are several reasons for this apparent divide. One issue is the definition of the practice of dentistry. If you look at the American Dental Association (ADA) definition, the diagnosis of any disease or condition of the oral cavity or oral pharyngeal area clearly falls within the scope of practice of a dentist. The definition of the practice of dentistry clearly includes OSA:
"The evaluation, diagnosis, prevention and/or treatment (nonsurgical, surgical or related procedures) of diseases, disorders and/or conditions of the oral cavity, maxillofacial area and/or the adjacent and associated structures and their impact on the human body; provided by a dentist, within the scope of his/her education, training and experience, in accordance with the ethics of the profession and applicable law." (Adopted: ADA Resolution 1997)
Therefore, as long as a dentist has received appropriate training, diseases of the oral cavity are within our scope of practice. The question should not be whether it is legal for dentists to diagnose OSA, the better question is: Should we diagnose OSA?
In my professional opinion, we should NOT be involved in the diagnosis of OSA. We should want sleep physicians to diagnose OSA and participate in the treatment of our patients. Sadly, American Academy of Dental Sleep Medicine (AADSM) meetings have had speakers who state that if a dentist owns HST equipment, they could have criminal charges filed against them. Nothing could be further from the truth. Dentists and sleep physicians need to work together because each provides skills and knowledge that the other does not have. Together, we are better. However, I sympathize and understand the dentists who feel frustrated because they have repeatedly referred patients with mild OSA to sleep physicians for diagnosis only to have those patients with an AHI of 7 placed on a CPAP and never offered an oral appliance. Personally, I referred 82 patients to local sleep physicians before I got a patient back to treat. It was a patient I referred who failed CPAP.
I have come to the conclusion that most sleep physicians will not refer a patient for oral appliance therapy until the dentist proves that he/she can effectively treat patients. Even if the patient is one who the dentist referred. Personally, I don't think I would have ever gotten to treat any patients with mandibular advancement if I had not found the CPAP failures within my current patient base. The sleep physicians in northwest Arkansas would not allow me to treat my own patients. Therefore, I searched my practice for the CPAP failures and treated them. Once the local sleep physicians saw I could get good results, I started to get some referrals. It seems there is little respect between dentists and sleep physicians and our patients are suffering because the professions are not working well together.
Personally, I refer all my undiagnosed OSA patients for a face-to-face examination with local sleep physicians and an in-lab PSG. I do not order an HST for diagnosis of my patients—not because it is illegal, but because I want the sleep physician to control the associated sleep issues and comorbid diseases. I make that decision because it provides the best treatment options for my patients. I do have three HSTs in my office and the sleep physicians who I work with are well aware of that fact. I don't know any way to effectively practice DSM without having a good way to test my patients.
When a patient is screened in my office and there is a high likelihood of OSA, I do an HST "screening" on that patient. This screening is computer scored and not sent to a sleep physician for a diagnosis. People frequently ask why I don't just refer these patients for a face-to-face and PSG. My patients get mad if I refer for a several thousand-dollar PSG and the results show the patient does not have a disorder. I have made a decision to use HST for screening and titration because I get the best results that way. The patient is not charged in any way for this screening. Therefore, the sleep physician can bill the patient's medical insurance for the PSG. If my HST screening shows the patient should be referred to a sleep physician, the patient is referred and a copy of the HST screening is sent to a local sleep physician. The sleep physician provides a face-to-face consultation and a diagnostic PSG. My sleep physicians know I want to share liability with them. The sleep physician diagnoses the patient's OSA and acts as the quarterback of the treatment team. The sleep physician determines whether the patient needs a CPAP or an oral appliance. Before the referral, I do an examination and determine whether the patient has significant TMD symptoms that might limit CPAP usage and I inform the physician of those findings.
In my opinion, many sleep physicians are missing a golden opportunity to grow their practices. Dentists want to partner in the treatment of OSA. Physicians should treat these dentists with respect and encourage a mutual working arrangement. More dentists are screening for OSA. This should be a good sign for sleep physicians. Cultivate relationships with the dentists who want to participate in the treatment of OSA. Help them develop the skills to be a great partner. Explain to them how it is in everyone's best interest if the patient receives a face-to-face examination. Try to refer their patients back for oral appliance therapy, when appropriate. Remember, if oral appliance therapy is inadequate, you can place the patient on CPAP at a later date. Each dentist may have 2,000 to 5,000 patients. A wise sleep physician will understand the opportunity to partner with the dental professional in their area for growth in the future.
SR: What are three important ways for a dental sleep medicine practice to manage its legal risk?
Berley:
Share liability with sleep physicians and transfer liability to patients.
Have great sleep software and do a thorough intake examination documenting all preexisting conditions.
Have a great informed consent form and other documents.
SR: Should a DSM practitioner hire a lawyer to write their patient forms for oral appliance therapy? Why or why not?
Berley: Funny you should ask. Shortly after I started practicing dental sleep medicine, I drafted my first informed consent form. I didn't like the one provided by the AADSM. Since that time, I have added numerous documents that deal with unique conditions we face while practicing DSM. For example, we really do not know how many teeth in each arch are adequate for the fabrication of a mandibular advancement appliance. So, I have drafted a document that addresses this risk. In all, I have 31 separate documents that minimize the risk of providing oral appliance therapy. These documents are found in DentalWriter Software and are sold separately by Nierman Practice Management. So, to answer your question, hire an attorney that is intimately familiar with sleep medicine.
[metaslider id=216362]
SR: In your opinion, how far should a dental practice go in screening for OSA?
Berley: The ADA has just proposed a new policy statement that states all dentists should screen for OSA and refer these patients for diagnosis. The policy statement does not state what the dentists should do to screen. However, it would be nice if the dentist had typical screening questions in patients' medical history, such as asking about loud snoring, witnessed apnea during sleep, poor sleep, fatigue, height, weight, neck size, waist size, as well as hypertension, dementia, history of stroke, history of heart disease, diabetes, and a completed Epworth Sleepiness Scale. After screening, the results should be added to the record.
SR: Is it illegal for a dentist to give a patient who does not have a current diagnosis of OSA a HST, either via directly loaning it to the patient or via an outsourced HST firm for the purposes of screening a patient for OSA? If it's not illegal, can you weigh in on whether it's a good idea or not?
Berley: I know it is semantics, but I don't do HST sleep tests. That infers that I am doing a test to diagnose OSA. I use HST or high-resolution pulse oximetry to screen for OSA and titrate my patients. However, some states have statutes or rulings restricting or prohibiting dentists ordering HST for the diagnosis of OSA. As of this writing, Colorado has become the newest state to consider such a statute. Therefore, it is imperative each dentist know his/her state statutes and regulations.
SR: Will you weigh in on the advantages and limitations of using HST for oral appliance titration?
Berley: I don't think you can effectively titrate a patient without testing. I have three HSTs and five high-resolution pulse oximeters. I have them in use every night. My personal protocol is to advance the appliance until the patient's subjective symptoms have resolved according to the pulse oximeter. Continue to advance if needed, then I do an HST when I think I have reached the maximum medical improvement. The HST is done to confirm my results before the patient goes back to the sleep lab for a PSG. Obviously, the HST gives more detail.
SR: What should a dentist do if the patient refuses to go back to the sleep physician/sleep lab for an oral appliance efficacy study?
Berley: Patients have a legal right to control their care. Occasionally, I do have a patient resistant to the thought of returning to the sleep lab for a final PSG. However, before I begin oral appliance therapy, I inform my patients that they must return to the lab for a final PSG and that I will accompany them to the sleep lab and do the final adjustments on their appliance during the final in-lab sleep test. I explain that by me doing their final appliance titration in the sleep lab, we get the best results.
If they absolutely refuse, I have an "informed refusal" form they must sign, which states they were informed of the risks but chose to refuse the final study. Then I refer the patient back to his/her sleep physician, who is informed of the patient's decision.
SR: Many medical billing companies market to dentists. How should a dentist vet a medical billing company to prevent the company from landing the dentist in legal hot water?
Berley: This is a real problem! Dentists are not adequately versed regarding laws of insurance fraud and abuse to make good decisions. Billing companies have a conflict because they are paid a percentage of the amounts collected. The billing company is acting as the dentist's agent. Therefore, the dentist is legally responsible for actions of the billing company. My suggestion is that the dentist should not allow the billing company to dictate fees or billing practices. Billing companies should never decide the amount you charge or talk you into waiving deductibles.
SR: What are four important ways for a DSM practice to manage its risk for insurance fraud? Is there anything that many dentists are doing with regard to billing practices that they should not be doing?
Berley:
Follow Medicare guidelines to the letter.
Collect deductibles.
Do not charge insurance companies for HST.
Do not bill level 5 examinations.
SR: For DSM clinicians who see Medicare patients, what should the practice consider to determine whether it should enroll as a Medicare DME supplier or not?
Berley: I recommend that dentists enroll as a Medicare DME Non-Participating provider. I do not want my clients to file Part B. While some dentists are filing Part B, medical directors at Medicare are looking at this practice as an abuse. So, don't go there.
SR: If a DSM practice does find itself as the defendant in a legal action or an insurance audit, where should the dentist turn to find good legal counsel?
Berley: If a dentist is sued, his attorney will be appointed by his malpractice insurance company. However, dental sleep medicine is so new, it is likely the appointed attorney will hire a consultant. Hopefully, the consultant will know DSM protocols, treatments, and the law. That consultant may become your expert witness or just assist the attorney. It is unlikely the dentist who is sued will select his legal counsel.
SR: What classes and where are you teaching?
Berley: I don't lecture much. I have a very busy dental practice and my evenings are filled with my legal clients. However, occasionally I provide lectures for different organizations. I provide a "Protect Your Dental Sleep Medicine Practice" and "Successful Implementation of Dental Sleep Medicine" for Nierman Practice Management and SCOPE Education Services. That information can be found on their websites.
I provide informed consent lectures for Spear Education in its "Introduction to Dental Sleep Medicine" course, which is given three times per year. I lecture for Jim Metz at his "Advanced Dental Sleep Medicine" course twice a year.
In addition, I am lecturing this year at the Academy of General Dentistry annual meeting in Las Vegas, and it looks like I will be lecturing at the ADA annual meeting this year in Atlanta.
[sidebar]
Double-Take: Two Covers for Two Conferences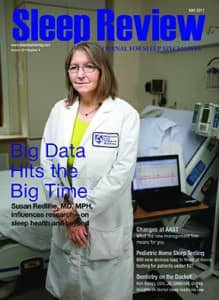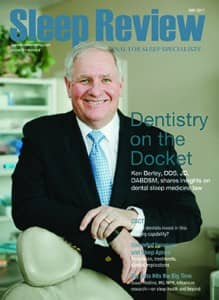 The May 2017 previews the AADSM Annual Meeting as well as SLEEP 2017. So all subscribers get a bonus cover story (Big Data Hits the Big Time: Susan Redline, MD, PhD, and Dentistry on the Docket: Ken Berley, DDS, JD, DABDSM), but each cover is specific to the story we thought would most interest the specific subscriber. Stop by our exhibit hall booths to see the other cover in person.
[/sidebar]
Sree Roy is editor of Sleep Review.