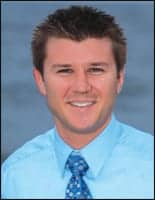 In early 2010, I wrote about a few products that could change the treatment of obstructive sleep apnea (OSA) and the practice of sleep medicine—neurostimulation, Provent, and pharmaceuticals. While each of these still holds promise, they haven't yet become "mainstream." But this year, with a new local coverage determination (LCD) released in November 2010, oral appliances will have an increased presence in the OSA therapy realm that will change treatment for physicians and patients. As oral appliances take on an increased role, it's up to you to take the initiative to incorporate this treatment modality in a way that is patient- and business-centered.
"The greatest barrier to the broader use of appliances as first line treatment has been the out of pocket expense incurred by the patients for the dental appliance," said Joseph Ojile, MD, FCCP, DABSM, CEO and founder of Clayton Sleep Institute. "This new LCD should help to minimize the patient's expense associated with dental appliances, making them more comparable to CPAP."
According to the new LCD, for services performed on or after January 3, 2011, a custom fabricated mandibular advancement oral appliance (E0486) used to treat OSA is covered if certain criteria are met.
"The door is now open for sleep and dental sleep professionals to work together in an effort to treat the millions of undiagnosed sufferers of sleep-disordered breathing with a cost-effective treatment modality," said Steve Moore, VP of sales and marketing for Airway Management Inc. "In the coming years, we will see additional channels and relationships develop between sleep, dental, and primary care clinicians."
Stacy Becker-Walker, DDS, of Precision Dental Care agrees that coverage for oral appliances will lead to newly forged relationships among health care professionals and stressed the importance of collaborative treatment approaches. "This should not be viewed as a turf war," she said. "The more we can start working together with the physicians and showing them how great this therapy can be for their patients, the more people we can help."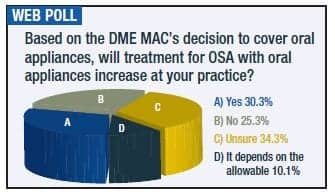 The policy is a big step forward for oral appliance therapy, but a few questions remain. Namely, what is the allowable? Will the reasonable useful lifetime set at 5 years be sufficient? And since treatment by the dentist under E0486 is covered for 90 days, will there be additional mechanisms in place to follow up beyond that period?
Throughout 2011, these questions will be answered, different business models will unfold, and innovative products will be introduced. Along the way, Sleep Review will be there to keep you informed. We also want to hear from you. Join discussions about these changes on Sleep Review's Facebook page. Your comments and questions will generate ideas and create relationships so you can capitalize on new revenue streams for your sleep lab, and, most importantly, maximize treatment outcomes for your OSA patients.
—Franklin A. Holman
sleepreviewmag@allied360.com