In 2010, when manufacturer Fisher & Paykel Healthcare unveiled its first major CPAP device redesign, the sleep industry giant anticipated a stellar reception. After all, the ICON beautifully melded fashion and function. It offered a sleek interface that could be mistaken for an iPod dock lounging on a nightstand. "It seamlessly integrated into the most private room of our homes, the bedroom," recalled Merri Dawson, clinical educator-obstructive sleep apnea (OSA) marketing at Fisher & Paykel, during new hire training in the company's Irvine, Calif, office.
I was in attendance at the product information session, peeking behind the curtain at one of the major sleep apnea solutions providers and duly nodding my head. A digital alarm clock! Countless customizable options at the touch of a dial! Even songs that play in place of a blaring beeping alarm (not quite the iPod dock replacement, but close)! The ICON positive airway pressure device sounded like a dream.
So I was wholly unprepared for the conclusion of Merri's story: The ICON, she says, flopped in the marketplace. "Clinicians thought it was too complicated," she explained. For a moment I wondered why she would be telling us of this embarrassing misstep. But, as Merri explained it, the company's developers learned from their mistakes and launched a more user-friendly version of the CPAP in 2013. Boasting the same stylish design as the 2010 version but with a much simpler user interface, the ICON+ boasted a strong year in 2013—and is the generation of device we're featuring in this issue, our annual product guide.
And that, dear reader, is why we put this guide together for you in the first place. We want to bring you the latest and most exciting products that will fill distributors' shelves in the coming year. While there certainly are some old favorites in each edition, there's always something innovative and thought-provoking as well.
This year, we even had a stop-the-presses moment when, mere days before shipping the issue to the printer, a brand new CPAP device launched. Why was the debut so newsworthy? The device is so small it fits in the palm of your hand. Human Design Medical LLC wanted to create a battery-operated CPAP that would be worthy of the OSA patient who's also a frequent traveler. We slid the device into our already completed PAP matrix, a last-minute update to which I'm wholly indebted to the magazine's art director. Is the Z1 indicative of the future of CPAP devices? I guess you'll just have to tune in to the December 2014 edition to find out.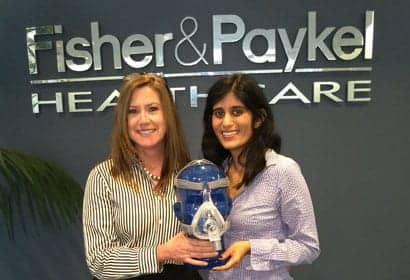 Thanks to Merri Dawson at Fisher & Paykel for being such a gracious host! If you want me to visit your manufacturing facility, sleep lab, or doctor's office, drop me a line at [email protected].
– Sree Roy, [email protected]
2014 Product Guide Matrices
Actigraphy Comparison Guide
Airway Interfaces Comparison Guide
Electrodes, Monitors, Sensors Comparison Guide
Home Sleep Testing Comparison Guide
Light Therapy Comparison Guide
Oral Appliances Comparison Guide
Polysomnography Comparison Guide
Positive Airway Pressure Systems Comparison Guide
Sleep Services Comparison Guide