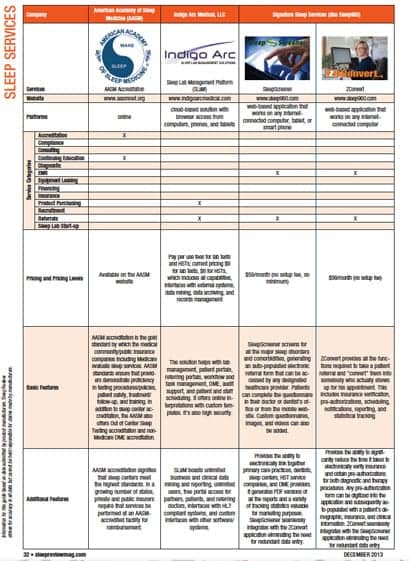 Compare 9 sleep services (such as software and accreditation options) side by side. Click on the thumbnail above to view the full matrix at a legible size. Sleep Review's sleep services matrix compares features such as platforms, pricing and pricing levels, and features for the following products: AASM accreditation; Indigo Arc SLaM; Signature Sleep Services SleepScreener and ZConvert; Sleep Center Management Institute management, business education, and development; Sleep Health Management Resources Inc education/counseling; SleepEx LabRetriever Sleep EMR; Somnoware integrated care delivery platform; The Compliance Team exemplary accreditation provider.
A version of this comparison guide was published in the 2014 Product Guide (December 2013 issue). If your company is missing, please e-mail editor Sree at [email protected] so you can be considered for the next update.
Find out about the latest product releases at www.sleepreviewmag.com/products.