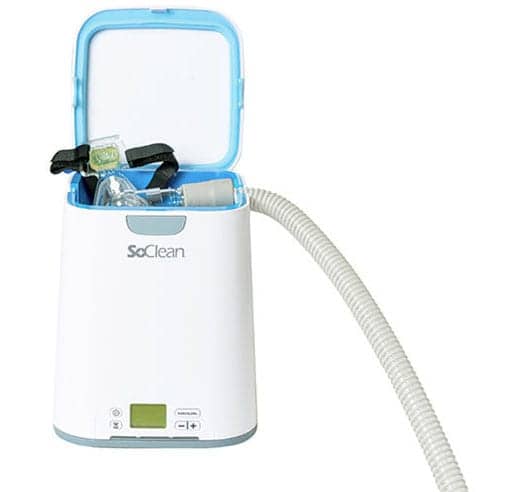 Better Rest Solutions (BRS) has launched its second generation Continuous Positive Airway Pressure (CPAP) cleaning and sanitizing machine — the SoClean® 2.  The system uses safe, natural, activated oxygen (ozone) to thoroughly sanitize the entire CPAP system by eliminating mold, bacteria, and viruses it comes in contact with.
According to the company, the SoClean system destroys 99.9% of bacteria, viruses, and mold. The system is completely automated and sanitizes without any messy chemicals or water.  Like the original SoClean unit, the SoClean 2 sanitizes and disinfects CPAP accessories such as the mask, hose, and water reservoir without needing to take the CPAP equipment apart.  The SoClean 2 offers full and complete sanitizing for the daily chore of cleaning equipment.
Among some of the new features in the next generation unit are a new sleek design with a smaller footprint, built-in clock display, enhanced automation, indicator lights throughout the cycle, left or right hose insertion option, and an intuitive, easy filter cartridge system.
"We are proud to announce the launch of our next generation SoClean 2.  It has been a year in the making and we are happy to offer this product to the millions of CPAP users that need to stay healthy," said Mike Schmidt, President of BRS. "We are dedicated to help spread awareness of sleep apnea and to encourage CPAP users to maintain clean and sanitized CPAP equipment to help keep them healthier and living longer as well."