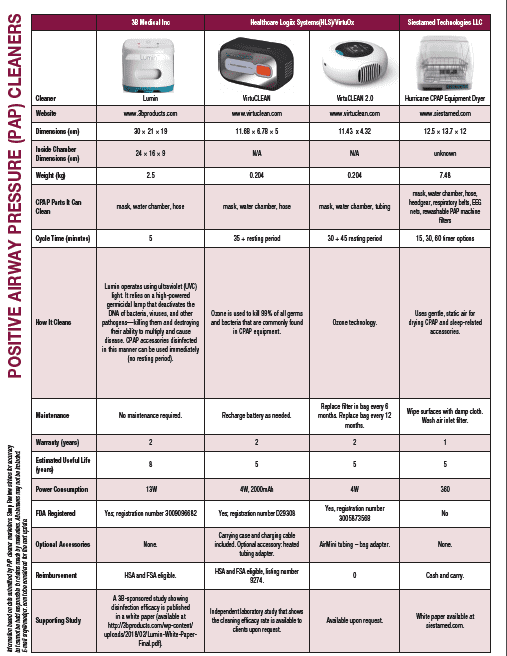 Compare 6 positive airway pressure cleaning devices side-by-side. Click on the thumbnail above or "CPAP Cleaners" to view the comparison guide at a legible size.
Sleep Review's CPAP cleaners comparison guide compares features such as dimensions (overall and inside chamber), weight, cycle time, cleaning mechanism, maintenance, warranty, estimated useful life, power consumption, accessories, reimbursement, and supporting research for the following products: 3B Medical Inc Lumin, Healthcare Logiix System/VirtuOx VirtuCLEAN and VirtuCLEAN 2.0, SiestaMed Technologies LLC Hurricane CPAP Equipment Dryer, Responsive Respiratory Purify O3 Portable Ozone CPAP/BiPAP Sanitizer, and SoClean Inc SoClean 2.
A version of this comparison guide was published in the June/July 2019 issue. If your company is missing, please e-mail sroy[at]medqor.com so you can be considered for the next update.